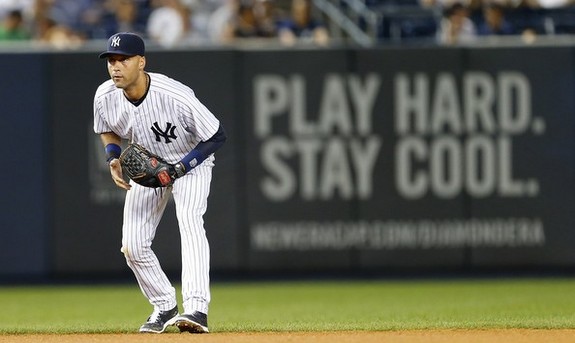 It's hard to believe today is Derek Jeter's retirement ceremony. I still remember when he just came up as a rookie. It feels like … not that long ago, really. But man, it has been a long time since then. A long time with lots of hits, lots of championships, and lots of awesome moments. I think my all-time favorite Jeter moment is the Flip Play because it was so unexpected — what in the world was he doing there? You never see a shortstop on that part of the field. What a tremendously heads up play in a season-saving game.
I don't think the Yankees will retire No. 2 this afternoon — they haven't said anything about the ceremony, it's all a secret — and will instead save it for sometime in the future. Just a hunch. Retiring No. 42 for Mariano Rivera last year was a special case because it was already retired. I'm sure the team will give him some amazing gifts and there will be a few great speeches, and I'm sure there will be something unexpectedly awesome as well. Like Metallica showing up for Mo's ceremony. Something like that but obviously not exactly that.
Today's ceremony will begin at 12:30pm ET, according to the Yankees. You'll be able to watch on YES locally and TBS nationally, plus I believe it will be streamed online at MLB.com. Maybe even MLB.tv too. Joe Torre, Bernie Williams, Paul O'Neill, Hideki Matsui, Gerald Williams, and Tim Raines are among the confirmed special guests, plus there are a bunch of others who have not been announced. Rumor has it Michael Jordan will be in the house. He was at the U.S. Open yesterday, so if nothing else, he is in town at the moment.
As for this afternoon's game, it is scheduled to begin at 1:35pm ET and, again, you can watch on YES locally and TBS nationally. It is also the free MLB.tv game of the day. Here is the Royals lineup and here is the Yankees lineup:
CF Jacoby Ellsbury
SS Derek Jeter
2B Martin Prado
RF Carlos Beltran
C Brian McCann
1B Mark Teixeira
DH Stephen Drew
3B Chase Headley
LF Ichiro Suzuki
RHP Shane Greene
It was overcast all morning but the weather cleared up wonderfully for the afternoon — temperatures in the upper-70s and lots of sunshine. Perfect weather for the ceremony. Enjoy the day.