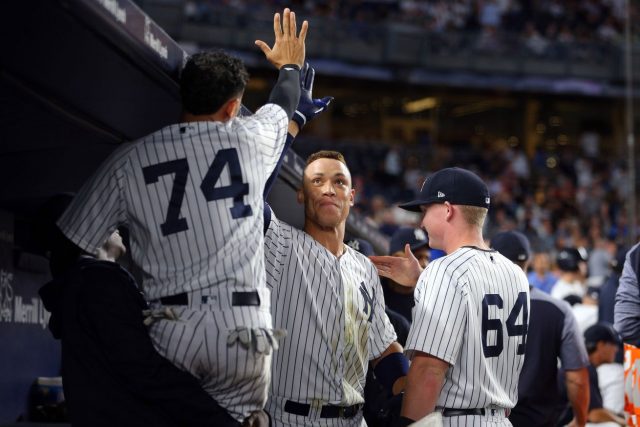 Baby Bombers shine bright
Buoyed by a wave of optimism following the deadline-day trade for Sonny Gray, the Yankees extended their recent hot streak with a series-opening win over the Tigers on Monday night.
Luis Severino didn't have his best stuff but still gutted through five tough innings and threw a career-high 116 pitches. He struck out eight while allowing only one run, despite putting multiple runners on base in three of his five frames.
He found himself in so many deep counts thanks to a career-high-tying 29 foul balls and the fact that he fell behind early and often, starting only 8-of-24 (33.3 percent) Rays he faced with a strike. That's the lowest first-pitch strike rate for any Yankee pitcher that saw at least 20 batters since Ivan Nova (31.3 percent) on July 22, 2013 against the Rangers.
Despite his inefficient outing, Severino was able to limit the damage and notched his 10th game this season with at least six strikeouts and one run or fewer allowed.
Through Monday, that led all American League pitchers and was tied with Max Scherzer and Clayton Kershaw for the most such starts in the majors this year. Digging through the Yankee record books, the only pitcher to have more than 10 of those starts in a season is Ron Guidry, who had 13 in his Cy Young-winning 1978 campaign.
Aaron Judge provided the power in this win, smacking a 400-foot home run in the fifth inning to give the Yankees a 5-1 lead. It was his 34th homer and 75th RBI of the season — and when combined with his league-leading 76 walks — he joined Al Rosen (1950) as the only players in major-league history to reach each of those totals in his rookie year … and there's still two months left in the season.
Clint Frazier was the other Baby Bomber that had a starring role, as he continued his extra-base binge with an RBI triple in the seventh inning. That gave him three triples, six doubles and four home runs for the season – a nearly unprecedented combination of hustle, power and hitting ability for a guy that is one month into his big-league career.
Ding, ding … we have our Obscure (yet cool) Yankeemetric of the Series: The only other Yankee to compile at least three homers, three triples and three doubles before playing in his 25th game was Joe DiMaggio in 1936.
So close, yet so far away
What if I told you … the Yankees would dig themselves into an early hole after their starting pitcher suffered a bout of gopheritis, then stage a furious late-game rally fueled by their own dinger-happy players, but fall just short and lose by a run. Sounds familiar, eh?
Well, that was the game story again on Tuesday night as the Yankees fell to 11-20 in one-run games, the worst mark in the American League. The only team with a worse record in the majors is the Phillies, who are also the only team with more one-run losses than the Yankees through Tuesday.
It is the first time since 1990 (ugh) that they've had at least 20 one-run losses in their first 105 games of the season. While they aren't on pace to break the franchise record of 38 one-run losses – which was set by the 1966 team – their current winning percentage of .355 in one-run games would be the second-worst in franchise history, ahead of only that 1966 club (.283).
CC Sabathia was hammered in the first three innings for four runs on four hits, including two homers, but then settled down and held the Tigers scoreless in his final three frames. His early-inning struggles are nothing new, he has a 4.70 ERA in the first three innings, nearly two runs higher than his ERA for the rest of the game (2.76).
Clint Frazier had a chance to earn his second True Yankee Moment when he came to the plate in the bottom of the ninth with two outs and two runners on base but popped up for the final out in the 4-3 loss. He had his first 0-for-5 game, and shockingly, failed to come through in the clutch.
He went hitless in three at-bats with runners in scoring position, including that ninth inning letdown, which was a stunning reversal from his performance in those situations prior to this game. Frazier was 8-for-20 (.400) with RISP, and 5-for-9 (.556) with the go-ahead runner on base in his brief big-league career before Tuesday.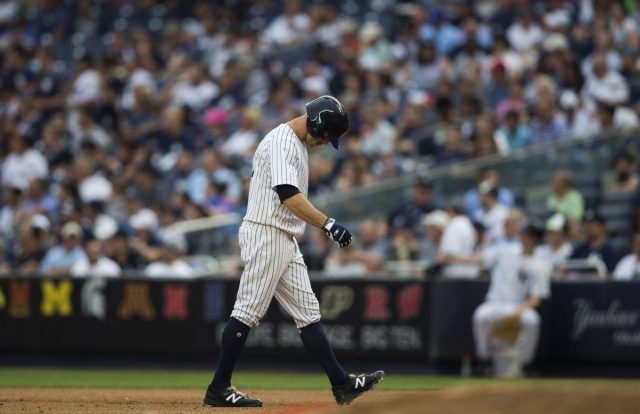 Nothing sunny about this loss
A rain storm in the Bronx wiped away the Yankees latest burst of momentum, as they were shut out 2-0 in the series finale, snapping their three-series win streak. With four-plus hours of delays and countless failed at-bats in key scoring situations, this was one of the most infuriating games of the season.
Adding to the frustration meter was the fact that Tigers starter Jordan Zimmermann began the day with a 5.69 ERA, the second-highest in the majors among qualified pitchers. Of course, Zimmermann dominating the Yankees shouldn't have been surprising. After throwing seven scoreless innings on Wednesday, he lowered his ERA in four career starts against them to 1.33, the third-best mark by any pitcher that has started more than three games versus the Yankees. The only guys ahead of him on that list are Jorge De La Rosa (0.77!) and Chris Sale (1.17).
Making this loss even worse is this sobering note: it was the first time the Yankees were shut out in a regular-season game at home by the Tigers since the second game of a doubleheader on August 10, 1991. In that span of more than 25 years between regular-season shutouts, the two teams matched up in the Bronx 113 times.
Or how about the fact that they had more hits than the Tigers and still lost the game? Alas, this is a recurring nightmare with your 2017 New York Yankees. It was their 14th loss this season when out-hitting their opponent, the fourth-most such losses in MLB.
Actually, this might be the ultimate gut-punch stat: It's not surprising that the Yankees would struggle against a mediocre team such as the Tigers. They are now 30-31 against teams with a losing record (23rd-best in MLB), and 27-18 versus teams with a .500 record or better (3rd-best in MLB).
The lone statistical highlight for the Yankees was Dellin Betances tossing an "Immaculate Inning" (nine pitches, nine strikes, three strikeouts) in the eighth. Behold, the beauty of strikeout perfection: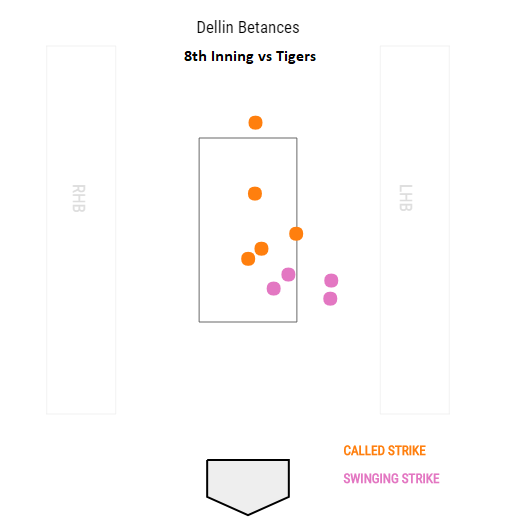 He is the sixth pitcher in franchise history to strike out the side on nine pitches, joining Brandon McCarthy (2014), Ivan Nova (2013), A.J. Burnett (2009), Ron Guidry (1984) and Al Downing (1967). Betances' feat might actually be the craziest stat from this game: remember, he owns the highest walk rate among all major-league pitchers that have thrown at least 30 innings this season.