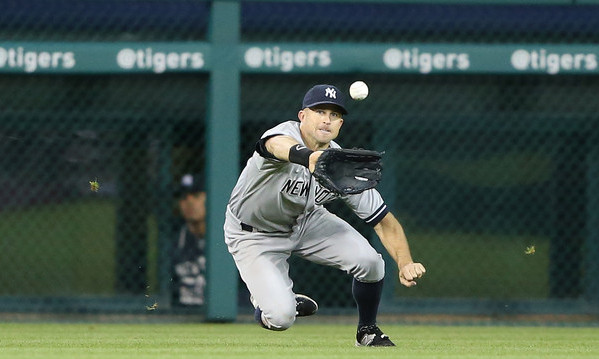 Earlier tonight, the 2015 Gold Glove Award winners were announced. The three finalists at each position were announced last week and the Yankees had three: Mark Teixeira at first base, Didi Gregorius at shortstop, and Brett Gardner at left field. All of this year's Gold Glove winners are right here.
None of the three Yankees won a Gold Glove this season. Teixeira lost to Eric Hosmer, Gregorius lost to Alcides Escobar, and Gardner lost to Yoenis Cespedes. Cespedes was only in the league half the season! Also, I guess it wasn't enough that the Royals won the World Series, huh? Gotta hog the Gold Gloves too? Rude.
Anyway, the Yankees have not had a Gold Glove winner since 2012, when Teixeira and Robinson Cano won. Managers and coaches vote for the Gold Gloves in their leagues — they can't vote for their own players! — and there's also a statistical component too.
The MVP, Cy Young, Manager of the Year, and Rookie of the Year awards will be announced last week. The Yankees don't have any finalists. No awards this year. For shame.