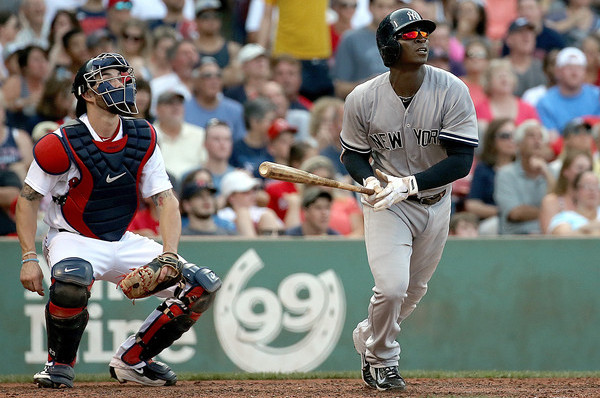 Tuesday: The Yankees have officially announced the deal. It's a non-guaranteed contract, which is standard for players during their years of team control. That just means they won't have to pay him his full salary if they release him in Spring Training, but that ain't happening.
Monday: The Yankees and Didi Gregorius have avoided arbitration by agreeing to a one-year contract worth $2.425M, reports Jack Curry. Last Friday was the deadline for teams and eligible players to file salary figures. Didi filed for $2.525M while the team countered with $2.3M, so they settled a bit above the midpoint.
Gregorius, 25, hit .265/.318/.370 (89 wRC+) with nine home runs last season, his first with the Yankees. He started the season really poorly — those first few weeks were kinda ugly — but settled down and played very well from May through the end of the season. His defense led to +3.1 fWAR and +3.3 bWAR. Gregorius was arbitration-eligible for the first of four times as a Super Two. He can't become a free agent until after 2019.
The Yankees still have three unsigned arbitration-eligible players: Aroldis Chapman ($13.1M vs. $9M), Nathan Eovaldi ($6.3M vs. $4.9M), and Ivan Nova ($4.6M vs $3.8). Arbitration hearings will take place throughout February, though the two sides are free to discuss a contract of any size in the meantime.