Sleep is overrated
The Yankees arrived in Houston early Friday morning, bleary-eyed and sleep-deprived, but that didn't stop them from putting together one of their most satisfying wins of the season against the best team in baseball.
The 13-4 rout also capped off one of the most bizarre months for any Yankees team in recent memory. They went 13-15 in June, the 20th best record in the majors last month. Not good. Yet they compiled a run differential of plus-56 that ranked second only to the Dodgers. Very good!
Two stats tell this perplexing story: The Yankees led MLB with nine wins by at least five runs, and tied for the MLB lead with nine losses by exactly one run. It was the first time the Yankees had nine wins by five-or-more runs in a single month since July 2010; and the first time in at least the 15 seasons they had nine one-run losses in a single month.
At the center of the offensive explosion was Brett Gardner, who went 3-for-5 — including his third career grand slam — and a career-high-tying six RBIs. He's just the second Yankee leadoff batter to drive in six runs in a game, along with Hank Bauer on May 10, 1952 against the Red Sox. Gardner is also just the fifth Yankee to have multiple 6-RBI games as a leftfielder; this is a fun list: Alfonso Soriano, Bob Meusel, Charlie Keller and Babe Ruth.
Although Aaron Judge was hitless in four at-bats, he still notched his 29th and 30th walks of the month, etching his name in both the MLB and franchise record books. The ridiculous power and patience he showed in June was nearly unprecedented, especially for such a young player:
Judge is the fourth Yankee with at least 30 walks, 10 homers and five doubles in a calendar month. The rest of the names should be familiar by now: Mickey Mantle (June 1957), Lou Gehrig (twice) and Babe Ruth (seven times).
Among all major-leaguers age 25 or younger, only six others besides Judge walked at least 30 times and had at least 70 total bases in a month: Mantle (June 1957), Eddie Mathews (July 1954), Ted Williams (twice), Mel Ott (June 1929), Keller (August 1939) and The Babe (twice).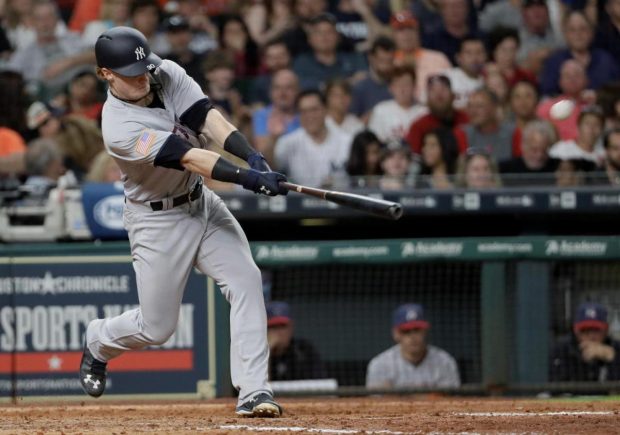 Deja vu all over again
Another series, another candidate for W.L.O.T.S. (Worst Loss Of The Season).
In what has become an all-too-familiar theme for this Yankees team, they followed up one of their most impressive wins of the season with one of their most brutal losses, and the bullpen flames were raging again on Saturday night. Dellin Betances and Aroldis Chapman self-destructed in the eighth inning, blowing a three-run lead as the Yankees suffered another horrible come-from-ahead loss, 7-6.
Here are some of the gory details behind the Yankees recent string of late-inning meltdowns:
Stat
Notes
15 Blown Saves
– 10(!) more than they had at this point in the season last year (in just four more save opportunities);
– Yeah, they had 16 all of last year
16 One-Run Losses
– Four more than they had through 79 games last year;
– 10 of them have come since June 1, tied with the Phillies for the most in that span
5 losses when leading by at least three runs
– Matches the same number they had in all of 2016;
– At this point last year, they had one such loss
10 losses with at least five runs scored
– One fewer than they had all of last year;
– Through 79 games in 2016, had six such losses;
– 7 of the 10 losses have come since June 1, the most in MLB
Dellin Betances was the biggest culprit in the eighth inning, getting only two outs while allowing three stolen bases, four earned runs, three walks and a homer. Yikes.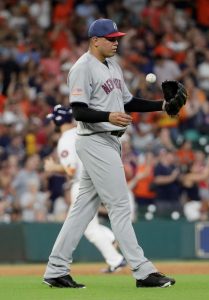 He is just the third Yankee pitcher to allow at least three stolen bases in an outing of fewer than one inning pitched, and he's the only one of those three to also allow an earned run.
But its the rest of his ugly pitching line that earns Betances of our Obscure Yankeemetric of the Series:
He's just the second Yankee ever to give up at least four earned runs, walk at least three guys, allow a homer while facing no more than six batters. The other was Hank Johnson on June 17, 1925 against the Tigers, a 19-1 loss that included a 13-run sixth-inning implosion by Yankee pitchers.
The story of the game should have been about the historic and dazzling major-league debut of Clint Frazier, who went 2-for-3 with a double and homer. His six total bases were the most by a Yankee his first career game over the last 100 years, and he also became the first player in franchise history to hit a home run and a double in his big-league debt.
Perhaps even more impressive … at 22 years and 298 days old, he was the youngest Yankee rightfielder with a homer and a double in any game since Mickey Mantle on May 30, 1952.
Didi Gregorius also took his turn in the spotlight, crushing his first career grand slam. The only other Yankee shortstops in the last three decades with a grand slam were Starlin Castro (August 5 last year) and Derek Jeter (June 18, 2005).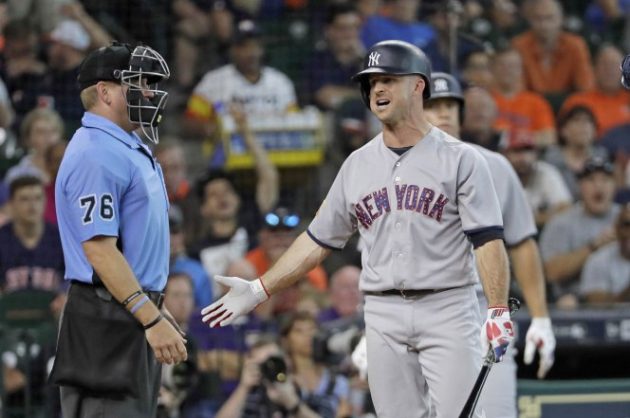 At least they scored a run
The Yankees early-summer slide deepened with another listless defeat on Sunday afternoon, as the bats went cold and the arms were lit up by the Astros powerful lineup in an 8-1 loss. They've now gone winless in six straight series, their longest such streak since an eight-series winless streak spanning July and August of 2013.
Luis Severino had one of his worst performances of the season, getting tattooed for nine hits — six doubles, a homer and two singles — and six runs in 5⅓ innings pitched. Yet he still flashed dominance with his fastball-slider combo, striking out a quarter of the batters he faced (7 of 28).
That pitching line gives us an unfortunate statistical connection for Severino …. The only other Yankee in the last 100 seasons to pitch fewer than six innings while surrendering at least seven extra-base hits and getting at least seven strikeouts in a game was Michael Pineda on April 24, 2016 against the Rays. #SmallSevy
The only other notable number to come out of this game was One — the number of runs they scored in the ninth inning to avoid being shutout for the first time this season. This is the sixth time in franchise history they've gone at least 80 games into the season without being blanked and the first time since 1988.
The franchise record? That would be held by the 1932 team, which scored at least one run in every game that season. In related news, the 1932 Yankees went 107-47 and swept the Cubs in the World Series. Oh, and a man named Babe Ruth hit a sorta famous home run in Game 3 of that series: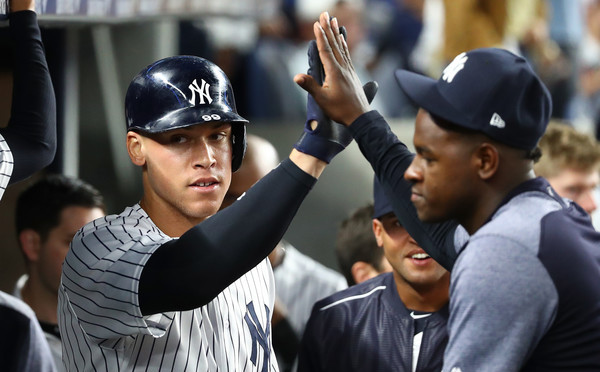 Despite recent events, the Yankees have the second best record (39-30) and the second best run differential (+107) in the American League. Many expected this to be something of a rebuilding year, one of those "step back and regroup for next season" years. Instead, the Yankees got off to a great start and remain in the thick of the division race as we approach the season's midway point.
The All-Star Game is less than three weeks away now — it snuck up this year, didn't it? — and given their play to date, the Yankees will undoubtedly have multiple representatives in Miami next month. They won't be one of those "one token All-Star" teams. The internet tells me the Yankees have sent multiple players to the All-Star Game every year since 1992, when Roberto Kelly was their lone representative.
The 2017 All-Star Game rosters will be announced either later next week or next weekend. That makes this as good a time as any to look at which Yankees could be selected to the Midsummer Classic. In fact, let's rank the 25 players on the active roster in terms of their All-Star eligibility. Shall we? We shall. Let's get to it.
Judge is a lock for the All-Star Game. He's received more fan votes than any other AL player this far — his lead over second place Jose Altuve is roughly 500,000 votes — and is on track to start the game in right field. The Yankees have not had an All-Star Game starter since Derek Jeter got the farewell vote in 2014. Even if Judge were to fall out of the top three outfielders in fan voting, he would still be selected to the game. His AL ranks:
AVG: .331 (second)
OBP: .438 (first)
SLG: .694 (first)
wRC+: 195 (first)
HR: 24 (first)
RBI: 54 (second)
fWAR: +4.4 (first)
bWAR: +4.1 WAR (first)
Flawless victory. Fatality. See you in Miami, Aaron.
Remember Dellin? He's this really great reliever who used to pitch for the Yankees once upon a time. Betances did actually pitch last night. It was his fifth appearance in the last 24 days. True story! Can you believe that? It's friggin' insane. Anyway, Dellin has allowed one earned run — on April 8th — in 22.2 innings this season. He's struck out 43 and opponents are hitting .117/.261/.117 against him. I think Betances is going to his fourth straight All-Star Game. I do wonder whether the relatively light workload — Dellin ranks 162nd among all relievers in innings (!) — will work against him. I don't think so though. Betances should be an All-Star again.
This is awesome. Severino was so bad as a starter last season. So, so bad. And now he's a legitimate All-Star candidate. He has a 2.99 ERA (3.23 FIP) through 13 starts and 81.1 innings, and he is among the AL top ten in WHIP (fifth), strikeouts (fifth), ERA+ (fifth), K/BB ratio (fifth), fWAR (fifth), ERA (sixth), FIP (seventh), and bWAR (eighth). Last season eight starters made the AL All-Star team and so far this season Severino has been one of the seven or eight best starting pitchers in the league. He's not a lock, I don't think. But he should receive strong consideration.
Hicks should be an All-Star this year. The guy is hitting .301/.414/.543 (155 wRC+) overall and he's fourth in the league in fWAR. I mean:
Aaron Judge, Yankees: +4.5
Mike Trout, Angels: +3.3
Jose Altuve, Astros: +3.1
Aaron Hicks, Yankees: +2.9
He's also seventh among all AL players in bWAR. Hicks wasn't even an everyday player to start the season! He's been awesome and he should be an All-Star. My guess is Hicks gets snubbed and instead lands on the Final Vote ballot. Maybe he'll make the roster outright with Trout injured. There are only six outfield spots on the roster though, and squeezing two Yankees into those six spots seems like a thing that won't happen. Fingers crossed.
Man, how awesome has Holliday been this season? He's hitting .275/.379/.536 (142 wRC+) with 15 home runs and it's thanks to him that the Yankees lead all AL teams with a 138 wRC+ from their DHs. Nelson Cruz is currently leading the fan voting at DH with Holliday roughly 300,000 votes back in second place. Making up that gap seems unlkely with one week to go in the voting.
In recent years there have been two designated hitter spots on the All-Star Game roster, so it stands to reason that even if Cruz wins the fan voting, Holliday could still make it. It'll be either him or Edwin Encarnacion, who has been insane the last six weeks or so. Now, that said, the All-Star Game rosters were trimmed from 34 players to 32 this year. With two fewer spots, will they not take a second DH? Hmmm.
If Sanchez didn't miss that month with that biceps injury, he'd be a shoo-in for the All-Star Game. The guy is hitting .296/.376/.554 (147 wRC+) with 12 home runs. Only Salvador Perez has gone deep more times among all catchers. He has 15 homers in 257 plate appearances. Gary has 12 in 178 plate appearances. Brian McCann and Alex Avila (?!?) are also having All-Star caliber seasons and neither missed a month with an injury. I think it's down to Sanchez and Avila for the third spot. Perez is going to win the fan voting and McCann belongs too. He's been great. A few more Sanchez dingers over the next week could decide this thing.
Altuve is going to start the All-Star Game at second base, as he should. Dustin Pedroia's injury issues mean the backup spot could come down to Castro (128 wRC+), Jed Lowrie (126 wRC), or Robinson Cano (111 wRC+). I suppose Brian Dozier (106 wRC+) is in that mix too. Name value matters in the All-Star Game. Here's an important factor: will Yonder Alonso make the All-Star team? If not, Lowrie figures to end up the A's token All-Star, which will hurt Starlin's chances of making the roster.
Can you quietly hit .321/.342/.500 (120 wRC+)? Because Gregorius is doing it. He's been so good since coming back from the disabled list. And that's the problem. The disabled list. Gregorius missed a month with a shoulder issue. He was already facing an uphill battle with Carlos Correa, Xander Bogaerts, and Francisco Lindor in the AL. Those three dudes are going to the All-Star Game and they might be the three AL All-Star shortstops for the next ten years. Didi has been great. He's almost certainly going to get squeezed off the All-Star roster though.
Gardner has had a slow June, but he's still hitting .259/.341/.471 (115 wRC+) overall, and his 13 home runs are eighth among AL outfielders. The problem is Gardner is only the third best Yankees outfielder this season, and there are only six outfield spots on the All-Star roster. Judge is getting one of them. And if they pick a second Yankees outfielder, it'll be Hicks. No chance for Gardner, unless he's an injury replacement or something, and even then it's a long shot.
A good but not great season for Michael Pineda, this is. He has a 3.56 ERA (4.05 FIP) in 14 starts and 83.1 innings — hey wait a minute isn't Pineda supposed to be a ERA > FIP guy? — which is solid, but not All-Star worthy. Montgomery is right there with him with a 3.74 ERA (3.87 FIP) in 13 starts and 74.2 innings. Imagine where the Yankees would be without these two. Nice seasons, not All-Stars.
Last season Chapman did not make the All-Star team because he missed a month serving his suspension. This season he will not make the All-Star team because he missed more than a month with a shoulder injury. Also, Chapman wasn't exactly lights out before going on the disabled list. He allowed five runs and 18 baserunners in 12.2 innings before getting hurt. Aroldis has thrown 14.2 innings this season. 14.2! No All-Star Game for him.
Great start! Okay-ish June. Terrible May. Headley is hitting .245/.335/.362 (87 wRC+) overall, and by wRC+, he ranks 21st among the 24 third basemen with enough plate appearances to qualify for the batting title. Better luck next year, Chase.
Non-Betances middle relievers have a really hard time making the All-Star Game. Green and Shreve have been the best of this foursome and they've thrown 23.1 and 19.2 innings, respectively.
Woof. Tanaka has legitimately been one of the worst pitchers in baseball this season. There are 81 pitchers with enough innings to qualify for the ERA title, and Tanaka ranks 69th in fWAR (+0.1), 74th in FIP (5.64), 79th in ERA (3.34), and 79th in bWAR (-0.8). Please be better, Masahiro.
At least he kinda plays everyday? That counts for … something. Carter is hitting .201/.287/.384 (77 wRC+) overall and probably wouldn't make a Triple-A All-Star Game at this point.
Remember April? These guys were so great filling in for Sanchez and Torreyes. Romine is hitting .237/.258/.325 (50 wRC+) even after last night's big game while Torreyes is at .296/.319/.374 (84 wRC+). The next backup catcher and utility infielder I see make the All-Star Game will be the first.
If you had to bet a paycheck on one of these four guys making an All-Star Game at some point in their careers, who would you pick? I feel like German is the obvious choice here, though I remain a Cessa fan. Maybe Refsnyder will have a late career Jose Bautista breakout?
Others of Note
The Yankees have four regulars on the disabled list right now: Greg Bird, Jacoby Ellsbury, CC Sabathia, and Adam Warren. There is no firm timetable for any of them to return to the Yankees, as far as we know. Warren seems closest since he's scheduled to resume throwing Friday.
Ellsbury was playing well before his concussion. Not All-Star well — he was still the team's fourth most productive outfielder behind Judge, Hicks, and Gardner — but well. Sabathia was pretty awesome after his four-start disaster stretch in May. Good enough to be an All-Star? Maybe! He allowed six runs (four earned) in his six starts and 36.1 innings before the injury. Imagine he keept that up until the All-Star break. Alas.
* * *
I think the Yankees will have at least two All-Stars this year (Judge and Betances) and possibly as many as seven (Judge, Betances, Severino, Hicks, Holliday, Sanchez, Castro). Seven's not going to happen though. Seven All-Stars is reserved for super teams. The Cubs had seven All-Stars last season and that's only because the fans stuffed the ballot and voted in five starters. So yeah, seven isn't happening.
My official guess is four Yankees make the All-Star team: Judge, Betances, Severino, and Sanchez. Hicks gets hosed, Holliday loses out because they won't carry two DHs with the smaller roster, and Castro gets squeezed out by other second basemen. The Yankees haven't had four All-Stars since 2012, when Jeter, Sabathia, Cano, and Curtis Granderson made it. (Jeter, Cano, and Granderson were all voted in as starters.) Four All-Stars would be cool. Two seems like the absolute minimum for the 2017 Yankees.