Three weeks from tomorrow pitchers and catchers will report to Tampa to begin Spring Training 2019. And, at some point between now and then, the Yankees will announce their non-roster invitees. Those are non-40-man roster players they are bringing to Major League Spring Training. All other non-40-man players go to minor league camp at the Himes Complex across the street.
Non-roster invitees come in all shapes and sizes. Some are top prospects and some are mid-range prospects. Others are veteran journeymen trying to hang on. Teams usually bring 20-25 non-roster players to camp each last year. Last spring the Yankees had 20 non-roster players in camp. Two years ago it was 23. Expect a similar amount this spring. The 40-man roster plus 20-25 non-roster invitees equals 60-65 total players in Spring Training.
So, with the non-roster invitee list due to be announced in the near future, I figured this is as good a time as any to look at the minor leaguers who could find themselves in big league camp this year. Some are obvious. Many aren't. Let's break this down position-by-position.
Catchers
(40-Man Roster Players: Kyle Higashioka, Austin Romine, Gary Sanchez)
Every year every team invites a bunch of non-roster catchers to Spring Training. Why? Because who else is supposed to catch all those bullpen sessions and simulated games? The workload has to be spread around. And remember, Sanchez is coming back from offseason shoulder surgery. It was his non-throwing shoulder, but still. The Yankees will take it easy on him in February and March because they don't want to put him at risk of missing time between April and November. Expect to see plenty of non-roster catchers against this spring.
Do not, however, expect to see Anthony Seigler or Josh Breaux, the Yankees' top two picks in last year's draft. It is not the appropriate place for them at this point of their careers. Only once in the last 13 years have the Yankees brought their first round pick in the previous year's draft to Spring Training as a non-roster player. That was James Kaprielian in 2016. Ian Kennedy and Joba Chamberlain didn't even get non-roster invites in 2007. Seigler and Breaux won't be in big league camp. It's not their time.
My Prediction: Francisco Diaz, Ryan Lavarnway, Ryan Lidge, Donny Sands. Add in the three 40-man roster guys and that's seven catchers total. Plenty for bullpens. Lavarnway signed a minor league deal and has big league time, so it's safe to assume he'll be a non-roster guy. Diaz has been a non-roster invitee each of the last three years. The Yankees re-signed him as a minor league free agent a few weeks ago and I'm sure he'll again be in camp as a non-roster guy.
Lidge was the Yankees' 20th round pick in 2017 and he played most of his games last year with Double-A Trenton. A catcher with Double-A time is prime "someone to catch spring bullpens" fodder. I'm on the fence about Sands. He has no Double-A time and only 42 High-A games under his belt. I'm just not sure who else it would be with Chace Numata and Jorge Saez, non-roster catchers last year, no longer in the organization. Maybe the Yankees have a low profile catcher signing coming? I could see it. I feel good about Diaz, Lavarnway, and Lidge. The seventh spot is a little more wide open.
Infielders
(40-Man Roster Players: Miguel Andujar, Greg Bird, Thairo Estrada, Didi Gregorius, DJ LeMahieu, Gleyber Torres, Troy Tulowitzki, Luke Voit, Tyler Wade)
The Yankees currently have nine infielders on the 40-man roster. Nine! That's a ton. One of them is Gregorius, who won't actually play in Spring Training because he's rehabbing from Tommy John surgery, but eight 40-man infielders is still a lot. Torres and Andujar are locked into positions now — that wasn't the case last spring — but there's the Tulowitzki comeback attempt and LeMahieu learning how to be a utility guy, so there will be some infield intrigue in Spring Training.
Almost every notable infield prospect in the organization is already on the 40-man roster. Kyle Holder is the exception. He was in camp as a non-roster player last spring. He also played only 48 games last season due to injury and family matters, and he was passed over in the Rule 5 Draft. I still think the Yankees like him enough to bring him to camp as a non-roster guy. Holder's a relatively recent high draft pick and gosh can the kid play defense. If you stuck around to watch the late innings of Grapefruit League games last year, you saw him play a beautiful shortstop.
Lower level infield prospects like Diego Castillo, Dermis Garcia, and Hoy Jun Park are not non-roster caliber players. Not right now and, given their development in recent years, maybe not ever. In most other years I'd be tempted to say Brandon Wagner is a non-roster candidate. He reached Double-A last season and finished one off the farm system home run lead. That said, there will be so many 40-man roster infielders in camp this year that I think Wagner gets squeezed out. There are only so many at-bats to go around.
My Prediction: Holder and Gio Urshela. Urshela, like Lavarnway, signed a minor league deal earlier this offseason and has big league time. He'll be in Spring Training as a non-roster dude. Holder, Urshela, and the 40-man roster guys give the Yankees ten infielders for camp, not including Gregorius. Voit and Bird are the only true first basemen among those ten, but LeMahieu is apparently going to play some first, and both Lavarnway and Diaz have played the position as well. Maybe we'll even see Andujar at first base. Either way, the Yankees are covered.
Outfielders
(40-Man Roster Players: Jacoby Ellsbury, Clint Frazier, Brett Gardner, Aaron Hicks, Aaron Judge, Giancarlo Stanton)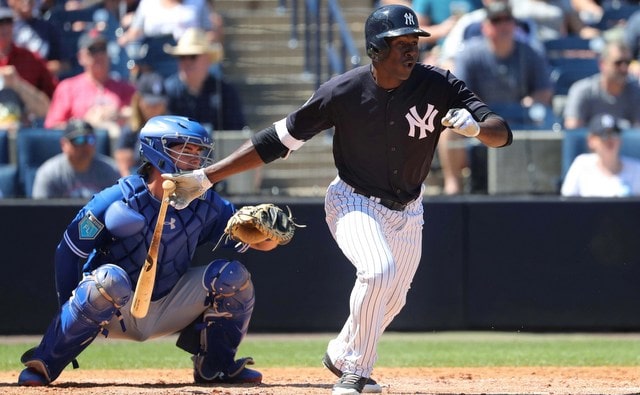 Frazier was recently cleared to play in Spring Training and that's great news. I'm looking forward to seeing what he does with good health this season. Ellsbury, on the other hand, is coming back from hip surgery and a few weeks ago Brian Cashman admitted Ellsbury is questionable for Opening Day. If he's questionable for Opening Day, then he's questionable for Spring Training. So that's really five healthy 40-man roster outfielders.
The Yankees have several near elite center field prospects but only one, Estevan Florial, will get a Spring Training invite. He was in camp as a non-roster player last spring and will be back this year as the team's top prospect. Others like Everson Pereira and Antonio Cabello will be in minor league camp. Pereira is 17 and Cabello is 18. They are babies. Big league camp is not the right place for them. (Also, Cabello is coming back from offseason shoulder surgery, which is another reason to send him to minor league camp.)
With only five healthy 40-man roster outfielders — and one of those five was only recently cleared for full-fledged baseball activities — it seems to me the Yankees will bring at least one upper level depth outfielder to camp as a non-roster player. The likely candidates: Trey Amburgey, Jeff Hendrix, and Zack Zehner. Hendrix saw quite a bit of time as a minor league call-up in road games last spring. Amburgey is the best prospect of the bunch though, and prospect status tends to break ties.
My Prediction: Amburgey, Florial, Billy Burns, Matt Lipka. Burns and Lipka signed minor league deals earlier this month and the Yankees officially announced both contracts include an invitation to Spring Training, so there you go. There's no mystery here. They'll be there. Amburgey, Burns, Florial, and Lipka plus the five healthy 40-man roster guys would give the Yankees nine outfielders in Spring Training. Wade can play the outfield too, so that's ten. That's plenty. Part of me wonders if we'll see LeMahieu out there at some point.
Right-handers
(40-Man Roster Players: Albert Abreu, Domingo Acevedo, Chance Adams, Dellin Betances, Luis Cessa, Domingo German, Chad Green, Joe Harvey, Ben Heller, Jonathan Holder, Tommy Kahnle, Jonathan Loaisiga, Luis Severino, Masahiro Tanaka, and eventually Adam Ottavino)
Heller is rehabbing from Tommy John surgery, so he's a Spring Training non-factor. I'm looking forward to seeing Abreu and Acevedo in Grapefruit League action, personally. Abreu missed camp last year after having his appendix removed and Acevedo was held back because he spent part of the offseason recovering from a shoulder issue and his velocity was down. I also want to see Harvey because I've never seen him before, and Kahnle because I'm curious about his velocity. Hopefully it returns.
Anyway, the Yankees are loaded with pitching prospects. Too bad so many of them are in the low minors. You're not going to see Luis Medina or Roansy Contreras or even Deivi Garcia in big league camp. Garcia is at best a maybe. I'm not saying that because I don't like him as a prospect. I do. I'm saying that because history suggests the Yankees will not bring a 19-year-old pitching prospect to big league camp. It's just not something they do. It's not something many teams do, in fact.
The second tier pitching prospects though, the 20-somethings with Double-A (and in some cases Triple-A) time? We'll see a few in camp. Always do. Mike King is an obvious yes. Do what he did last year while reaching Triple-A and you've earned yourself a non-roster invite. There's a pretty good chance King will be called up at some point in 2019 and the Yankees will want him to get to know his teammates and coaches before that, and vice versa. Spring Training is the time to do it. King's as easy a yes as it gets.
Nick Nelson, Trevor Stephan, and Garrett Whitlock are all potential non-roster candidates as well. So is Clarke Schmidt, the Yankees' first round pick two years ago, in my opinion. He completed his Tommy John surgery rehab last season and pitched well in his limited game action. The Yankees are set to turn him loose this year and my hunch is that includes a Spring Training invite. He'll probably be among the first cuts, but I think he'll be there.
My Prediction: King, Nelson, Schmidt, Raynel Espinal, Danny Farquhar, Drew Hutchison, Brady Lail, one TBD spot. The Yankees reportedly want a swingman/sixth starter type to replace Sonny Gray, hence that TBD spot. Maybe they wind up getting a lefty instead. I'll play the odds and predict a righty. Anyway, Farquhar and Hutchison signed minor league deals and have big league time, so they'll be in camp. In fact, the Yankees announced Hutchison's deal includes a spring invite, so there you go.
Lail's been a non-roster guy each of the last three years — the Yankees seem to like him despite never calling him up or protecting him from the Rule 5 Draft — and I see no reason to think this spring will be any different. Espinal was a non-roster guy last year and he had a strong Triple-A season, so I think he's back as well. He's a potential inventory arm, someone who comes up in an emergency, and candidates for an emergency call-up usually get a Spring Training invite.
I'm going with Nelson over Stephan and Whitlock because, well, I'm kinda guessing here. I think at least one of those three gets a non-roster invite, and Nelson is both the oldest and has been in the system the longest, so I think it'll be him. If the Yankees bring any other righties to big league camp, I think it's more likely it'll be a random Triple-A reliever like Cale Coshow or J.P. Feyereisen than Stephan or Whitlock. Between Hutchison, King, Nelson, and Schmidt, that is plenty of extra multi-inning pitchers.
Left-handers
(40-Man Roster Players: Zach Britton, Aroldis Chapman, J.A. Happ, Jordan Montgomery, James Paxton, CC Sabathia, Stephen Tarpley)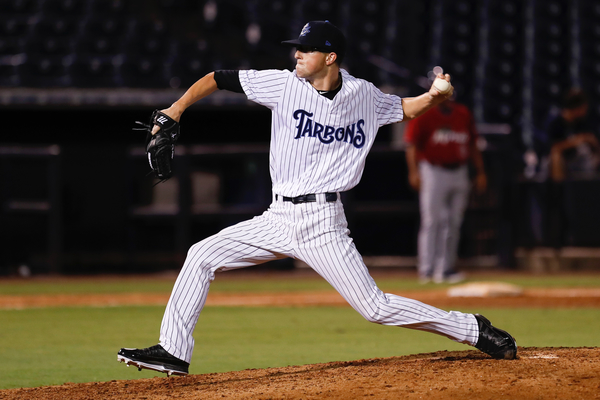 Montgomery is still rehabbing from Tommy John surgery and we won't see him in Grapefruit League games. We might not even see him throw bullpens in Spring Training. Montgomery had his elbow rebuild in June and pitchers usually don't get back up on a mound until 8-10 months into the rehab process. He'll just be getting to that point as Spring Training begins, which means little to no action. A bummer, but not a surprise.
The Yankees do not have any notable left-handed pitching prospects now that Justus Sheffield (and Josh Rogers) has been traded. Their best lefty pitching prospect is, uh, Nestor Cortes? Phil Diehl? Not great. Diehl had a statistically excellent 2018 season (2.51 ERA and 2.24 FIP with 36.2% strikeouts and 7.7% walks) and the Yankees had him throw simulated at-bats to Judge late in the season, when Judge was coming back from his wrist injury, which tells us the Yankees trust Diehl's control. Otherwise they wouldn't have let him pitch to the most valuable player in the organization and risk his wrist getting hit again. Maybe they'll bring him to camp? Dunno.
My Prediction: Cortes, Diehl, Rex Brothers, Danny Coulombe. Brothers and Coulombe are on minor league contracts and both have quite a bit of big league time, so we know they'll be in camp. Cortes was in big league camp with the Orioles as a Rule 5 Draft pick last spring — he even made their Opening Day roster — and he had yet another statistically excellent season last year. I think that's enough to get him to Spring Training this year. Diehl is the token extra lefty reliever.
* * *
Alright, so putting that all together, we come away with 22 potential non-roster invitees to Spring Training. Those 22 players:
Catchers (4): Diaz, Lavarnway, Lidge, Sands or a TBD catcher
Infielders (2): Holder, Urshela
Outfielders (4): Amburgey, Burns, Florial, Lipka
Righties (8): Espinal, Farquhar, Hutchison, King, Lail, Nelson, Schmidt, TBD
Lefties (4): Brothers, Cortes, Coulombe, Diehl
On one hand, the Yankees had 20 non-roster players in camp last year, 23 the year before that, and 26 in each of the two years before that. Twenty-two this year would be a typical number of non-roster players. On the other hand, the Yankees have at least three (Ellsbury, Heller, Montgomery) and possibly four (Sanchez) 40-man roster players who will be either restricted or completely off-limits in Spring Training. The Yankees might carry more non-roster players than usual to cover for the rehabbing 40-man roster guys.
The farm system isn't as strong or as deep as it was a few years ago, mostly because the Yankees have graduated so many of their top prospects to the big leagues. Remember when we all couldn't wait to see Torres or Judge or Severino in camp as non-roster guys? Now they're no doubt big leaguers. Florial and King will be the obvious "must see" prospects on this year's non-roster list and, if they get invited, Nelson and Schmidt will be worth watching as well. Also, bet on there being some surprise non-roster invitees this spring. There are always a few.