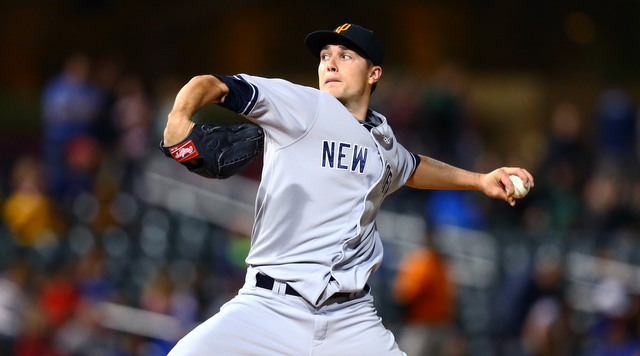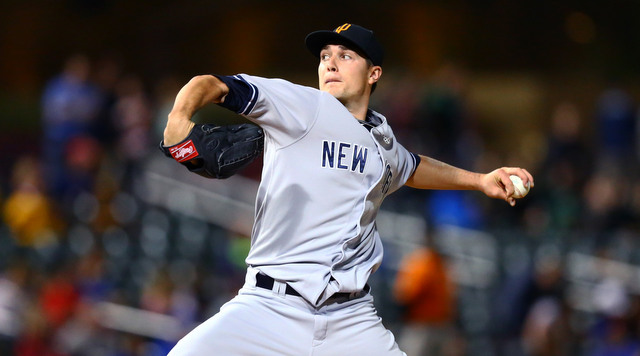 This Friday is the deadline for clubs to set their 40-man rosters for the Rule 5 Draft. (They also have to set their Triple-A and Double-A rosters for the minor league phase, though that isn't significant.) The Rule 5 Draft isn't as helpful as it once was, but some useful players still slip through the cracks, including Odubel Herrera (3.9 fWAR!) and Delino DeShields Jr. this past season.
Generally speaking, high school players selected in the 2011 draft and earlier are eligible for this offseason's Rule 5 Draft. So are college players drafted in 2012 or earlier and international free agents signed during the 2010-11 signing period or earlier. There are some exceptions — eligibility is determined by the player's age the day he signs, and we rarely know the exact date — but those are the general guidelines.
The Yankees got a head start on their Rule 5 Draft protection moves this year, adding Luis Severino, Greg Bird, and James Pazos to the 40-man roster during the regular season. Severino and Bird were locks to be added while Pazos was on the bubble. Obviously the Yankees like him as a hard-throwing lefty.
The club still has several players eligible for this year's Rule 5 Draft, including some notable prospects. Whether they are worth protecting is another matter. Here's a look at the biggest names.
3B Miguel Andujar
The case for protecting: Andujar has some of the best tools in the organization, and while his performance hasn't been great — 99 wRC+ at Low-A Charleston in 2014 and a 98 wRC+ at High-A Tampa in 2015 — he's been among the youngest players in the league at each stop. There is a shocking shortage of quality third basemen in baseball these days. Andujar has the defensive chops for the hot corner and the tools to be a two-way player down the road.
The case against protecting: The tools outshine the production at this point. The 20-year-old Andujar offers little versatility (he's a third baseman only), so a team is unlikely to scoop him up for a utility tole. He hasn't hit enough in the low minors to think he could handle big league pitching at this point either. Simply put, Andujar isn't ready for MLB. You could argue he isn't even ready for Double-A.
IF Abi Avelino
The case for protecting: Avelino, 20, has good tools and top of the line instincts, so the whole is greater than the sum of the parts. He had a solid 2015 season, hitting .260/.314/.334 (97 wRC+) with 54 steals in 72 attempts (81%) in 123 games split between Low-A Charleston and High-A Tampa. Avelino is also a capable defender at both middle infield positions, so it's not out of the question he could stick as a backup infielder/pinch-runner in 2016.
The case against protecting: For starters, the Yankees don't really have room on the 40-man roster for a player who isn't projected to help in 2016. Also, Avelino's good but not great production indicates he'd be overwhelmed at the MLB level at this point of his career. He's of limited use right now — defense and running, that's it. The Yankees would effectively be working with a 39-man roster next year.
RHP Johnny Barbato
The case for protecting: Every team needs bullpen help, and the 23-year-old Barbato managed a 3.19 ERA (3.45 FIP) with a 24.8 K% and a 9.2 BB% in 67.2 innings between Double-A Trenton and Triple-A Scranton in 2015. Barbato, who the Yankees acquired in the Shawn Kelley trade, is a mid-90s fastball/upper-70s curveball guy who has missed bats and had success at the highest levels of the minors. He is a prime piece of Rule 5 Draft fodder.
The case against protecting: The Yankees have approximately 67 right-handed relievers for the bullpen shuttle on the 40-man roster already. Okay, maybe not that many, but they have a lot. I count six and that's just the righties. Obviously one or two of those guys could lose their 40-man spots in the roster crunch this winter, but there's still plenty to go around. Is yet another righty reliever good use of a precious 40-man spot?
OF Jake Cave
The case for protecting: Cave, 22, has both tools and performance. He's hit .285/.344/.386 (110 wRC+) in 266 games over the last two years, climbing from High-A Tampa to Triple-A Scranton. Cave isn't a huge power threat but he does almost everything else, including hit for average, draw walks, steal bases, and play capable defense in all three outfield spots. It's not hard to see him in a fourth outfield role at the MLB level reasonably soon.
The case against protecting: As with Barbato and righty relievers, the Yankees are loaded with left-handed hitting outfielders. Slade Heathcott and Mason Williams are on the 40-man roster, and we can probably include Dustin Ackley in that group. The Yankees had enough lefty outfield depth that they traded Ramon Flores, who I think has a better long-term outlook than Heathcott or Williams. How many spots can you tie up with players who fill the same role?
RHP Rookie Davis
The case for protecting: Thanks to some mechanical tweaking, the 22-year-old Davis took a huge step forward with his control this year, cutting his walk rate to 4.7% of batters faced. He's always had good stuff — low-to-mid-90s heater, curveball, changeup — but now he has the command to go with it. Davis had a 3.86 ERA (2.47 FIP) in 130.2 innings at High-A Tampa and Double-A Trenton this year.
The case against protecting: Davis has barely pitched above Single-A ball. He made only five starts (and one relief appearance) with the Thunder last this summer, throwing 33.1 innings. That's all. Making the jump from limited Double-A time to the big leagues isn't unprecedented, and it sure is easy for a bad team to hide someone like Davis in long relief, though chances are Davis won't help the Yankees in 2016.
LHP Dietrich Enns
The case for protecting: Enns, 24, is a stats before scouting report guy. He returned from Tommy John surgery earlier this year and managed a 0.61 ERA (2.39 FIP) in 58.2 innings at mostly High-A Tampa. A total of 1,901 pitchers threw at least 50 innings in the minors this summer. None had a lower ERA than Enns. He's a low-90s fastball, slider, changeup guy from the left side.
The case against protecting: Not counting Andrew Miller, who is in a league of his own, the Yankees have four optionable lefty relievers on the 40-man: Pazos, Jacob Lindgren, Chasen Shreve, and Justin Wilson. (I don't think Wilson will ever be optioned, but you never know.) Enns will almost certainly be selected if he is exposed to the Rule 5 Draft — teams can't help themselves when it comes to lefty relievers — but, for the Yankees, he would be nothing more than their fifth best lefty bullpen option on the 40-man.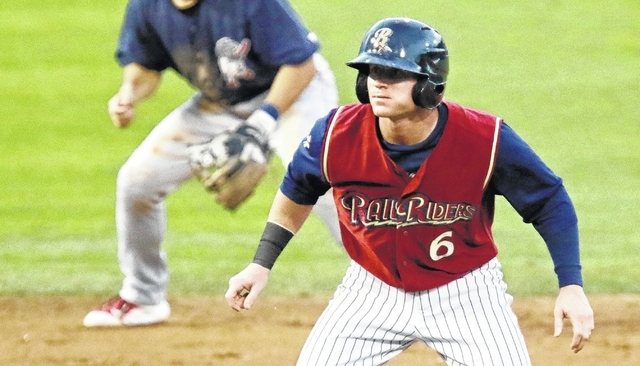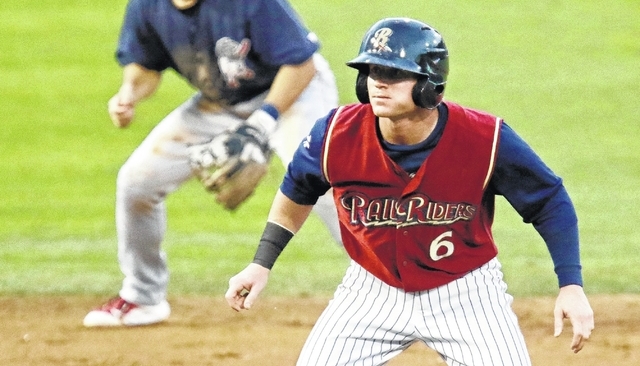 OF Ben Gamel
The case for protecting: After spending a few years as an interesting prospect who was more tools than performance, Gamel broke out in 2015, hitting .300/.358/.472 (138 wRC+) at Triple-A with a farm system leading 52 extra-base hits. This was a guy who never slugged over .400 in a full season's worth of playing time coming into the season. Gamel is also a solid defender in all three spots who can steal the occasional base. He could easily be someone's fourth outfielder — or starting lefty platoon outfielder — come Opening Day. (I can't help but notice GM Billy Eppler's Angels need a low cost left-handed bat for left field.)
The case against protecting: The Yankees do have a number of upper level lefty hitting outfielders already on the 40-man roster, including a few guys with more tools and more two-way game than Gamel. Also, Gamel's production is ahead of the scouting report. He had a marvelous year but isn't believed to have the same explosive extra-base potential at the next level. Gamel might be something of a 'tweener: not enough power for a corner and not enough defense for center.
LHP Chaz Hebert
The case for protecting: Hebert quietly had a breakout year. The team's 27th round pick in the 2011 draft had a 2.55 ERA (3.11 FIP) in 134 innings at three levels this summer, including a few spot starts with Triple-A Scranton. Hebert had good strikeout (20.0%) and walk (5.6%) rates, and he's a true four-pitch guy with a low-90s fastball, a changeup, a cutter, and a slider. Lefties with four pitches are pretty valuable, even if they only project to be back-end starters long-term. Even Vidal Nuno can get you a half-season of Brandon McCarthy, after all.
The case against protecting: Hebert, 23, was not much of a prospect prior to this season. In fact, this season was the first time the Yankees trusted him to be a regular starter for one of their affiliates. They sent Hebert to the Arizona Fall League to buy themselves more time to evaluate him, indicating they aren't sold on his breakout just yet. Lefties are always good to have, but, like Enns, if he's only going to be the fifth best southpaw option on the 40-man roster, Hebert might not be worth the spot.
IF Tony Renda
The case for protecting: The Yankees acquired the 24-year-old Renda from the Nationals for David Carpenter at midseason. He's a contact freak, hitting .269/.330/.358 (100 wRC+) with more walks (8.1%) than strikeouts (7.3%) at Double-A this summer. Renda also has speed as well as the mobility and hands for the middle infield. The Yankees do not have a long-term second baseman — not until Ackley or Rob Refsnyder proves otherwise, anyway — and right now Renda is lined up to start the season in Triple-A, putting him on the cusp of helping the MLB team.
The case against protecting: Although he has good range and hands, Renda is a second baseman only because he doesn't have the arm to handle shortstop on anything more than an emergency basis. Heck, he struggles with throws from second. Renda has zero power — six career homers in 1,944 plate appearances — and his walk rate may be the result of an experienced college hitter facing minor league hurlers with limited control. His throwing arm means he lacks the kind of versatility teams look for in Rule 5 Draft bench players.
* * *
OF Tyler Austin is also Rule 5 Draft eligible this offseason, though I didn't include him above because he slipped through waivers unclaimed in September. Any team could have grabbed him then and not had to worry about the Rule 5 Draft roster rules. (Has to stay on the 25-man roster all year in 2016.) It didn't happen so I assume Austin will be left exposed to the Rule 5 Draft this winter.
I'm a firm believer in the idea that sometimes the best way to keep a player is to leave him unprotected. If he's not MLB ready, leave him off the 40-man roster, let him go through Spring Training and whatnot, then take him back when he doesn't make the team. This is exactly what happened with Ivan Nova. Nova's a big leaguer now, but he wasn't in 2008, when the Padres grabbed him in the Rule 5 Draft. He got hammered in camp and was back with the Yankees before Opening Day.
The Yankees currently have 38 players on the 40-man roster, so they can add two Rule 5 Draft eligible players with no problem. Every additional player requires cutting someone loose, which is a real cost to the organization. If you're adding a third player, you better be sure he's better than the guy losing his spot. Time for a poll. Pick as many players as you like. (Click here to see the poll results.)
I didn't include my Rule 5 Draft protection votes and explanations in the post because I tend to sway the vote, it seems. So vote first, then click this link to see what I'd do.