Yesterday we looked at the pitchers the Phillies could offer at the trade deadline, and they have two gems in Cole Hamels and Cliff Lee. Now let's look at the position players. Philadelphia doesn't have any impact position players to trade — Chase Utley has already said he would use his no-trade clause to remain with the team — but they do have a few usable pieces. Here are the potential fits for the Yankees.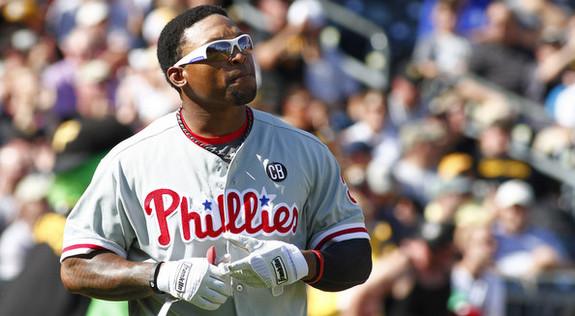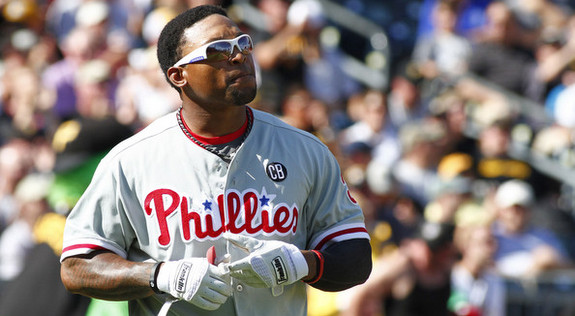 OF Marlon Byrd
The Yankees have zero right-handed power right now. Their righty hitters have managed 16 homeruns in 99 games this year, six of which were hit by the departed Alfonso Soriano. Unless switch-hitters Mark Teixeira, Carlos Beltran, and Chase Headley are facing a southpaw, the team's best power threat from the right side is Zelous Wheeler. That's not good and adding some right-handed firepower to the lineup is a clear need leading up to the trade deadline.
Byrd, 36, is currently hitting .266/.319/.480 (120 wRC+) with 19 homers this season, one year after resurfacing with the Mets (and Pirates) and going deep 24 times. He was very nearly out of baseball in 2012 — Byrd had a 27 wRC+ in 153 plate appearances that year before being suspended for a failed performance-enhancing drug trade — but he reinvented himself as an all-or-nothing slugger following that season. Byrd basically swings from his heels all the time now, and the result is a lot of power (.214 ISO this year, .220 last year, .151 career) and a lot of strikeouts (28.7% this year, 24.9% last year, 18.9% career).
There is a tangible reason for Byrd's transformation as a hitter (both Jason Collette and Jeff Sullivan have written about it more in depth) and his performance this year is right in line with last year. He is hitting a few more fly balls in general but his 16.7 HR/FB% is the same as last year (16.6% in 2013, to be exact). His plate discipline stats are roughly the same and his .337 BABIP is actually lower than last season's .353 mark. After nearly 1,000 plate appearances, I think it's safe to say Byrd's swing hard all the time style is conducive to a high BABIP. If you're willing to live with the strikeouts — the Yankees as a team have the fifth lowest strikeout rate in baseball at 18.4% — he'll give you plenty of right-handed thump.
The Phillies signed Byrd to a very reasonable two-year contract worth $16M over the winter (there's also a vesting option for 2016 based on plate appearances) and he is in demand at the trade deadline. The MLBTR archives show the Royals, Mariners, and Reds are among those interested in acquiring him. The Yankees are not included in Byrd's four-team no-trade list according to Jim Salisbury, and he would fit nicely as the team's everyday right fielder/number six or seven hitter. The Mets traded a half-season of Byrd for a Triple-A reliever (Vic Black) and a good but not great Single-A prospect (Dilson Herrera) last year, though I suspect the price will be a big higher this summer because he's shown his resurgence isn't a fluke.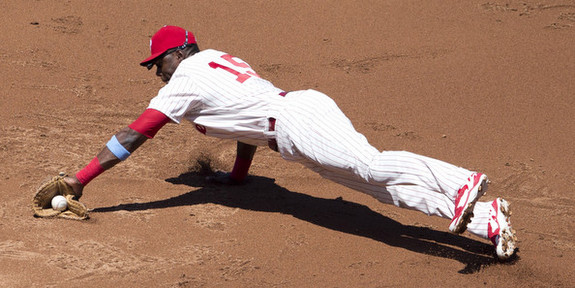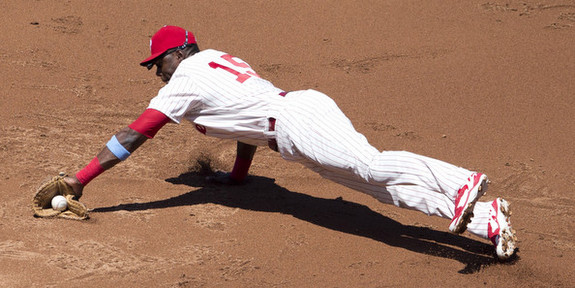 1B/OF John Mayberry Jr.
Don't want to pay the price for Byrd? Fine, the 30-year-old Mayberry is a cheaper alternative. He is currently hitting .213/.304/.418 (104 wRC+) with six homers in 138 plate appearances overall, including .255/.339/.582 (155 wRC+) against lefties. Over the last three seasons he's managed a .259/.314/.498 (120 wRC+) line against southpaws and only a .220/.286/.341 (73 wRC+) line against righties, so Mayberry is strictly a platoon option. Considering what the Yankees have gotten out of right field this year, playing him everyday might still be an upgrade.
A few weeks ago we heard the Bombers were scouting Mayberry and that makes sense. He's cheap ($1.59M salary this year) and under team control as an arbitration-eligible player through 2016, plus he can play both corner outfield spots and first base in a pinch. A real live backup first baseman. Imagine that. We aren't talking about a difference maker, just a nice role player. Mayberry would instantly become the team's best right-handed power hitter and he should come relatively cheap — similar players like Scott Hairston and Justin Ruggiano cost nothing more than fringe prospects over the last calendar year. The Phillies placed Mayberry on the 15-day DL with wrist inflammation just yesterday, so a trade would either have to come in August or while he's injured.
OF Domonic Brown
Remember all those Brown for Dellin Betances rumors? Those were fun. Last year the Yankees looked dumb for not making the trade (not that is was ever on the table, as far as we know) and this year they would be morons to doing it. Brown has been one of the very worst position players in baseball this year, hitting a weak .227/.279/.327 (66 wRC+) with six homers while playing awful defense in left field. That 66 wRC+ ranks 157th out of 161 qualified hitters. The raw production is slightly better than what Soriano (60 wRC+) gave the Yankees this year.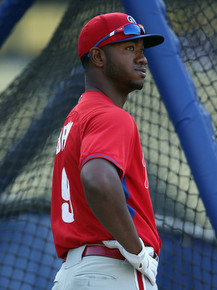 Of course, the 26-year-old Brown hit .272/.324/.494 (124 wRC+) with 24 homers and was an All-Star last season, when it looked like he was finally starting to turn his talent into results. Eighteen of those 24 homers came in the months of May and June though (12 in May alone), so over the last calendar year he has hit a soft .236/.292/.337 (74 wRC+) with only nine homers in 136 games. Brown is not a high-strikeout hitter (18.1% this year and 18.4% career) but he does struggle against lefties and is beating the ball into the ground this year. He's a project. No doubt about it.
Buying super low on Brown as a reclamation project seems like a great idea, except he's out of options and can't go to the minors to work on things. At least not without clearing waivers, which would never happen no matter how poorly he hits. Someone would take a chance on him. Can the Yankees afford to stick him in right field everyday and hope hitting coach Kevin Long can fix whatever needs to be fixed? I'm not sure. The Phillies have been shopping Brown since the offseason and I don't think acquiring him would be all that tough. I'm just not sure what the Yankees would do with him other than stick him in right and cross their fingers.
* * *
As I mentioned earlier, Utley has all but said he wants to remain with Philadelphia and would block any trade. Jimmy Rollins has indicated the opposite — he would be open to accepting a trade to a contender. I don't think Rollins, who has played one-third of an inning at a non-shortstop position in his entire professional career, is a fit for the Yankees right now, but I fully expect a winter of Rollins-to-New York rumors after Derek Jeter retires. Get ready for it. It's coming.
Catcher Carlos Ruiz makes no sense for the Yankees and don't even bring up Ryan Howard. Did you realize he's hitting .222/.302/.378 (88 wRC+) this year? Forget him. Just a name at this point. Left-handed hitting third baseman Cody Asche is hitting .256/.308/.401 (96 wRC+) with poor defense but is only 24, so that makes him kinda interesting. He wouldn't help the 2014 Yankees all that much — they wouldn't need him to with Headley now on board — but he might be useful in the future. Byrd and to a lesser extent Mayberry are good fits for a Yankees team in need of right-handed power. Both are available and both would make a lot of sense.