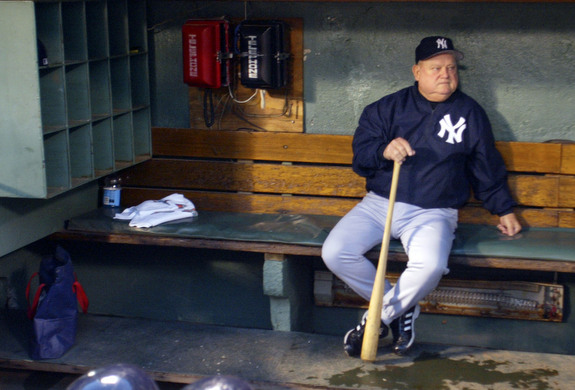 Former Yankees bench coach Don Zimmer has passed away at age 83, his family confirmed. He had surgery in April to correct a leaky heart valve and had been in a Florida rehabilitation center ever since. Zimmer spent the 1983 and 1996-2003 seasons on the Yankees' coaching staff.
"Don spent a lifetime doing what he loved," said Hal Steinbrenner in a statement. "He was an original—a passionate, old-school, one-of-a-kind baseball man who contributed to a memorable era in Yankees history. The baseball community will certainly feel this loss. On behalf of our organization, we offer our deepest condolences to his wife, Soot, their two children and four grandchildren."
"I hired him as a coach, and he became like a family member to me," added Joe Torre in a statement. "He has certainly been a terrific credit to the game. The game was his life. And his passing is going to create a void in my life and my wife Ali's. We loved him. The game of Baseball lost a special person tonight. He was a good man."
Zimmer spent 66 years in baseball as a player, a manager, a coach, and a front office executive. He played with Jackie Robinson, managed Carl Yastrzemski, and coached Derek Jeter. Zimmer was also an original Met and had worked most recently with the Rays as a senior advisor. He left the Yankees following the 2003 season because he felt he was being treated unfairly by George Steinbrenner.
"I said, 'I don't want to watch it no more,'" said Zimmer to Tom D'Angelo in 2010. "George was my friend for 25 years, and all of a sudden, he just turned."
Zimmer grew up in Cincinnati, married his wife at home plate before a minor league game in 1951, and had two kids and four grandkids. Condolences go out to his family and friends.