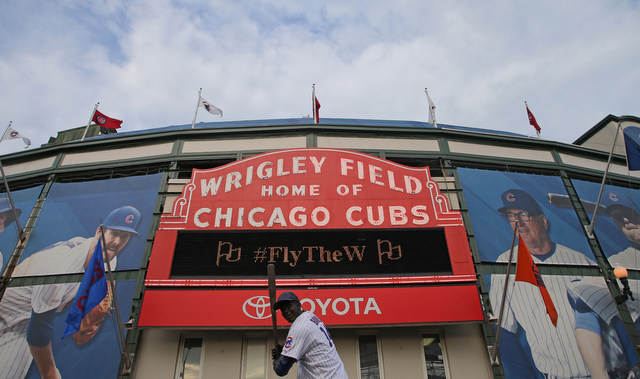 Over the last few weeks no team has been more connected to the Yankees prior to the trade deadline than the Cubs. As good as they are, the Cubbies need some late-inning bullpen help, ideally a southpaw. That's why they went out and acquired Mike Montgomery from the Mariners yesterday. They needed some more bullpen depth, but Montgomery is not someone who is going to stop them from trying to get another end-game arm. Hardly.
The Yankees have two premium late-inning lefties in Andrew Miller and Aroldis Chapman, either of whom would satisfy Chicago's bullpen needs. Reports indicate the Cubs prefer Miller to Chapman, which makes sense because Miller is willing to work as a setup man and is under contract an extra two years. Theo Epstein and Miller have a relationship dating back to their days with the Red Sox too, and that only helps.
By now we've all heard the Yankees want Kyle Schwarber in any trade involving Miller. The Cubs say that won't happen. I'm not a huge Schwarber fan but I get why the Yankees want him and why the Cubs don't want to give him up. The Cubs have so many other talented young players in their organization that not being able to pry Schwarber loose shouldn't be a deal-breaker. There's Javier Baez, or Albert Almora, or Willson Contreras, for example.
In this post we're going to focus on Chicago's farm system, just like we did with the Indians yesterday. The Cubs have a strong farm system, though it's not as good as it was a year or two ago simply because they've graduated so many guys to the big leagues. They landed three players on Baseball America's midseason top 100 update and could have one or two more by season's end. Here are eight Cubs prospects who could make sense for the Yankees in a Miller or Chapman trade. All scouting report blurbs come from MLB.com, unless otherwise noted. The players are listed alphabetically.
3B Jeimer Candelario
Background: Candelario, 22, signed for $500,000 out of the Dominican Republic a few years ago and has gradually climbed the minor league ladder since. He's hit .245/.356/.417 (118 wRC+) with seven homers, a 13.7% walk rate, and a 19.6% strikeout rate in 83 games split between Double-A and Triple-A this year. The Cubs called Candelario up briefly a few weeks ago, and he went 1-for-14 (.091) at the plate in five games in his MLB debut.
Scouting Report:
"A switch-hitter, Candelario has a fluid swing and makes consistent contact from both sides of the plate. He understands the strike zone and could develop into a solid hitter for both average and power … Though Candelario has below-average speed and quickness, he has worked hard on his defense and is selling more scouts on his ability to stay at third base. His hands and arm are assets, and his instincts help him make plays."
Why Should The Yankees Want Him? A switch-hitter who makes contact and knows the strike zone is a pretty sweet offensive player, even if the power projects to be more 15-18 homers than 20+. The Yankees have a long-term need at the hot corner, not to mention a need for hitters who work the count and spray the ball line to line. That Candelario is in Triple-A and close to MLB ready is a bonus.
Why Should The Yankees Stay Away? Candelario might not be a third baseman long-term. There are plenty of folks who think he's going to wind up at first base at some point soon — he's played a handful of games at first in the minors — and if that happens his bat figures to be light for the position, especially in the power department. You've got to either really believe in the bat or really believe in his ability to stay at third to see Candelario as a regular.
RHP Dylan Cease
Background: The 20-year-old Cease was a potential first round back in 2014, but he needed Tommy John surgery that spring and fell to the Cubs in the sixth round. He made it back to the mound late last year, and so far this season he has a 3.32 ERA (3.56 FIP) with a 25.6% strikeout rate and an 8.9% walk rate in 21.2 innings down in a short season rookie league.
Scouting Report:
"Cease reached 97 mph with his fastball before he got hurt and hit 100 shortly after he returned to the mound last summer. He sits in the mid-90s with his heater, which also features life that makes it even tougher to barrel. He has turned what was a three-quarters breaking ball into a true power curveball … Cease needs to refine his changeup and use it more … The Cubs have helped him clean up his mechanics some and he should be able to repeat them efficiently enough to fill the strike zone."
Why Should The Yankees Want Him? Cease is a classic projectable power arm — he's listed at 6-foot-2 and 190 lbs. — with an out-pitch breaking ball and improving mechanics. He was a first round talent before getting hurt, remember. Cease has the potential to one day pitch near the front of a rotation, and guys with that kind of ability aren't easy to find.
Why Should The Yankees Stay Away? The recent Tommy John surgery is a red flag, as is the fact Cease is injured right now. He left a start with a still undisclosed injury two weeks ago, and according to Steve Mims, Cease is currently throwing and could return to the mound soon. Still though, he's hurt again. Cease has an awful lot of talent and an awful long way to go to reach the big leagues and his ceiling.
2B/OF Ian Happ
Background: The Cubs grabbed the 21-year-old Happ with the ninth overall pick in last year's draft and he's doing exactly what you'd expect the ninth overall pick to do: mash. Happ is hitting .302/.394/.470 (143 wRC+) with a 13.4% walk rate, a 21.4% strikeout rate, nine homers, and 13 steals in 92 games between High-A and Double-A. Baseball America had him 37th on their recent top 100 update.
Scouting Report:
"A switch-hitter, he exhibits a quick stroke and good balance from both sides of the plate, and he owns deceptive strength and solid speed. Happ should post high batting averages and on-base percentages, and he has the upside of a 20-20 player … Happ is a good athlete with a strong arm, and Chicago will try to maximize his value by playing him at second base in 2016 … he also saw action at all three outfield spots in his pro debut."
Why Should The Yankees Want Him? Lots and lots and lots of reasons. Happ is a switch-hitter with power and patience, some speed, and good defensive shops. He's taken to second base well this season and is average and improving at the position. Happ can be in the big leagues next season and he projects as a switch-hitting impact player on both sides of the ball.
Why Should The Yankees Stay Away? No reason, really. Even if you don't buy into Happ at second base, his bat will be more than fine for the outfield.
OF Eloy Jimenez
Background: Three years ago the Cubs went on an international spending spree a la the Yankees in 2014, and the top prospect they signed was the 19-year-old Jimenez. He received a $2.8M bonus. So far this season Jimenez is hitting .331/.370/.520 (160 wRC+) with ten homers, six steals, a 5.8% walk rate, and a 22.5% strikeout rate in 83 Low-A games. Baseball America had him 46th in their midseason top 100, and if you watched the Futures Game, you saw Eloy put on a show.
Scouting Report:
"Jimenez has huge raw power and right-field arm strength. He looked much more comfortable at the plate in 2015 than he did in his U.S. debut the year before, making more consistent contact … He's adding strength to his big frame and exhibits impressive bat speed and leverage from the right side of the plate … he's an average runner who'll fit best in right field once he improves his throwing accuracy. The Cubs love his makeup."
Why Should The Yankees Want Him? Jimenez has premium power potential from the right side of the plate and he's learning how to use it in games this season. He's also not a liability in the outfield, so you've got a well-rounded prospect with a chance to be an impact middle of the order hitter down the line. Why wouldn't you want a player like Jimenez?
Why Should The Yankees Stay Away? The biggest knock on Jimenez is that he's a bit of a hacker at the plate, so he's going to chase out of the zone and probably won't post high OBPs down the line. Also, the kid is 19 and in Low-A ball. There's a very long way to go to reach that middle of the order ceiling. Jimenez has loads to talent, but he also carries quite a bit of risk simply because he's so far away.
OF Eddy Martinez
Background: The Yankees "made a run" at Martinez last year, after he defected from Cuba and was declared a free agent by MLB. He would have been part of the 2014-15 signing period. Martinez opted to wait so more teams could get involved in the bidding, and sure enough, he leveraged interest from the Giants into a $3M deal with the Cubs. The 21-year-old is hitting .261/.340/.393 (117 wRC+) with seven homers, six steals, a 10.0% walk rate, and 21.4% strikeout rate in 89 Low-A games.
Scouting Report:
"(He) has the potential to have four solid tools and some gap power. He has a line-drive, contact-oriented approach from the right side of the plate. Though he didn't display much pop in Cuba, he does have bat speed and has added strength since leaving the island … Martinez's best tool is his speed, which is at least plus and earns plus-plus grades from some evaluators. He has the quickness to play center field but will need to hone his instincts to remain there."
Why Should The Yankees Want Him? The same reasons they wanted to sign him as a free agent, I assume. He has some offensive potential and knows the strike zone, and he can be an asset in the outfield as well thanks to his speed. Even if he winds up in a corner, Martinez can be a solid hitter from the right side of the plate and provide value on the field and in the bases. He's not a star, but the potential to be a future regular exists.
Why Should The Yankees Stay Away? Not everyone buys into the bat, especially Martinez's power potential and approach. There's some thought advanced pitchers will be able to pick apart the holes in his swing. There's definite 'tweener potential here, meaning not enough defense for center and not enough bat for a corner.
SS Gleyber Torres
Background: Torres, 19, is already in High-A, and he's hitting .275/.356/.435 (122 wRC+) with nine homers, 18 steals, a 10.1% walk rate, and a 21.8% strikeout rate in 91 games. He's doing that while being nearly four years younger than the average Carolina League player. Torres was 27th on Baseball America's midseason top 100 list.
Scouting Report:
"He has a quick right-handed swing and a mature approach, recognizing pitches well and using the entire field. Once Torres gets stronger and learns to pull pitches more often, he could produce 15 or more homers per season … Torres seemed a half-step quicker in 2015, enhancing his chances of staying at shortstop  … While Torres' range may be just average, his instincts and strong arm allow him to make plays."
Why Should The Yankees Want Him? Not counting players on the big league roster, Torres is the best the Cubs have to offer. He projects to be an above-average two-way shortstop who hits for average, gets on base, steals some bases, and hits for some power. Players with that offensive skill set are hard to find at any position, so Gleyber's potential to do it at short makes him a potential star.
Why Should The Yankees Stay Away? There aren't many reasons, really. It's not set in stone that Torres will remain at short, but he has the defensive skills to handle second or third, which are fine alternatives. The big thing is that this is a 19-year-old kid in Single-A. He's not going to be MLB ready anytime soon and teenagers always carry a ton of risk. Torres is not an immediate payoff player. He's more of a long-term project.
RHP Duane Underwood
Background: The 22-year-old Underwood was a second round pick back in 2012. He reached Double-A for the first time this season, and he has a 4.91 ERA (5.10 FIP) with a 16.8% strikeout rate and an 11.3% walk rate in only 58.2 innings due to forearm soreness. Underwood has had all sorts of injuries over the years, but nothing was torn and he hasn't had surgery. Just a lot of soreness and inflammation.
Scouting Report:
"Underwood's fastball is notable for both its 92-96 mph velocity and its late life, which makes it difficult to square up for hitters. Both his curveball and changeup show signs of becoming plus pitches but neither is fully reliable yet … Underwood doesn't miss as many bats as his stuff indicates he should, demonstrating his need to get more consistent with his secondary pitches and his command."
Why Should The Yankees Want Him? Underwood does have premium stuff, led by his lively fastball. He's also shown promise with two secondary pitches. The stuff is why you want him. The big fastball is an untouchable skill.
Why Should The Yankees Stay Away? The injury history is scary — Underwood is out with the sore forearm right now, and he's had all sorts of elbow soreness in the past — and his control and command are a long way from being big league ready. You're buying the stuff and hoping to develop the command and get him to stay on the field. That's a lot to ask.
LHP Rob Zastryzny
Background: Zastryzny, 24, is a personal favorite and no longer a top prospect. Heck, neither Baseball America nor MLB.com considered him one of the top 30 prospects in Chicago's system coming into the season. So far this year Zastryzny has a 4.59 ERA (4.42 FIP) with a 19.1% strikeout rate and a 9.1% walk rate in 113.2 innings between Double-A and Triple-A. He was a second round pick back in 2013.
Scouting Report (from me, not MLB.com):
At his best, Zastryzny pitches at 91-95 mph from the left side and can spin two breaking balls: an upper-80s slider and an upper-70s curveball. He also throws a low-80s changeup. Control has been a bit of a problem over the years, but the hope is Zastryzny can keep his walk rate where it is going forward. He's healthy this year after being limited to 15 starts last season, when he was hit by a comebacker and suffered a broken bone in his foot.
Why Should The Yankees Want Him? A top prospect Zastryzny is not, but lefties with low-90s gas and a bat-missing breaking ball (curve) are never a bad trade target. I think the Cubs are wasting their time with Zastryzny as a starter (career 4.71 ERA and 4.12 FIP). I say put him in the bullpen, let him focus on his two best pitches, and really air it out. Zastryzny obviously should not be the center piece in any trade, but as a third or fourth piece, I think you can do worse.
Why Should The Yankees Stay Away? Well, Zastryzny's performance has not been good, and his control is probably never going to be above-average. It might never be even average, in fact. He's also seen his velocity fluctuate over the years, sometimes sitting in the low-90s and other times the upper-80s. This is a low-90s year.
* * *
To me, Happ is the guy to target as the headliner in any trade package with the Cubs. Torres and Jimenez are super exciting as well, but I love Happ's all around ability and close to MLB readiness. The Yankees wouldn't be wrong to ask for Happ plus Torres or Jimenez plus more in a Miller trade, though who knows if the Cubs would go for that. Probably not.
Either way, all three of those guys are premium prospects, and the Yankees couldn't trade with Chicago without getting at least one of them. Too many other teams want Miller to settle for something less than the best. The Montgomery trade gives the Cubs an alternative, and if they pass on Miller or Chapman because of him, then that's their mistake.