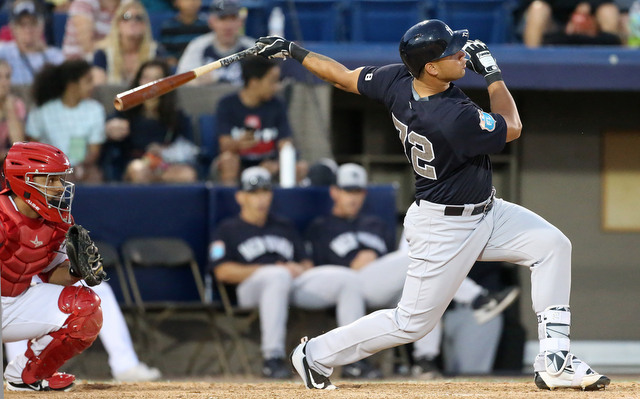 Looks like the Yankees are adding another bat for the weekend. Top catcher prospect Gary Sanchez has been called up to the Yankees, reports Shane Hennigan. The team has not yet announced the move. They probably won't until a few hours before the game Friday. No reason to think Hennigan's report is bonus though.
My guess — and this is only a semi-educated guess — is the Yankees want Sanchez's right-handed bat in the lineup against lefties Chris Sale and Jose Quintana this weekend. I think they'll call up Sanchez and send down eighth reliever Tyler Olson, then send down Sanchez on Monday in favor of an extra reliever (James Pazos?) until Alex Rodriguez comes off the DL, hopefully when he's eligible to be activated Thursday. We'll see.
Sanchez, 23, was hitting .290/.339/.551 (162 wRC+) with five home runs in 26 games with Triple-A Scranton this season before going 2-for-4 on Thursday, so those numbers are only going up. I would bet on Sanchez serving as the DH against Sale and Quintana, not catching. Then again, Sanchez and Luis Severino are familiar with each other, so maybe they'll be paired together as a battery Friday.
At this point Sanchez has been in the minors long enough to delay his free agency. (Monday was the earliest they could have called him while still pushing free agency back a year.) Austin Romine has been pretty good as Brian McCann's backup in the early going. I would be surprised if they were to cut bait on Romine at this point and go with Sanchez as the backup.