Archive for George Steinbrenner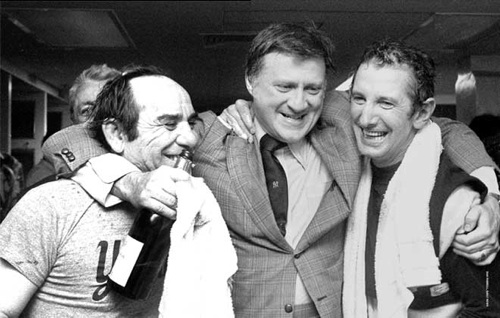 Updated by Benjamin Kabak and Mike Axisa (11:05 a.m.): Longtime New York Yankees owner George Steinbrenner III passed away at the age of 80, his family said today. According to reports out of Tampa, George was rushed to the hospital late Monday night after suffering a massive heart attack, and the Boss died at 6:30 a.m. this morning.
"It is with profound sadness that the family of George M. Steinbrenner III announces his passing," the Steinbrenner family in a statement said. "He passed away this morning in Tampa, Fla., at age 80. He was an incredible and charitable man. First and foremost he was devoted to his entire family – his beloved wife, Joan; his sisters, Susan Norpell and Judy Kamm, his children, Hank, Jennifer, Jessica and Hal; and all of his grandchildren. He was a visionary and a giant in the world of sports. He took a great but struggling franchise and turned it into a champion again."
Steinbrenner purchased the Yankees in 1973, when he and a group of investors acquired the team from CBS for $10 million. On his watch, the Yanks won 11 American League pennants and captured seven World Series titles. He took the team from an AL has-been to a billion-dollar global enterprise, revolutionizing baseball economics along the way. For better or worse, the sport hasn't been the same since Steinbrenner took over. This, too, despite one of the most understated introductions in baseball history. "We plan absentee ownership as far as running the Yankees is concerned," George said nearly 40 years ago. "We're not going to pretend we're something we aren't. I'll stick to building ships."
Just a few months later, the Yankees' Front Office was in turmoil as the people George brought in to run the team had departed. "Nothing," Yankees limited partner John McMullen said, "is as limited as being a limited partner of George's."
In recent years, as his health began to deteriorate, Steinbrenner, famous for his temper and tirades, wasn't involved in the day-to-day operations of the club. He relinquished control of the organization to his sons Hank and Hal in 2007, and the two have continue to run the team in his image. He is credited with changing the image of the franchise, instilling the famed no facial hair policy and requiring players to wear suits during travel.
Best known for his brash and often overbearing style, George was no stranger to controversy during his time with the Yankees. He was indicted on 14 criminal counts for making illegal contributions to President Richard Nixon's campaign in the early 1970's, and was suspended from baseball in the early 1990's after paying Howie Spira to dig up information intended to smear his own player Dave Winfield. His win-at-all-costs mantra quickly infected fans and the entire New York region.
As an owner, George was temperamental to the max. He criticized his own players in the press and fired managers at whim. He had a particularly contentious relationship with Billy Martin and alienated Yogi Berra to such a degree that the Yankee great refused to set foot in Yankee Stadium for nearly 15 years. Throughout the 1980s, the team suffered under his leadership as George thought he could throw money at the team's problems without developing an adequate farm system, and it was only upon his suspension in the early 1990s that the Yanks' baseball minds were allowed to go to work.
Once Steinbrenner reemerged from his suspension, he became a period of nearly unprecedented success for the Yankee organization. He forged the way with a $95 million sponsorship deal with Adidas and formed the YES Network in 2002. In 1988, as the Yanks stumbled through the 1980s, the MSG Network had entered into a 12-year, $500-million deal with the Yankees for their broadcast rights, and the team wanted to capture that revenue for itself. It took the cable upstart just three years to surpass the MSG Network as the nation's most lucrative regional sports channel, and estimates today peg the value of the YES Network — a River Ave. Blues partner — at a few billion dollars.
On the field, George's mantra was "spend, spend, spend." In late 1976, he made waves when he inked superstar Reggie Jackson to a five-year, $3 million, and from there, baseball salaries had nowhere to go but up. Over the years, Steinbrenner has courted the game's best superstars even as personalities clashed in the Bronx Zoo years of the late 1970s and money didn't translate into postseason appearances in the 1980s or early 1990s. Over the past 15 years, Steinbrenner hasn't scaled back his spending; as Yankee attendance reached past the 4-million mark, the team's payroll ballooned to over $200 million.
One of Steinbrenner's lasting acts as owner will be the construction of a new billion-dollar Yankee Stadium. Since the early 1990s, the Boss had been clamoring for a new palace for the Yankees in the Bronx. Although the historic House that Ruth Built could have been renovated, George wanted to see if he could maximize his revenue stream by building a state-of-the-art facility, and the new stadium opened last year to a World Series championship. It will forever be the House that George Built.
Despite his glaring shortcomings, George was also an extremely loyal and extremely generous man. He donated millions to charity and often carried longtime players and executives on the payroll long after their time with the team came to an end. A Tampa area high school now bears his name.
It's a terribly sad day in baseball, and especially in a Yankeeland still mourning the loss of Bob Sheppard. George went out on top, presiding over one last World Championship before he passed. He will undoubtedly go down as the one of the greatest and most controversial owners in the history of American sports.
RIP, Boss.
Credit: The photo above of Billy Martin, George Steinbrenner and Yogi Berra comes via The Daily News. Sports Illustrated has just published a slideshow of rare photos of the Boss that are well worth checking out. The Times has a full obituary.