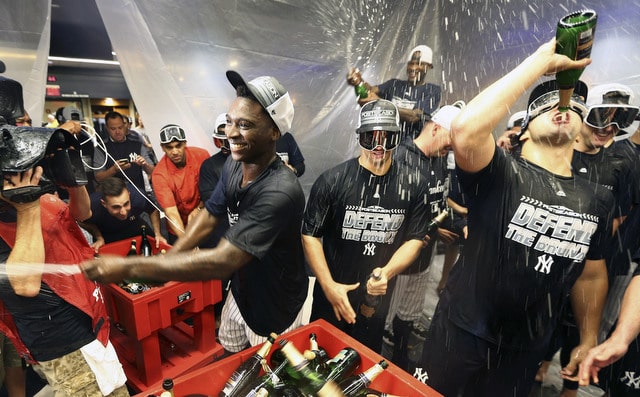 Saturday night, the Yankees clinched a spot in the 2018 postseason with a thrilling walk-off win against Orioles. Well, maybe thrilling isn't the best way to put it. The game was pretty dull up until Aaron Hicks yanked his walk-off double into the right field corner in the 11th inning. That was fun. The rest of the game? Meh.
Anyway, the Yankees are indeed going back to the postseason. They're locked into the Wild Card Game because the Red Sox have already clinched the AL East title, so that's a bummer, but at least the Yankees are in. Get into the postseason and you can win the World Series. The Yankees will be one of the final ten teams standing. That's pretty cool.
Now, just because the Yankees are locked into the Wild Card Game, it doesn't mean they can coast during this final week of the regular season. Well, they could, but I wouldn't advise it. There are still some things to accomplish and some boxes to check this week. Here are five.
Clinch homefield advantage
Fun fact: The home team is 5-7 in the Wild Card Game all-time. That said, I can't imagine any fan wants their team to play on the road in the Wild Card Game. Teams are built for their home ballparks and few teams are built as well for their home ballpark as the Yankees. The home/record records:
Yankees at home: 53-28 (+101 run differential)
Yankees on the road: 43-32 (+64 run differential)
Athletics at home: 50-31 (+59 run differential)
Athletics on the road: 45-31 (+77 run differential)
The Yankees are a good team on the road and a great team at home. And the 2018 Athletics are not the 2017 Twins. The Twins sold at the trade deadline last year and still made the postseason because the rest of the American League stunk. They made the postseason by default. This year's Athletics are an excellent team and no pushover. The Yankees will need as much help as they can get in that Wild Card Game, and that includes the short porch and the Yankee Stadium crowd. The magic number for homefield advantage is four.
(Also, clinching homefield advantage means avoiding a brutal travel schedule. If the Wild Card Game is in Oakland, the Yankees have have to travel from Boston to Oakland after the end of the regular season, then potentially go right back to Boston if they advance to the ALDS. Making a round trip cross country to play one game? No. Just no.)
Pick a Wild Card Game starter
The Yankees are in a good spot when it comes to picking a starting pitcher for next Wednesday's Wild Card Game. They have three good candidates in J.A. Happ, Luis Severino, and Masahiro Tanaka. I would much rather have one great candidate like first half Severino than three good candidates, but I can't complain. I'll feel pretty good — as good as you can feel in that situation, anyway — no matter who gets the ball.
"We will pick whoever is best qualified at that time, regardless of the following series," said Brian Cashman to Pete Caldera over the weekend when asked about the Wild Card Game starter. "It's all hands on deck for that one game, to find a way to survive it … Whatever is in our best interest, we'll try to do."
Two weeks ago RAB readers said Tanaka should start the Wild Card Game. Happ would be a fine choice as well. Severino? If he continues to pitch like he did last time out, it would be awfully tough for the Yankees to give the ball to someone else. Whoever it ends up being, the Yankees have to make a decision reasonably soon, and get that pitcher lined up on however many days rest (normal rest? an extra day?) this week.
Get Judge at-bats and Chapman innings
In seven games back in the starting lineup, Judge is 4-for-22 (.182) with six walks (.357 OBP) with seven strikeouts. The plate discipline is still there — the loss makes it easy to forget, but Judge's ten-pitch battle against Eduardo Rodriguez that turned an 0-2 count into a walk before Giancarlo Stanton's grand slam Thursday was a masterful at-bat — but the timing is not. He looks like a hitter who missed closed to two months.
Judge has put 15 balls in play since returning as a hitter and he has more fly balls and line drives (eight) than grounders and pop-ups (seven), so that's good, but he's not hitting the ball with much authority. He roped a 112.1 mph line drive in his first at-bat back. Since then he has only five 90+ mph batted balls, and his average exit velocity is 85.9 mph. His spray chart with exit velocities: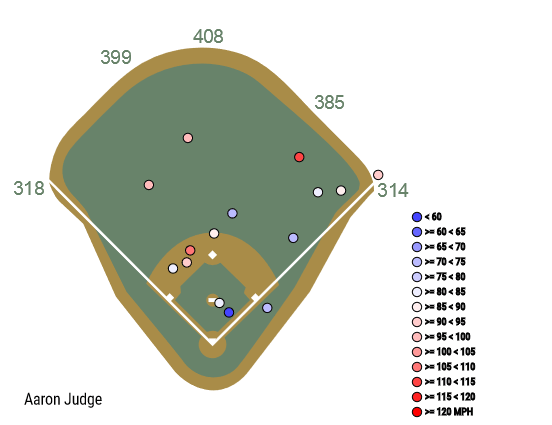 Yeah, not great. Judge has swung through some hittable fastballs since returning, which isn't the most surprising thing in the world. He had a long layoff and jumping straight from batting practice and simulated games to live MLB pitching ain't easy. That's why Judge needs as many at-bats as possible the rest of the season. There's a delicate balance here because the Yankees don't want to overload the wrist, but yeah, Judge needs at-bats.
As for Chapman, he's made three appearances since returning, two good and one not-so-good. His command was nonexistent — similar to Judge, Chapman not having good command after a month on the shelf isn't surprising — in his first game back, and his velocity was down the last two times out. In fact, his 96.3 mph average fastball velocity Saturday was his slowest average fastball since June 2012.
"I felt good. The speed wasn't where it usually is, but my command was much better and that's really important," said Chapman to Dan Martin over the weekend. "(The velocity being down) doesn't worry me at all. I know the speed is there. It's just a matter of getting out there and my getting rhythm back. Maybe after two more outings I'll be back to being the pitcher I've been."
Seeing Chapman sit mid-90s rather than upper-90s/low-100s can be alarming, though in this case, I'm not worried. He missed a month and is still rebuilding arm strength. Two bullpen sessions and one simulated game wasn't going to get him back into midseason form. The Yankees have six games remaining and, since Chapman pitched yesterday, it seems he has three appearances remaining at most. He and Judge need reps this last week to get back to where the Yankees need they them to be going into October.
Rest whoever's hurting
Well, the Yankees were in good shape health-wise up until two days ago. Now Didi Gregorius has torn cartilage in his wrist and Aaron Hicks has a tight hamstring. Both are day-to-day at this point. Gregorius will be reevaluated tomorrow and Hicks is going for an MRI today. If all goes well, both could return to the lineup later this week. I sure hope that happens. Aside from Didi and Hicks, the Yanks are healthy.
Does that mean everyone on the roster is 100%? Oh hell no. No one is 100% in September. Everyone's nursing something. Stanton's still dealing with his tight hamstring. Brett Gardner's been icing his right knee after games on-and-off for a few weeks now. Dellin Betances has that cut on his finger that keeps opening up. He says it doesn't affect his pitching, but he seems to be bleeding every time he's on the mound, and that can't be fun.
Point is, some players are nursing injuries, and if the Yankees can get them some extra rest and extra treatment in hopes of getting them healthy for the postseason, they should do it. There's a balance that has to be struck, for sure. The Yankees can't go into hangover mode just yet because they need to secure homefield advantage, but if there's an opportunity to deal with those aches and pains, they should do it.
Prepare regulars for postseason roles
Inevitably, some players will see their roles changed in October. Lance Lynn is probably going to move to the bullpen, for example. He pitched out of the bullpen in the postseason plenty with the Cardinals, so it's a role he's familiar with, but it still would be good to give him a tune-up game in relief before the season ends, you know? You don't want him doing it for the first time in a potential elimination game.
Gardner had been relegated to bench duty before Hicks got hurt last night, and if Hicks returns later this week, it stands to reason Gardner will be the designated pinch-runner in the postseason. Do you know how long it's been since Gardner pinch-ran? Last June. He's pinch-run five times total since 2012. It's not a role he's familiar with and it's not easy to come off the bench cold like that. A few tune-up pinch-running appearances this week would be worthwhile, assuming Hicks returns.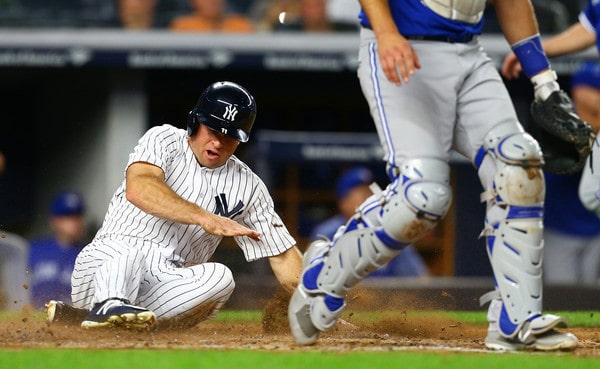 Also, with Gardner in center/on the bench, Andrew McCutchen is now the everyday left fielder, and he has 59 career big league innings in left field. All 59 have come within the last two weeks. He's still learning the position — McCutchen's looked fine out there overall but has taken some interesting routes at times, which is to be expected — and the more time the Yankees give him out there, the more comfortable he'll be.
There are some other minor considerations here as well. Will Greg Bird make the postseason roster, even as a bench bat? If yes, it wouldn't be a bad idea to give him some at-bats this final week. Are Chad Green and David Robertson (and Zach Britton?) going to be multi-inning options in the postseason? Making sure they're sufficiently stretched out seems worthwhile. Little things like this will help get the Yankees ready for October.
* * *
A case can be made the Yankees should give Justus Sheffield a chance to show he belongs on the postseason roster this week, though, realistically, I don't think there's enough time for that to happen. Best case scenario this week is three appearances, right? How well would Sheffield have to pitch in those three appearances to get the nod on the postseason roster? There are too many guys ahead of him on the depth chart, I think, but I do hope to see Sheffield pitch a bunch this week.
The Yankees have punched their ticket to the postseason, so they know they're in. Now they have to clinch homefield advantage and make sure the Wild Card Game is in New York. They also have to get their players ready for the postseason, which means picking a Wild Card Game starter, getting Judge and Chapman ready, and preparing players for their October roles. The Yankees know they're going to the postseason. Their work during the regular season isn't done yet though.