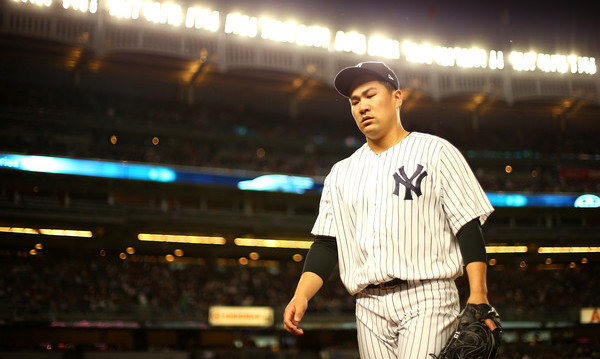 Once upon a time, Masahiro Tanaka was a good pitcher. Crazy, I know. It can be easy to forget that given how terrible three of his last four starts were. We're talking 22 runs and eight homers in 17.2 innings terrible. And that includes his 13-strikeout game against the A's two weeks ago. Tanaka has legitimately been one of the worst pitchers in baseball this year, and man, that sucks so hard.
On the bright side, Tanaka's best start of the season came against the same Red Sox team he'll face tonight. Gosh, I sure would love a repeat of that complete game shutout performance tonight. I'll settle for a quality start. Please come back, good Masahiro. We all miss you. Here is the Red Sox's lineup and here is the Yankees' lineup:
LF Brett Gardner
C Gary Sanchez
RF Aaron Judge
DH Matt Holliday
2B Starlin Castro
CF Aaron Hicks
SS Didi Gregorius
3B Chase Headley
1B Chris Carter
RHP Masahiro Tanaka
Not a great weather day in New York. It's overcast and it was raining earlier today, though there's none of the wet stuff in the forecast tonight. At least not enough of it to delay or postpone the game. Tonight's series opener will begin at 7:05pm ET. You can watch on WPIX locally and MLB Network nationally. Enjoy the game.
Injury Update: Aroldis Chapman (shoulder) expects to throw one more bullpen session with the Yankees before heading to Tampa on Friday to continue his rehab. If all goes well, it could be a quick minor league rehab assignment, and he could rejoin the team in the middle of next week … Jacoby Ellsbury (concussion) remains "status quo," according to Joe Girardi. He is still experiencing symptoms and there is no timetable for his return … Greg Bird (ankle) will join Triple-A Scranton on Thursday to continue his rehab assignment.
All-Star Voting Update: MLB released the second AL All-Star Game voting update earlier today, and Judge has taken over as the league's leading vote-getter. Pretty cool. His 1,251,543 votes are second only to Bryce Harper (1,459,235) among all players. Here's the full voting update. Castro has predictably fallen behind Jose Altuve at second base. Holliday is second at DH, Gregorius is third at shortstop, and Sanchez is fourth at catcher.