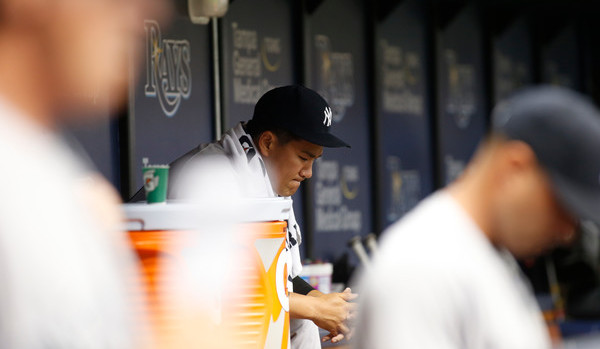 The Yankees are having a Murphy's Law start to the season. Whatever can go wrong, will go wrong. When they need the bullpen to be great, they blow a lead. When they need the offense to score some runs, they bang into a double play. The result so far is one win and three losses. Not the best start in the world, but hey, it happens. Every team goes 1-3 during some random four-game stretch each season. The Yankees just so happened to do it at the start of the season.
Anyway, Masahiro Tanaka is making his second start this afternoon, and gosh, his first was terrible. Arguably his worst as a Yankee. Afterwards both Tanaka and pitching coach Larry Rothschild chalked it up to adrenaline, which I can kinda sorta buy because Tanaka's location was so bad. That's not him. It looked like he was overthrowing. Hopefully he'll be over that Opening Day adrenaline rush today and pitch like the Yankees need him to pitch, which is ace-like. Here is the Orioles' lineup and here is the Yankees' lineup:
LF Brett Gardner
C Gary Sanchez
DH Matt Holliday
1B Chris Carter
CF Jacoby Ellsbury
2B Starlin Castro
3B Chase Headley
RF Aaron Hicks
SS Ronald Torreyes
RHP Masahiro Tanaka
It's a wonderful day in Baltimore, per the internet. Sunny and on the cool side. It's still too early for that sticky summer humidity in the mid-Atlantic. Today's game will begin at 4:10pm. You can watch on YES locally and FOX Sports 1 nationally. Try to enjoy.
Injury Update: Greg Bird (ankle) is still having some discomfort. He fouled a pitch off the ankle in the final week of Spring Training. X-rays came back negative and he'll see a doctor today. The Yankees hope to have him back in the lineup for the home opener Monday. For what it's worth, Brian Cashman said his level of concern is "low." My dumb take: the disabled list is ten days now, so just sit him out the week and a half and let it heal.
Injury Update II: The Yankees saw Bird saw a doctor today who determined no further tests are required. He is day-to-day. Good news.