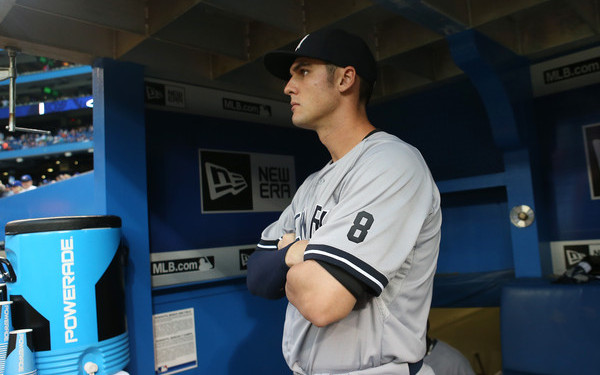 To no surprise, Brian Cashman confirmed the Yankees will not simply hand their top young players roster spots next season. They'll have to earn it. "May the best man win," said Cashman to Brendan Kuty recently when asked specifically about first base in the wake of Mark Teixeira's retirement.
At this point it's safe to say that yes, Gary Sanchez has earned his place on the 2017 Yankees. Not exactly going out on a limb here. He's the only young guy who has forced the issue this season though. First base and right field are another matter, ditto the pitching staff. And the bench too, I suppose. There's a lot going on here, so let's break it all down.
1. Competition is good! There seems to be this sense that when you're a rebuilding transitioning team, the best thing to do is throw the kids out there and let them sink or swim. I couldn't disagree more. Yes, there comes a point when you have to run a young player out there everyday to help him develop, but handing players jobs? Nah. That should be reserved for the best of the best.
Besides, competition between young players is good and healthy. They push each other to get better and it helps foster that "be the best player you can be" mentality. That's a good thing. "We want a team full of good players. That's how we're going to win games," said Greg Bird to Kuty. "And that's us competing or other people competing with each other makes us all better, than that's what we want."
2. There's a wide range of outcomes at first base. A year ago at this time we were all thrilled about the future at first base, the same way we're thrilled about the future at catcher right now. Bird burst onto the scene and played very well down the stretch last season. He wasn't Sanchez, but he was pretty awesome. The Yankees really missed Bird this year. He would have helped at first base and DH big time.
Bird's shoulder injury has created some questions about next season. How healthy will he be? How quickly will he be back at full strength? Will he ever get back to full strength? Bird told Kuty his shoulder feels great — "It's stronger than what it was and it's structurally sound now," he said — and he'll soon face live pitching in Instructional League and the Arizona Fall League, but until he gets out there everyday, we just can't know what he's capable of. This was a major injury.
With any luck, Bird will come back and pick up right where he left off last season, giving the Yankees a no-doubt answer at first base. There's a chance he may need time at Triple-A to shake off the rust, however, in which case Tyler Austin becomes Plan A at first base. I guess? Austin or Rob Refsnyder. Maybe Brian McCann or Austin Romine? First base could be really good or really bad next season. Bird could rake or the Yankees could end up cycling through players all year in an effort to find a solution.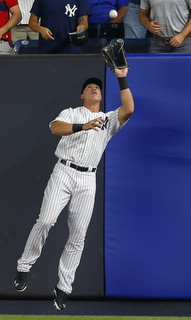 3. Right field seems wide open. Give the Yankees a truth serum and I'm guessing they'd tell you they want Aaron Judge to take the right field job in Spring Training and run with it. Of their in-house options, he has the best chance to become a middle of the order bat one day. "He will have to earn his way on to next year's roster. There are no absolutes. Without question, he'll be better for the experience," said Cashman to Andrew Marchand.
Judge struggled to make contact this season and he's losing reps now due to the oblique injury, which stinks. That's valuable development time, even if it is only three weeks. His primary competition figures to be Austin, Refsnyder, Aaron Hicks, and Mason Williams. And you know what? The right field job could fall on two players via platoon or some kind of time share. It would be awesome if Judge won the job. I feel like anything could happen in right field though. Hicks everyday, a Williams/Austin platoon, whatever.
4. A veteran backup plan feels like a must. The Yankees have brought in a veteran bench player to cover first base and right field the last two years, and it didn't work either time. Garrett Jones didn't hit last year and Dustin Ackley blew out his shoulder this year. Neither played all that much either because the Yankees had pricey veterans in the lineup. It was a smart use of a roster spot that didn't work out.
Since the Yankees are poised to go young at first base and in right field next year, bringing in a veteran backup plan for depth again makes sense, and this time at-bats should be easier to come by. Veterans like Teixeira and Carlos Beltran get the benefit of the doubt and stay in the lineup no matter what. A struggling kid could see a little more time in the bench just to get a mental break now and then.
We can sort through potential candidates for this role in the offseason — I'll be beating the Steve Pearce drum this winter, so get ready for it (yes I know he's having elbow surgery) — though it's worth noting the Yankees have some options for this role themselves. Perfect world scenario is what, Bird at first and Judge in right with Austin and/or Refsnyder backing up both positions? I guess so, but a little veteran depth to protect against a Bird setback/Judge whiff-fest would be nice.
5. Severino shouldn't be guaranteed anything. Competition for a rotation spot or a few bullpen spots is nothing new. I can't remember the last time the Yankees didn't have some pitching spots up for grabs in camp. I'm sure that'll be true next year as well. Chad Green, Luis Cessa, and Bryan Mitchell could all wind up competing for the fifth starter's job, for example. That would be ideal, really.
Luis Severino presents an interesting case. He got hammered as a starter this season in two separate stints, but he's also dominated out of the bullpen. The Yankees insist they don't want to give up on him as a starter because he's still so young and I believe them. But, because he was so bad a starter this season and lost feel for his changeup, Severino shouldn't come to camp with a rotation spot locked up like he did this year. He should have to earn it like everyone else.
Severino is in the bullpen right now because he gives the Yankees the best chance to win. That's all there is to it. He hasn't thrown his changeup much in relief — seven of his 200 pitches this month have been changeups, so yeah — and that's kind of a problem. His development as a starting pitcher should be the priority in 2017. If that means more time in Triple-A, so be it. Severino shouldn't be handed a spot just because. That would be a mistake.