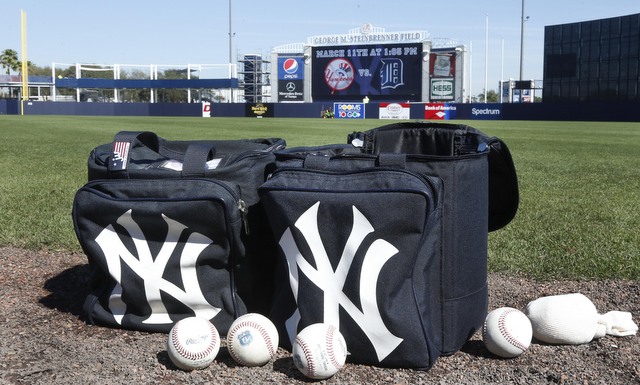 Hey, baseball! You're unofficially back and that's all sorts of awesome. It's still a while before things really count, but it's nice to have the game back in our lives on a daily basis, even if it's just in the form of players doing workouts or taking batting practice or throwing bullpens. Dinner, so to speak, is finally on the stove and we're beginning to smell it as its scent wafts up to us, enticing us to walk down into the kitchen (even if it won't really open until April). So, in celebration of the season, here are some assorted thoughts about baseball goings on and whatnot.
How about that Aaron Judge homer? Or Gleyber Torres knocking two doubles and scoring from second (!) on a wild pitch? Or Clint Frazier going oppo on a triple? In the long run, these things mean absolutely nothing. I know it; you know it; the players themselves (probably) know it. But, regardless, it's nice to see. Spring Training already gives us that nebulously fuzzy feeling of optimism and that only gets heightened when prospects and young players perform well.
While on the topic of young players, whom do you guys think is more likely to start the year in AAA: Judge or Greg Bird? There are cases for both players needing more work. Judge still swings and misses a lot and Bird will need to find his power stroke after missing an entire year; it's plan to see why those two things could/should be worked out in Scranton rather than the Bronx. Both have nominally capable "replacements" in Aaron Hicks and Chris Carter, though Carter is much more a sure thing than Hicks at this point. I don't think either of them ends up in AAA to start the year, though, and despite arguments for it, in a year in which the Yankees are transitioning, it's okay to see some growing pains at the highest level.
The World Baseball Classic is back this year and it's still something that I like but don't love at this point. I get why it exists and I think the commissioner and his office genuinely do want to grow the game internationally–as they well should from a business point of view–but the whole thing still feels a bit stilted and awkward and I can't place why. As a fan of soccer, I enjoy tournaments that the WBC tries to mimic–the World Cup, the European/Copa America tournaments, the Champions League, the FA Cup, etc.–but I just can't fully buy into the WBC. I think I'd like it a lot more if it were styled after the Champions League with club teams rather than international teams. The only problem there is lack of competition. Only teams from the US, Japan, Cuba, and Korea would really be able to hack it in such a tournament, as teams from the other leagues in the world aren't anywhere near good enough to hang with the best of the best from those leagues. I suppose, then, that there really isn't much to do about changing it. Eventually–when no Yankees play in the damn thing–I'll learn to love it.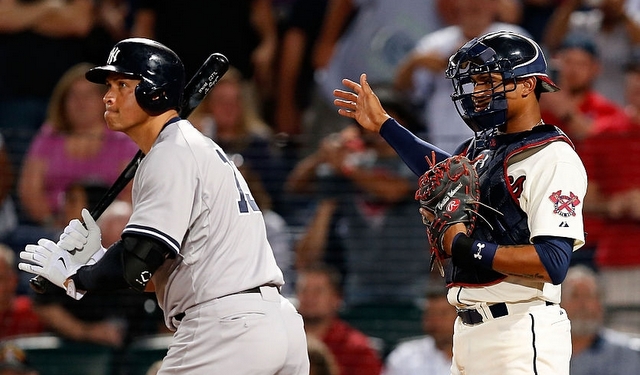 Speaking of changes, MLB is doing away with the intentional walk process and I feel very…ambivalent about it. I don't necessarily like it, but I don't feel nearly strong enough about it to make a stink. At the end of the day, it's a fairly meaningless change that won't do much to take away from the game and won't do much to improve it. It's a fairly transparent move, in fact, so MLB can say 'Look! See? We're making changes!' without having to do anything radical or spend any money. Regardless of my personal feelings, pace of play is a concern of MLB's and they're going to do what they can to speed up play, though I'm not sure how much it'll help. Will casual fans become die hards or will new fans be born because games go from three hours to two hour and forty five minutes? Eh.
To grow the game, MLB needs to think outside just the field of play. I love baseball not just because it was introduced to me by my family, but because I played it growing up. For many kids in this country–especially kids of color and those in urban environments–the cost of playing baseball is prohibitive. Pumping money into youth leagues of all shapes and sizes–even subsidizing some of them–is one way for MLB to grow both with young people and people of color, demographics the sport has lacked recently.
Additionally, MLB needs to tap into why young people like certain sports. Over the last five years or so, I've taught every grade from 7-12 (though only as a day sub for 8th grade) and kids like players more than they like teams. I was the same way when I was younger–I had basketball and football jerseys from a dozen different teams and kids today are no different. They talk about players and stars more than they talk about teams. MLB hasn't done the greatest job of promoting its new crop of stars and that's going to hurt them as they compete against star-driven leagues like the NBA and the NFL. Allow player personalities to shine on the field and give them exposure off the field. It's 2017; act like it, MLB.