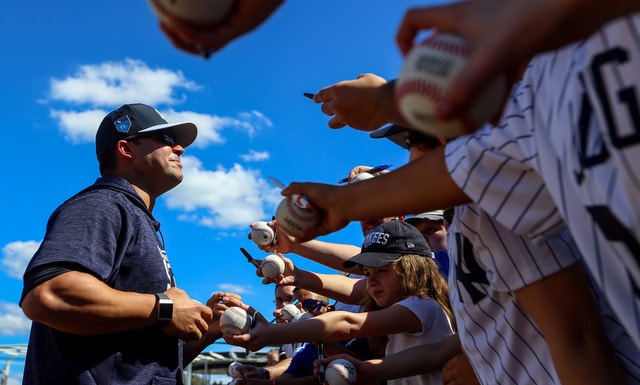 Alex Rodriguez is back with the Yankees. So is Nick Swisher. This morning the Yankees announced A-Rod, Hideki Matsui, and Reggie Jackson are returning to the Yankees as special advisors to Brian Cashman, and Swisher has been hired in the same capacity. I imagine this means A-Rod will be in camp at some point.
"These are exciting times for the New York Yankees, and I do not take his opportunity for granted," said Rodriguez in a statement. "I am genuinely thankful for the trust the organization has placed in me, and I am looking forward to lending whatever support or expertise is needed of me. I continue to cherish The Pinstripes, the fans and my involvement with the Steinbrenner family, Brian Cashman, and his world-class staff."
Matsui and especially Reggie have been special advisors for years now. They just have new contracts. Rodriguez had served as a special advisor after being released in August 2016 through the end of his player contract in 2017. Hal Steinbrenner said a few weeks ago he was talking to Alex about bringing him in back in some capacity.
As for Swisher, he announced his retirement last February and is getting back into baseball after the proverbial year away from the game. He helped out during Captain's Camp and is in Spring Training as a guest instructor. Now he has a full-time front office gig with the Yankees. How about that?
In the past A-Rod, Matsui, and Reggie worked primarily on the minor league side, traveling to the various affiliates to work with prospects. I imagine Swisher will do the same as well. The Yankees offered Carlos Beltran a special advisor job earlier this offseason, but he opted to step away and spend a year with his family.