Monday night's game against the Indians was just one of those wonderful games. It was clear from the first inning that the Yankees were going to win, as they built up a sizable early lead and had a veteran pitcher on the mound who worked quickly, threw strikes, and simply got outs. The 7-1 win was their third straight win, 13th in the last 16 games, and 23rd in the last 30 games.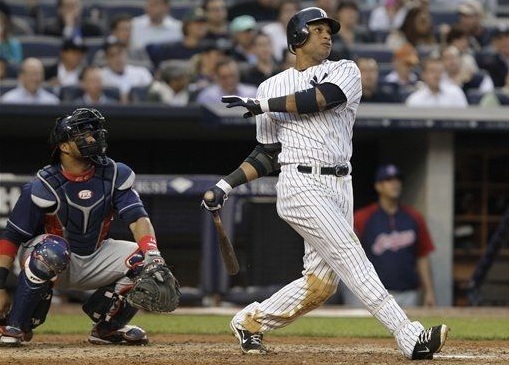 Too Many Homers
I mentioned in the series preview that right-hander Josh Tomlin was a great matchup for the Yankees because he doesn't miss bats and will allow hitters to put the ball in play in the air, and sure enough that carried over into the game. New York bombed the Cleveland starter for three homers in three innings, including one by Dewayne Wise of all people. It was the 23rd homer of his ten-year career. Robinson Cano and Nick Swisher also went back-to-back, plus Mark Teixeira hit a rocket single off the top of the wall and Robbie laced a two-run double in the first. They were all over Tomlin, who threw 80 pitches and got five swings and misses. The Yankees fouled off 23 of his offerings. Just nuts.
Hirokidoke
You can't pitch much better than Hiroki Kuroda did on Monday night. He allowed just one run on five hits in seven innings, and two of those hits came leading off the eighth. The run scored after he had been removed from the game. Kuroda struck out seven, walked two, and recorded 19 of his 21 outs on the infield. He allowed just two base-runners to make it as far as second base in the first seven innings. Hiroki dominated with his split-finger, throwing it 16 times out of his 103 pitches (15.5%) and using it to get the strike three six of seven times. Cleveland hitters swung and missed a dozen times, his third highest whiff total of the season. Like I said, it was a veteran pitcher with a big lead. Kuroda just flat out took care of business against the Tribe.
Leftovers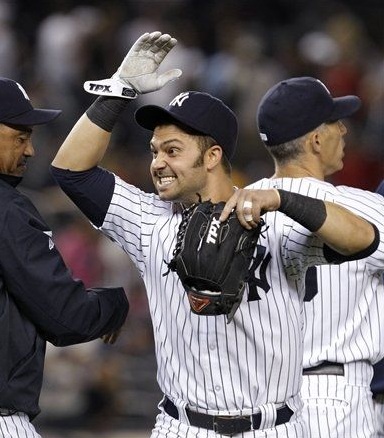 Swisher had himself an eventful evening, hitting the homer, striking out three times — Paul O'Neill called it a "Reggie Jackson game" at the plate — in addition to making a trio of nice plays in the eighth. The first was a sliding grab in front of him, the second a running catch to his right, the third a running catch to his left near the foul line. Swisher was all smiles and he fist bumped some police officers on his way back to dugout. The purist must have been livid. It was awesome.
In addition to the two-run homer, Wise also tripled even though the replay showed he was tagged out at third. The ump said he was safe though, and that's all that counts. I guess you could say that playing him tonight was … a wise move. /shades /yeeeeeeeeeeeeeeah
Every starter reached base at least once — including Chris Stewart, who was hit by a pitch — while Cano (homer and double), Eric Chavez (single and walk), and Wise (homer and triple) each reached twice. Teixeira had the long single and also took a pitch to the right hand, but he remained in the game and appears to be fine.
Clay Rapada and Freddy Garcia retired all six men they faced, though Rapada needed some help from Swisher in that eighth inning. He faced two right-handed batters, so it's not a surprise he needed a little backup from his defense. The key late-inning arms got a much needed rest after working hard over the weekend.
MLB.com won't let me embed it, but here's the video for Monday's HOPE Week event. The Yankees visited the Flying Manes, a therapeutic horse riding project in the Bronx designed to help disabled children. As you'd expect, it absolutely fantastic. HOPE Week the best week.
Box Score, WPA Graph & Standings
Nice and easy. Needed one of these. MLB.com has the box score and video highlights, FanGraphs the nerd score, and ESPN the updated standings. At 44-28, your New York Yankees own the best record in baseball.

Source: FanGraphs
Up Next
The Yankees and Indians will play game two of this three-game set on Tuesday night, when Phil Hughes and his doppelganger Justin Masterson square off. RAB Tickets can help get you in the building if you want to head up to the Bronx.