Even though it is not really the halfway point of the season, there is no better time to review the first half than the All-Star break. This week we'll hand out some simple and straightforward grades, A through F, for the catchers, infielders, outfielders, rotation, and bullpen. These grades are totally subjective. We've already covered the catchers and infielders, so now let's move on to the outfielders.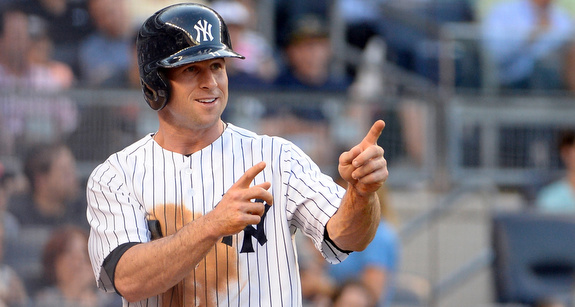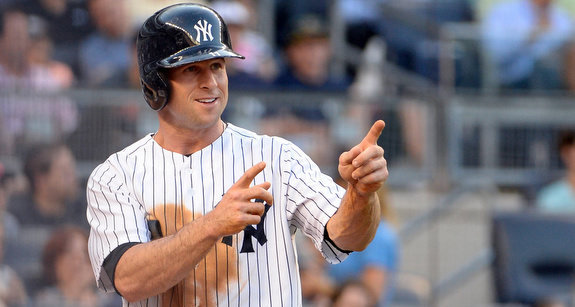 Brett Gardner — Grade A
Through the first 94 games of the 2014 season, Gardner has been the Yankees' best position player. The team got out ahead of his impending free agency by signing him to a four-year extension worth $52M in Spring Training, a deal that looked sensible at the time and looks like a bargain now given his production and the lack of quality outfielders in the upcoming free agent classes.
Among players with at least 100 plate appearances, Gardner leads the team in one-base percentage (.353) and total bases (146), ranks second in batting average (.279), slugging percentage (.424), stolen bases (15), OPS+ (116), and wRC+ (116), and first in both bWAR (2.9) and fWAR (2.7). He's already set a career-high with nine homers. Gardner actually started the season in a funk, going 15-for-62 (.242) in the team's first 18 games, but he's hit .286/.366/.447 (126 wRC+) in the 76 games since. That'll do just fine.
Gardner's defense continues to be excellent as well. He slid back into left field seamlessly and has performed up to his usually defensive standards, which are rather high. Inside Edge data rates his glovework very well. The Yankees tried shuffling things around and actually started Gardner in right field during a game at Fenway Park in April, but that was a disaster. It looked like he had never played the outfield before. Left field is where he remains and whenever the need has arisen for whatever reason, he's slid over and filled in at center without missing a beat.
The only negatives in Gardner's game are his career-high 21.7% strikeout rate and career-low 11.6% stolen base attempt rate. The strikeout issue seems to have to do with him being a little more aggressive in certain counts and swinging for a fences, hence the homers. The stolen base this is weird — he ran in 14.3% of his opportunities last year and in 25.0% of his opportunities from 2010-12. Gardner is still on pace for 26 steals (in 33 attempts), but it appears his days of 45+ stolen bases are over. That's a shame. Either way, he's having an unreal season.
Jacoby Ellsbury – Grade B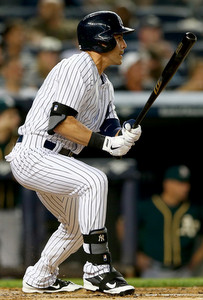 As the story goes, it became clear to the Yankees they were going to lose Robinson Cano on a Friday, so they acted quickly to sign Ellsbury before a bidding way broke out. The two sides were in agreement the following Tuesday, and the Friday after that, Cano hooked on with the Mariners. The Yankees replaced Cano with the second best free agent in Ellsbury even though he wasn't a great fit for the roster — they already had a perfectly capable speedy leadoff hitter and strong defensive center fielder in Gardner.
Ellsbury has been very good through his first season in pinstripes, hitting .282/.346/.400 (105 wRC+) with six homers and 24 steals in 29 chances. That's right in line with the .289/.341/.407 (103 wRC+) batting line he put up from 2012-13 following his outlier 2011 campaign. Ellsbury's power has not ticked up despite the move into lefty friendly Yankee Stadium and that makes total sense — almost all of his hits are line drives to left and center field. That's not a bad thing, it's just not conducive to taking advantage of the short porch.
As expected, Ellsbury has had an impact both on the bases and in the field. He's on pace for 41 steals with an 82.8% success rate, which would make him the team's first 40-steal guy since Gardner in 2011. The defensive stats hate Ellsbury this year and I don't get it — it's a Gardner thing, it happened with Curtis Granderson too, he must be stealing outs and hurting the center fielder's defensive numbers — but based on the eye test he's been phenomenal in center. Better than Gardner last season and Gardner was awesome.
Because of injuries and underperformance and all that, the Yankees and Joe Girardi have had to improvise with their lineup. That means Ellsbury has been miscast as a three-hole hitter for most of the year while Gardner bats leadoff. They really don't have an alternative at this point. Ellsbury lacks the traditional three-hole hitter skills in that he can't create a run with one swing, but that's not his fault. He's a leadoff hitter the team is asking to hit third. Either way, Ellsbury was pretty awesome in the first half.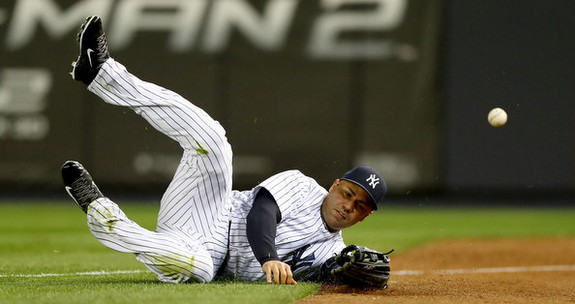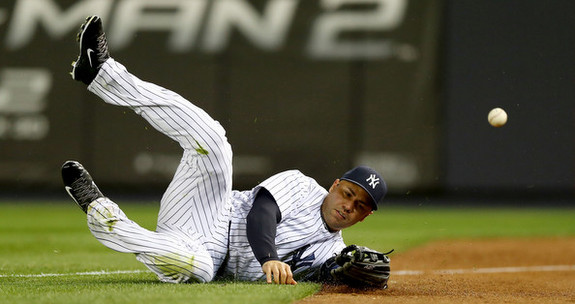 Carlos Beltran — Grade F
Worst case scenario? Possibly. The Yankees signed the 37-year-old Beltran (for three years!) to be the middle of the order hitter they lost in Cano, but so far all they've gotten is a broken down former star who has struggled to both be productive and stay on the field. This is the position player version of Randy Johnson — the right player, only nine years too late.
Beltran has hit .216/.271/.401 (78 wRC+) with nine homers in 228 plate appearances this year while missing time with elbow, knee, and concussion problems. He has a bone spur in his elbow that cost him a month and will require offseason surgery. It has relegated him to full-time DH duty because he can't throw. (He tried a throwing program but had to shut it down due to discomfort.) The concussion was a fluke injury that occurred when he lined a ball off the cage and back into his face during batting practice. It's that kinda year.
It's easy to forget Beltran actually mashed at the start of the season. He was hitting .298/.339/.614 (151 wRC+) with four homers through the team's first 16 games, then he flipped over the short wall in Tropicana Field while trying to catch a foul pop-up, and has hit .189/.249/.331 (56 wRC+) in 193 plate appearances since. I don't know it it's just a coincidence or if he hurt himself flipping over the wall, but he hasn't hit for nearly 200 plate appearances now. Clutch hits? Beltran hit that walk-off homer against Zach Britton but otherwise has a .156/.216/.297 (25 wRC+) batting line with men in scoring position and a .130/.241/.391 (55 wRC+) batting line in high-leverage situations.
Because he's not hitting and can't play the field — not that his defense was a positive, he hurts the team less as the DH, to be honest — Beltran has very little value to the Yankees right now. He could start hitting at any moment and it would be a huge help if he did, but the combination of injuries and age are working against him. Beltran's first three and a half months in pinstripes couldn't have gone much worse.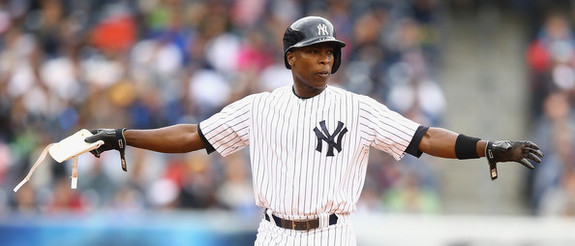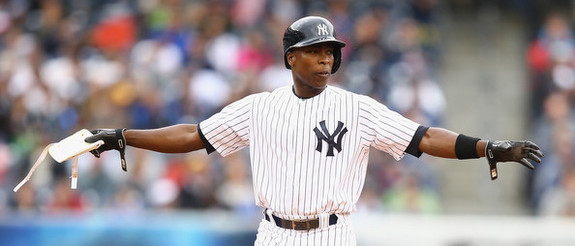 Alfonso Soriano — Grade F
Man, this sucks. Soriano was one of the most fun to watch players when he on a roll and having a full season of him was supposed to give the Yankees a big offensive shot in the arm. Instead, he put up a .221/.244/.367 (60 wRC+) line with six homers and an unsightly 71/6 K/BB in 238 plate appearances before being dropped from the roster roughly two weeks ago. He wasn't even hitting lefties anymore (80 wRC+). That's it. Without warning he went from 34 homers and a 121 wRC+ in 2013 to being done in 2014. Like done done.
Soriano started the year as the full-time DH in deference to Gardner, Ellsbury, and Beltran in the outfield. He eventually moved to right — he had never played the position before (other than Spring Training) and I thought he did about as well as he could have realistically been expected to perform defensively — once Beltran got hurt, but eventually he lost playing time to Ichiro and was pushed into the light half of a platoon. The Yankees released Soriano earlier this week and he told Marly Rivera he might simply retire rather than continue playing. It was not a pretty end.
Ichiro Suzuki — Grade C
The Yankees relegated Ichiro to fifth outfielder status with their offseason spending spree, and even that was only after they were unable to trade him. And yet, through the traditional first half, he has batted 220 times and appeared in 81 games, the sixth most on the team. He took over as the most of the time right fielder a few weeks ago thanks to both his strong performance and the underwhelming performance of others.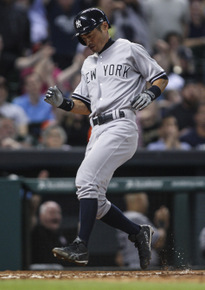 Ichiro is hitting .297/.347/.337 (90 wRC+) with six stolen bases on the season, though his bat predictably cooled once pressed into everyday duty. He went 25-for-37 (.373) with a 142 wRC+ as a reserve player during the first 47 team games of the season but has managed only a .259/.308/.289 (63 wRC+) line as a regular in the 47 team games since. Ichiro's defense has been fine and he'll still steal the occasional base, but that's pretty much it. He's a very good extra outfielder and a pretty terrible regular outfielder at this point of his career.
Zoilo Almonte — incomplete
I get the feeling the Yankees are not going to give Almonte an opportunity to show whether he can be of some use at the MLB level, even as a nothing more than a fourth outfielder. He's been up and down a few times this year thanks mostly to Beltran's injuries, getting into ten games and going 4-for-25 (.160) with a homer. Even with Soriano gone, the Yankees have opted to play Ichiro everyday and sub in Zelous Wheeler on occasion. Meh
* * *
Coming into the season, the outfield was expected to be the strength of the team, and it has been. It just hasn't been as strong as expected due to Beltran's struggles and Soriano's brutal ineffectiveness. Gardner and Ellsbury have been the team's two best players all season and have lived up to expectations in my opinion. Everyone else in the outfield has kinda stunk. Getting Beltran back and producing at an above-average rate will be imperative in the second half. The Yankees will only be able to acquire so much offense in trades.