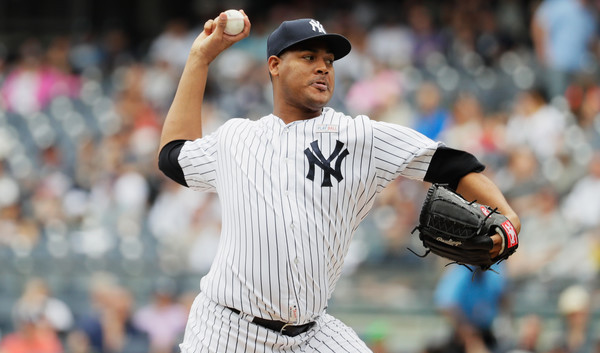 This is my third piece on Ivan Nova this season, including Spring Training. For a player whose game I'm not necessarily overly fond about, that seems like a lot. However, when I wrote my first piece about him in 2016, I did so making a fairly bold claim with regards to what Nova should do with his pitches out of the bullpen. As such, I feel an obligation to check in on how he's done with the strategy I proposed way back when. Now that Nova's in the starting rotation–and has been for almost a month–I figured it was worth checking in on the suggested repertoire I laid out back in late January.
Since being placed in the rotation, Nova has made six starts for the Yankees, dating back to a 4.2 inning 'debut' on May 9. In those starts, Nova's thrown 35 innings and given up 36 hits. He's walked seven and struck out 26. His ERA as a starter is a fairly respectable 4.11, which you'd more than live with from a back-end guy. And though the unsolicited advice I offered was done so with the belief he'd be a reliever, Nova has used that strategy as a starter in 2016.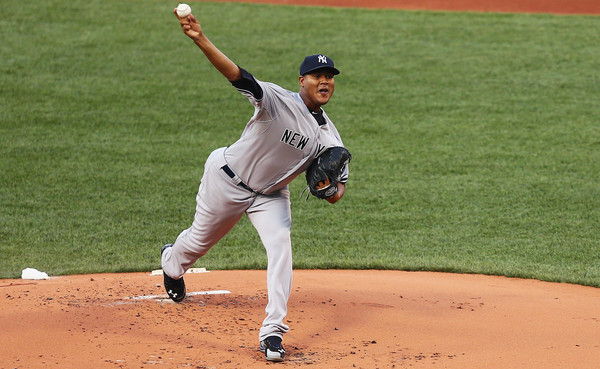 Having ditched the four-seamer, change up, and slider, Nova's thrown almost exclusively sinkers and curveballs, even as a starter. And for the most part, those pitches have been at least reasonably effective. The sinker, for instance, has shown slight improvement over his career (up to 5/8/2016) numbers in whiff/swing%, line drives per balls in play, fly balls per balls in play, and pop ups per balls in play. Ivan's uncle Charlie has also seen big jumps in whiff/swing% and ground ball rate. However, there is a problem with both of these pitches and it speaks to something unmentioned in the previous paragraph.
In his six starts this year, Nova has had a bit of a problem with extra bases. Of the 36 hits he's given up, 15 of them have gone for extra bases; eight of them have been doubles and seven have been homers. In fact, he's given up at least one home run in each start he's made.
Therein lies the problem with Nova's streamlined arsenal. The more pitches you throw of the same type, the more likely it is that you'll make some mistakes with them, and that might be what's happening to him. His sinker, which until this recent string of starts carried a 6.4% rate, currently sports a 13.64% mark for HR/FB+LD. Additionally, the curve sits way higher than 'normal' (10.26): 16.67%. If you're giving up dingers on sinkers and curves, they're likely not sinking and dropping enough, so that's something Nova will need to iron out going forward.
Ivan started out hot, giving up just three runs in his first three starts. The last three, however, have seen him surrender at least four each time. Granted, they've been against Toronto and Baltimore and that's not good for a pitcher who's finding himself prone to giving up the long ball. Given that the Yankees don't seem to have any other viable rotation options at the moment–barring a reemergence from Luis Severino–it's imperative that he perfect–or at least come close to that–his new pitch selection and keep the ball down.