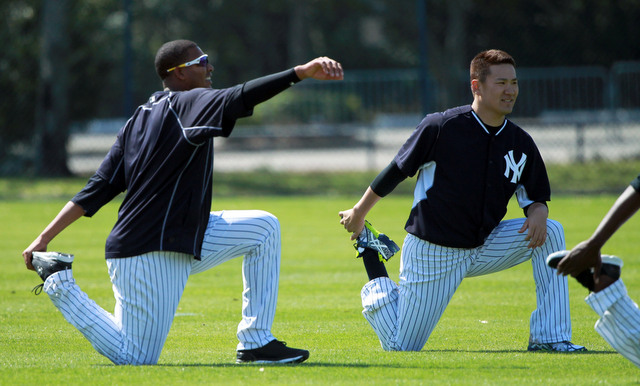 Yesterday afternoon Joe Girardi announced Ivan Nova will make his (hopefully) triumphant return to the rotation tomorrow afternoon, in the Yankees' series finale with the Phillies. Nova had Tommy John surgery late last April, so his rehab lasted 14 months or so. I have thoughts on this development. Time to share.
1. It goes without saying Nova's return is a good thing. Getting a healthy pitcher back and beefing up the depth chart is never bad. That said, I really have no idea what to expect from Nova. Heck, even when he was healthy it was tough to know which Nova would show up from start to start. He'd have rough stretches and dominant stretches, which isn't uncommon for talented young pitchers. Command was never really his strength though — he seemed to lack command all through 2012 and the result was the most extra-base hits allowed in baseball — and that's usually the last thing to return following Tommy John surgery. Nova's return could be a little rocky at first, and, if it is, there's nothing the Yankees can do other than ride it out and wait for him to adjust to his new elbow.
2. So yes, while Nova's return is a good thing, it does create some roster headaches. Girardi told reporters the Yankees will use a six-man rotation for the time being, something they've been talking about since before Spring Training even started. They want to give everyone, particularly guys with health questions like Masahiro Tanaka (elbow) and Michael Pineda (shoulder) an extra day of rest whenever possible, and the six-man rotation allows them to do that during this 20 games in 20 days stretch that is a little more than halfway complete. (Tonight is Game 12.) My guess is the Yankees figured the crowded rotation would take care of itself, either by someone getting hurt or Adam Warren pitching himself back into the bullpen, but that didn't happen. The six-man rotation both gives the starters extra rest and gives the team time before deciding who to remove from the rotation.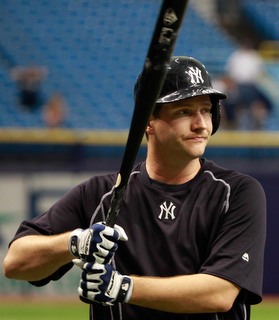 3. I don't think anyone expected Warren to pitch this well as a starter — 3.62 ERA (4.25 FIP) overall and 2.93 ERA (4.23 FIP) in his last seven starts — including the Yankees. Remember, he was only in the rotation to start the year because Chris Capuano got hurt in Spring Training. I think the Yankees figured Warren would simply hold down the fort, be serviceable but not really excel, and then slide back into the bullpen whenever someone got healthy. That didn't happen. Warren complicated things (in a good way!) by pitching well. He took Capuano's rotation spot — that was the easy part — and is now going to have to show he belongs in the rotation ahead of … who? Tanaka, Pineda, and CC Sabathia won't lose their spots and Nathan Eovaldi is unlikely to as well. It's either Warren or Nova, and my guess is Nova will be given a lot of rope coming off elbow surgery. Barring an injury, it's hard to see how Warren remains in the rotation beyond next week. For shame.
4. When the time comes to activate Nova tomorrow, I have no doubt the Yankees will send Ramon Flores down to Triple-A Scranton and play with a three-man bench. Everything they've done the last few years says they will not play with a six-man bullpen. And, not for nothing, they need all the arms they can get right now. They've had some problems keeping the other team off the board the last week or so. Going with a six-man bullpen is not a good idea right now. So Flores goes down, Garrett Jones and Chris Young share a quasi-platoon in left, and John Ryan Murphy and Brendan Ryan are on the bench. The roster stays like that until … who knows. Until a starter is moved into the bullpen or Jacoby Ellsbury returns. This is another one of those "deal with it when the time comes" situations. Either way, like I said, I have no doubt Flores is going down and the Yankees will use a three-man bench while using the six-man rotation.
5. Opening a 40-man roster spot for Nova will be a bit more interesting. The Yankees could call up Jacob Lindgren (elbow) and slide him to the 60-day DL, which would allow him to accrue service time, which the team wants to avoid. They've been hesitant do that "call up then 60-day DL" thing with other prospects in the past. That means someone will be designated for assignment, with Gregorio Petit and Jose DePaula standing out as candidates. Diego Moreno is another candidate as well. The Yankees have added three pitchers to the 40-man in recent weeks (Moreno, Lindgren, Nick Rumbelow) and could opt to jettison DePaula or Moreno while keeping the extra infielder. This isn't a critical move, whoever they cut can be replaced relatively easily, but this stuff always interests me. Nova's return means someone else has to go.