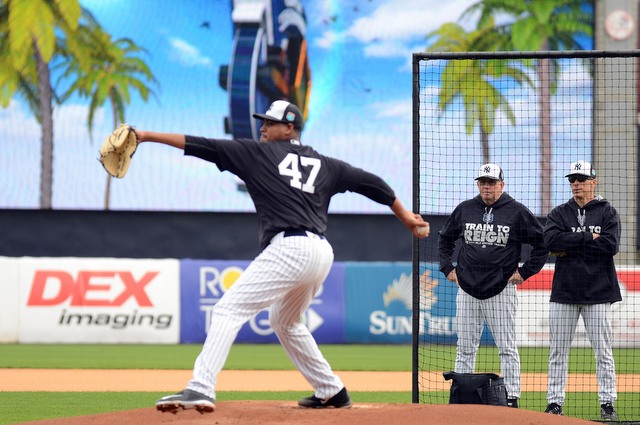 Ivan Nova has spent pretty much his entire career in someone else's shadow. Coming up through the minors, he was always stuck behind more highly regarded pitching prospects like Joba Chamberlain, Ian Kennedy, and Manny Banuelos. Then when he broke into the big leagues, he was behind guys like Phil Hughes and Michael Pineda. Even David Phelps at times.
This season Nova came to camp as the second oldest of the team's six starting pitcher candidates — only CC Sabathia is older — and he isn't even assured a rotation spot. He's coming back off a yucky 2015 season (5.07 ERA and 4.87 FIP) that started late because he was rehabbing from Tommy John surgery. The poor performance and the injury could be connected, of course. Then again, Nova was healthy in 2012, when he had a 5.02 ERA (4.60 FIP).
Nova is entering his age 29 season and his sixth big league season, and I still feel like we have no idea who he really is. Is Nova the guy who pitched so well in 2010 (3.70 ERA and 4.00 FIP) and 2013 (3.10 ERA and 3.47 FIP)? Or is he the guy who stunk in 2012 and 2015? Is he a fastball-slider pitcher or a fastball-curveball pitcher? He's alternated breaking balls over the years too. Nova's a mystery.
The 2016 season is Ivan's last year before free agency, so it's fair to call this the biggest season of his life. A good season along the lines of 2010 and 2013 will equal a handsome payday next winter. A poor season like 2012 and 2015 means Nova will probably find himself looking for a one-year contract to re-establish value. That's a lot of pressure, and I can't imagine it helps that he came to camp as the sixth starter. This is a tough spot.
That said, I'm pretty sure Nova's going to end up making a bunch of starts this season. Upwards of 20-25, even. No team goes through a season using only five starters these days, and the Yankees carry even greater injury risk in their starting five than most teams. Heck, the Yankees go out of their way to use a sixth starter. At some point someone is going to get hurt and Nova will step into the rotation. It's going to happen. Baseball is a son of a bitch like that.
The question is can Nova give the Yankees quality innings and put himself in position to land a nice payday after the season? When he's been at his best, Ivan combined an average number of strikeouts with an above-average number of ground balls. Last year his strikeouts were down (15.3%) but his grounders were fine (49.0%). He also had close to no platoon split when at his best. Nova never did get enough credit for having success against both righties and lefties earlier in his career.
Last year though, left-handed batters tattooed Nova for a .311/.375/.524 (.387 wOBA) batting line. They struck out only 9.1% of the time too. Yikes. He was fine against righties (.300 wOBA and 21.6 K%) but lefties were unforgiving. Looking at the heat map of his pitch location against lefties, it appears he was a little more over the plate last season than he was in 2013, his last full season before Tommy John surgery: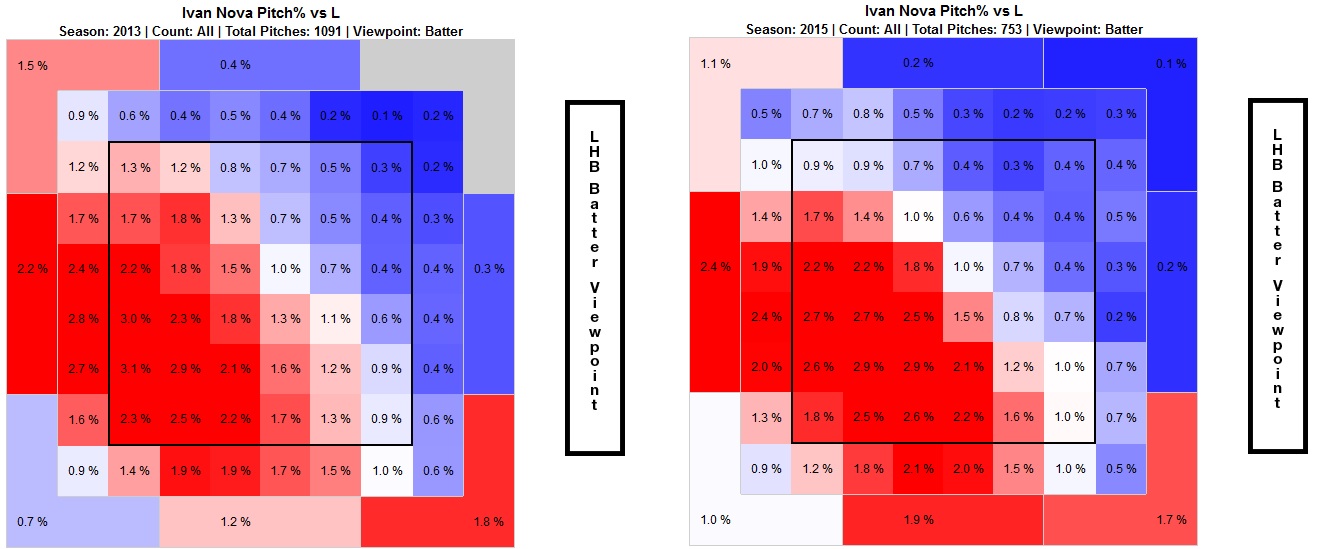 The heat maps are from the catcher's point of view and you've got 2013 on the left and 2015 on the right. You can click the image for a larger view. All the red is in the lower left corner, which means Nova threw most of his pitches to lefties down and away. That's good. There were some more pitches out over the middle of the plate last season, which could be the cause of his problems or nothing at all. It could be sample size noise.
The book on Nova has long been that he has good enough control (the ability to throw strikes) but below-average command (the ability to locate exactly where he wants), and he also lacks deception in his delivery, so hitters get a good look at the ball out of his hand. His stuff is good. Nova's fastball moves and he can throw a nasty breaking ball when right. Even his changeup looks pretty good from time to time. He just needs be really fine because hitters see everything well.
At this point of his career, it's unlikely Nova will alter his delivery to add deception or improve his command in a meaningful way. Not too many pitchers make major changes to their mechanics after five years in the show. Guys like Charlie Morton are the exception, not the rule. That said, it's possible Nova will be more consistent with his delivery this season, as he gets further away from Tommy John surgery. He never blamed his 2015 struggles on the surgery but he did acknowledge his arm feels "lighter" this spring.
If Nova can repeat his mechanics and locate a little better this summer, it could have a big time impact on his numbers. He left way too many mistake pitches over the plate last season and he paid for everything. Nova never seems to get away with a mistake. Limiting those mistakes has always been the priority and it can be hard to do that when you're breaking in a new elbow ligament. Ivan's not the first guy to have problems after elbow reconstruction.
This is a big season for Nova personally. He stands to make himself millions with his performance. Nova is also pretty important to the Yankees as their inevitably-will-be-needed sixth starter. He'll be further away from Tommy John surgery, which may or may not improve his location and his performance against lefties. As much as he frustrates me, part of me will miss Ivan if (when?) he leaves as a free agent. Hopefully his final year in pinstripes is his best yet.