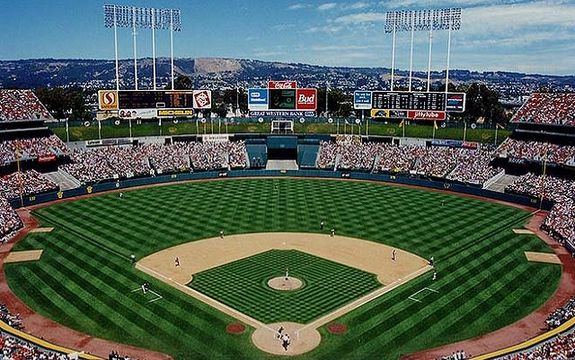 Fresh off their three-game sweep of the Royals, the Yankees are back out on the road, this time traveling across the country for a seven-game West Coast trip. It starts tonight in Oakland, not far from CC Sabathia's hometown, and Sabathia happens to be on the mound tonight. Neat.
The A's have the worst record in the league (17-32) but their run differential (-5) says they're better than that. Their bullpen has really sabotaged their season. I wouldn't assume this will be an easy series — is any series an easy series for these Yankees? — just because Oakland has such an awful record. They could sneak up on you. Here is the A's lineup and here is the Yanks' lineup:
It's sunny yet cool in the Bay Area tonight. Temperatures are down in the 50s. No rain in the forecast though. Tonight's game is scheduled to begin just after 10pm ET (argh) and you can watch on YES. Enjoy.
Injury Update: Slade Heathcott was originally in tonight's lineup but was a late scratch due to a sore quad … Ivan Nova (elbow) made another Extended Spring Training start today. He'll make one more in a few days then head out on an official minor league rehab assignment … Chris Martin (elbow) will begin a rehab assignment with Triple-A Scranton on Saturday … in case you missed it earlier, Masahiro Tanaka is en route to join the Yankees. He's expected to start early next week.