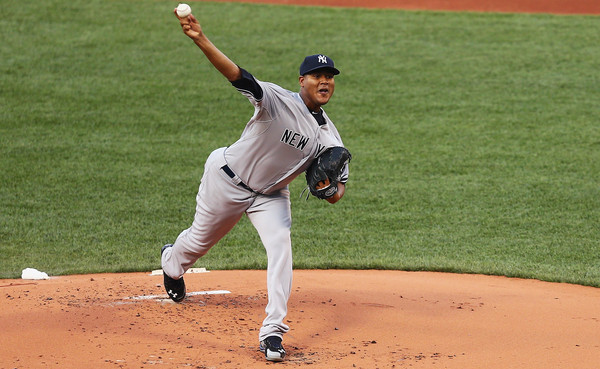 The Yankees and Ivan Nova have agreed to a non-guaranteed one-year contract to avoid arbitration, the team announced. Jack Curry says the deal is worth $4.1M and includes performance bonuses. Nova filed for $4.6M in arbitration while the Yankees countered with $3.8M. They settled a bit below the midpoint. MLBTR projected $4.4M.
Nova, 29, missed most of the first half of last season as he worked his way back from Tommy John surgery. He had a 5.07 ERA (4.87 FIP) in 17 starts and 94 innings after returning, and at one point he was demoted to the bullpen, though he never did actually make a relief appearance because Masahiro Tanaka's hamstring forced Nova back into the rotation.
The Yankees reportedly listened to trade offers for Nova this offseason, but obviously didn't find anything to their liking. His trade value isn't all that high due to the poor performance and recent Tommy John surgery. I think Nova is more valuable to the Yankees as a depth arm than anything they could realistically acquire in a trade.
Right now Nova is the team's sixth starter, and barring injury, it's hard to see how he beats out any of the starting five for a rotation spot in camp. There's always a chance Nova will improve as he gets further away from elbow reconstruction, and hey, maybe he'll pitch his way into qualifying offer territory. Either way, I'm sure Nova will make a bunch of starts in 2016. The sixth starter is always needed.
With Nova signed, New York's only unsigned arbitration-eligible player is Aroldis Chapman. He filed for $13.1M and the team countered with $9M, which seems way too low. I wouldn't be surprised if Chapman took the Yankees to a hearing over that. His case seems pretty good. Arbitration hearings will take place throughout February.