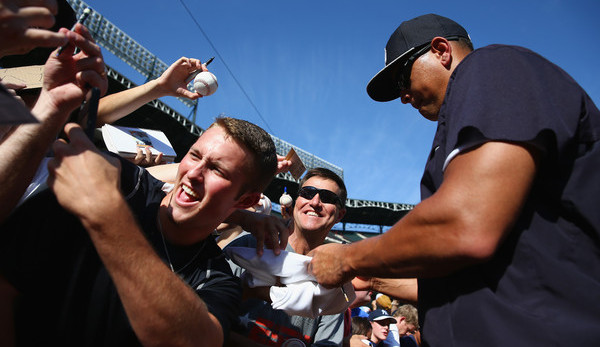 In the interest of self-preservation, the Yankees are pushing everyone in their rotation back a day and using a spot sixth starter tonight. Except there's no spot starter. It's going to be a bullpen game — Chris Capuano and Adam Warren are expected to throw roughly 50 pitches each, then the rest of the relievers will take over from there. It's not ideal, but there aren't any other options right now.
On the bright side, the Yankees have won eight of ten games since the All-Star break and have a nice little seven-game lead in the AL East. The division looked wide-open coming into the season and we all kinda waiting for some team to got hot and run away with things, and would you believe it, that team ended up being the Yankees. Still a lot of season left though. Seven games is a nice lead but a guarantee of nothing. Here is the Rangers' lineup and here is the Yankees' lineup:
It was another disgustingly hot day in Arlington — not that the weather in New York has been any better — and the temperatures will again be in the 90s for tonight's game. Gross. First pitch is scheduled for 8:05pm ET and for some reason the game will air on FOX Sports 1. Not YES, not WPIX, FOX Sports 1 only. Weird. Enjoy the game.
Roster Move: Diego Moreno was called up from Triple-A Scranton and Nick Goody was optioned down, the Yankees announced. Moreno had been working as a starter for the RailRiders — though he's not yet stretched out beyond 55 pitches or so — and is better able to give length tonight if necessary.
Injury Update: Ivan Nova said he expects to throw his regular bullpen session and make his next start after leaving last night's game with "arm fatigue." Apparently he's been told it's common for a dead arm phase to follow Tommy John surgery.