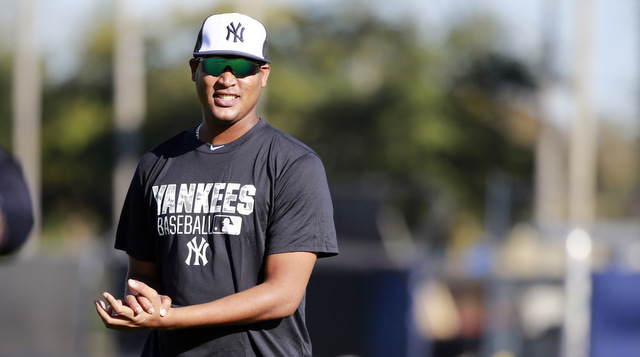 By any objective measure, the last two seasons have been a disaster for Ivan Nova. He was limited to 21 starts and 114.2 innings from 2014-15, his age 27-28 seasons, because of Tommy John surgery, and during those 114.2 innings he had a 5.65 ERA (5.24 FIP). Obviously the surgery and performance are related to some degree. Nova wasn't healthy in 2014 and he was shaking off the rust in 2015.
Nova, now 29, reported to Spring Training last week as the sixth starter on the depth chart. Brian Cashman all but confirmed whoever doesn't win a rotation job in camp will be the long man to start the season, and right now Nova is that guy. Being the sixth starter stinks, but it's not all bad. Inevitably the Yankees are going to need a sixth starter. Last season 25 of the 30 teams had six starters make at least ten starts.
Regardless of role, the 2016 season is huge for Nova on a personal level because it's his contract year, and I'm sure he wants that Ian Kennedy money next winter. Baseball pays very well, but, relatively speaking, Nova has not yet cashed in big. He received an $80,000 bonus as an amateur out of the Dominican Republic, made next to nothing in minors, and will earn a total of $8.2M or so during his six years of team control.
"He's getting ready for his free-agent walk year. If there's going to be a time for him to put his best foot forward, if he's on a salary drive, this would be the year for it. Hopefully we'll benefit from it," said Cashman to Brendan Kuty earlier this month. Money is a great motivator and baseball players are human. Of course they put forth their very best effort in their contract years. There's no reason to think Nova will be any different.
Nova does not have a rotation spot at the moment, though I figure that opportunity will come in time. What he does have going for him is health, at least to the extent any pitcher can have health in their favor. Nova will open the season roughly 23 months out from Tommy John surgery, and typically it takes pitchers a few months to get all the way back from elbow reconstruction. Everyone is different of course, but many need a little time to get back to normal.
"We felt that we would see a different guy this year. I was impressed with his bullpen today. I saw an arm that was very quick, probably better than any point we saw last year. I think the time off really helped him and you will see a different guy," said Joe Girardi to George King yesterday. The other day Nova himself told Chad Jennings his arm feels "lighter" this spring than it did last season.
Even before the Tommy John surgery, Nova was unpredictable and his career had a lot of ups and downs. He had a 3.70 ERA (4.00 FIP) in 165.1 innings in 2011. Then he had a 5.02 ERA (4.60 FIP) in 170.1 innings in 2012. And then he had a 3.10 ERA (3.47 FIP) in 139.1 innings in 2013. It was impossible to know which Nova would show up start to start, nevermind year to year. Like lots of other young pitchers, Nova's performance was volatile.
The Yankees spent much of the offseason exploring trades for Nova despite their questionable rotation depth, and I don't blame them. It's hard to count on him to be reliable and it's possible the team will lose him to free agency for nothing next offseason. That said, I do think keeping Nova was a smart move. No one blew the Yankees away with an offer and Ivan figures to be more valuable to the team as a depth arm than any middling prospect he'd return in a deal.
Given his history, it's easy to be skeptical of Nova's ability to help the Yankees in 2016. I'd be lying if I said I was confident he'll be a valuable member of the staff. I do know the Yankees are almost certainly going to need him to step in to make some starts at some point, and that alone makes him pretty important. That he's further removed from Tommy John surgery and presumably motivated by his upcoming free agency at least gives us some reason to think Nova will be able to perform much better this season than he did last.