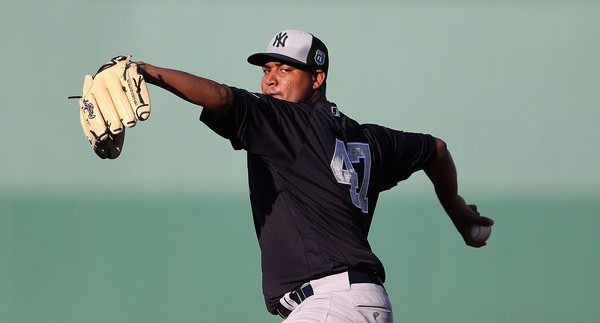 The choice facing Joe Girardi for whom to pick for the fifth starter's spot was not necessarily an easy choice; however, it wasn't actually that consequential either; he Yankees' season will likely not hinge on how the fifth starter performs and the differences between CC Sabathia and Ivan Nova as starters in 2016 are not big enough to make any decision horribly wrong or unequivocally right.  Both pitchers have had one appearance thus far and both have made their manager look pretty wise, small sample size caveats in tow.
Yesterday, Sabathia became the first Yankee starter to complete six innings in his win over the Tigers. Last Wednesday, Ivan Nova took over for a shaky Michael Pineda and earned a save in the Bombers' 16-6 win over the Astros. He allowed four hits and one walk while striking out five across his four innings of work. As the defacto long reliever/this year's Adam Warren, that's exactly the type of performance the team is looking to get out of Nova and he delivered. So, how did he do it? To toot my own horn, he took my advice.
Back in January, I wondered about the possibility of Ivan Nova being highly successful in the bullpen given his repertoire of pitches. I ended the piece saying:
Ditching a fastball may seem like an odd choice, but it may be best for Nova if he's going to succeed in a relief role. Moving into the 'pen and out of the rotation is about simplifying your game and the simplest thing Nova can do is use his two best weapons–his bowling sinker and his effective curve. If he can do that and harness the power of those two pitches, perhaps he can move from just a long-man to an effective short reliever. The chances may not be great, but this is baseball, after all, and stranger things have happened.
Apparently, Ivan listened. In that relief appearance last Wednesday, Nova relied primarily on his sinker and his curveball; he threw 32 of the former and 13 of the latter. The sinker netted him a 75% grounder per balls-in-play rate and the curve got him an 80% whiff-per-swing rate. I'm a genius, huh? In all seriousness, this approach isn't rocket science and it's one that'll make him successful as a reliever. The fewer pitches he uses, though, the more likely he is to run into trouble if one of them isn't working. Still, if he's a reliever, he won't be turning the lineup over more than once–maybe one and a half times–and that can help mask the problem.
Given his background as a starter, it's not likely that Nova will be deployed in a mid-inning situation. However, his appearance against the Astros shows that his arsenal makes him well-equipped to handle those situations. Even out of the bullpen, his sinker is still getting ground balls and his curve is still getting swings-and-misses. Ivan the Reliever is an experiment born out of necessity, but after one trial run, it seems like it's one that could set up both the team and the player for success.