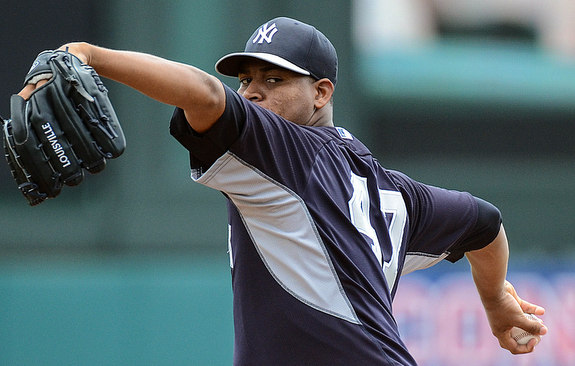 Last night, left-hander Chris Capuano threw 72 pitches across 4.2 innings for Triple-A Scranton in his second minor league rehab start as he works his way back from a spring quad injury. Earlier this week Joe Girardi told George King they "would like to get (Capuano) to 90 pitches and see where we are at" before activating him off the DL, so Capuano figures to make at least one more rehab start before joining the Yankees.
Ivan Nova also continued his rehab from Tommy John surgery yesterday, throwing two innings in an Extended Spring Training game. Girardi told reporters everything went fine and Nova remains on track to join the team sometime in June. He could throw in another ExST game or two before beginning an official 30-day minor league rehab stint. Nova's rehab has gone extremely well to date. No issues whatsoever.
Between Capuano and Nova, the Yankees have a pair of starting pitchers on the rehab trail and not too far from factoring into the MLB pitching staff. That doesn't even include Masahiro Tanaka, who resumed throwing yesterday. It seems like Capuano will return first with Nova and Tanaka returning around the same time in a few weeks. Obviously lots can go wrong between now and then, but at least things are going well now.
Fitting them back onto the staff is a classic "worry about it when the time comes" situation. Chase Whitley has pitched well in his two starts yet we saw last year how quickly that can unravel. Adam Warren has pitched well enough in his first stint as a full-time starter but the numbers confirm what our eyes seem to be telling us — going through the lineup the second and third time has been a bit of a problem. Who knows what the rotation will look like in a week or two.
"It just gives us a lot more depth, which I think is really important during the course of a long season," said Girardi to Vince Mercogliano yesterday, referring to Capuano and Nova moving closer to a return. The rotation has been fine overall, with the non-Michael Pineda starters typically doing just enough to keep the Yankees in the game. Capuano and Nova may or may not improve things, but at least they'll give the Yankees options, something they're running short on at the moment.