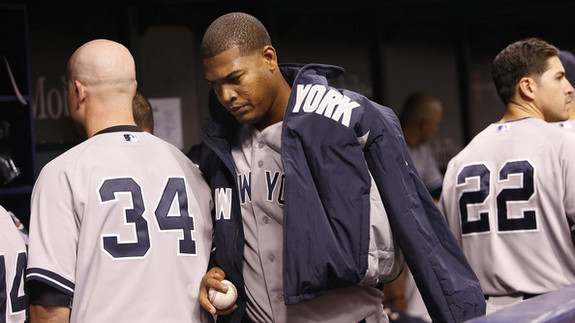 At this time last year, we were all exciting about penciled Ivan Nova into the 2014 rotation. His 2011-13 seasons were filled with ups and downs — including send-downs to Triple-A Scranton and call-ups to MLB — but he pitched very well in the second half last season and was a bright spot as the team faded from postseason contention. Nova had a 2.59 ERA (3.30 FIP) in his final 15 starts and finished the year with a 3.10 ERA (3.47 FIP) in 139.1 innings.
Nova, along with Hiroki Kuroda, was supposed to be a rock in Joe Girardi's rotation this year. CC Sabathia was coming off the worst season of his career and no one really knew what to expect from Masahiro Tanaka and Michael Pineda. Nova came to camp guaranteed a rotation spot for the first time of his career and, in fact, the Yankees even started him in the third game of the season, ahead of the high-priced Tanaka. That was as much about easing Tanaka's transition as it was a vote of confidence in Nova.
In retrospect, that first start of the season was a sign something was not right. Nova held the Astros to two runs in 5.1 innings but it was a brutally tough outing — he walked five batters, struck out one, threw 47 of 88 pitches for strikes (53%), and got only one swing and miss. He labored against a bad team all night. Next time out, the Orioles clobbered Nova for seven runs on ten hits in only 3.2 innings. With a Game Score of 16, it was the third worst start of his career.
It looked like the bad version of Nova had returned. The guy who had a 5.02 ERA (4.60 FIP) in 2012 and earned midseason demotions to Triple-A in both 2011 and 2013. Then, right on cue, Nova threw a gem, holding the Red Sox to two runs in 7.1 innings. He struck out four, got 14 ground ball outs, and threw 67 of 97 pitches were strikes (69%). Nova did allow eight hits and had to battle for those 7.1 innings, but it was a strong start and what we all wanted to see after those two ugly outings to start 2014.
Nova's fourth start of the season wound up being his last and it was a total disaster. The Rays battered him at Tropicana Field, scoring eight runs on eight hits in only four innings of work. Four of those eight hits left the yard and another was a double. Tampa Bay squared Nova up with ease. It was ugly. Girardi came out of the dugout not to pull his right-hander because of ineffectiveness, but with the trainer because there was a sign of injury. Here is Nova's final pitch of the 2014 season: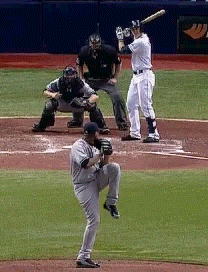 That little shake of the arm after the pitch is what got Girardi's attention and forced Nova out of the game. He went for a series of tests and opinions and they all showed the same thing: a partially torn ulnar collateral ligament in his elbow. Not a complete tear but large enough that Tommy John surgery was recommended. He underwent his elbow reconstruction on April 29th.
Nova finished the season with an 8.27 ERA (6.91 FIP) in four starts and 20.2 innings, but the numbers don't really mean much of anything. He could have been pitching with soreness or pain in his elbow all year — Nova tried to talk Girardi into staying in the game in Tampa, so he's not one to give up the ball easily — which certainly could have hurt his performance. Heck, Nova could have been pitching with the partial tear and not even have known it. There might have been no soreness or anything until that last pitch.
A few weeks ago we heard Nova has started a throwing program and is right on schedule with his rehab. He obviously has a long way to go before rejoining the team, and both Girardi and Brian Cashman have said they won't be aggressive and try to get Nova back as quickly as possible. They're going to let him rehab at his own pace, which makes sense. Far too many pitchers (Brandon Beachy, Kris Medlen, Cory Luebke, Jarrod Parker, Jonny Venters, etc.) needed a second Tommy John procedure in recent months to push him.
This was a lost year for Nova, who still has yet to have a full season in the Yankees rotation, from start to finish. He won't have that full season next year either giving the time of his injury, which means the 2016 season will be his only chance to be a full-time starter all year before qualifying for free agency. The injury hurt the team and it was also a big blow to Nova at an important point in his career. This year was a great chance for him to cement his place in the future of the Yankees going forward. Baseball ain't fair sometimes.