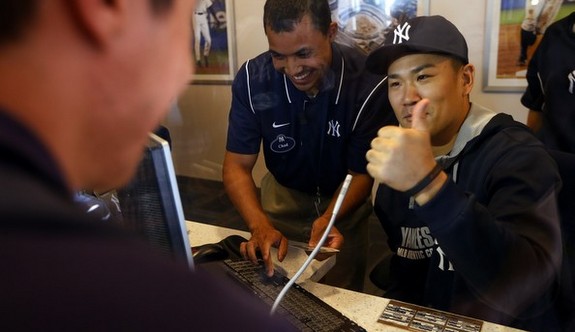 Here are some injury updates with pitchers and catchers only ten days away from reporting to Tampa for the start of Spring Training 2015. The updates come courtesy of Brad Lefton, Dan Martin, Chad Jennings, and the Associated Press.
Masahiro Tanaka (elbow) adjusted his usual offseason program and has not been throwing with as much intensity as he had in the past. "Right from the beginning of camp last year, all the pitchers were throwing in the bullpen, but they were just easing into it, so there's really no reason for me to push myself to throw full throttle before I even get there this time," he said.
CC Sabathia (knee) is working out and throwing regularly at Yankee Stadium. "I don't think we have anything to worry about how his arm works or how his knee works. Not anymore," said Brian Cashman. Sabathia is expected to be a healthy player come the start of Spring Training.
Ivan Nova (Tommy John surgery) has been throwing on flat ground and recently said his elbow feels great. He should start throwing off a mound very soon if he hasn't already. Nova is currently on track to rejoin the team in June after having surgery late last April.
Andrew Bailey (shoulder) is expected to be a healthy and active pitcher in Spring Training. He missed all of last season following shoulder capsule surgery. "He's in a throwing program, and there's been nothing adverse reported from him," said assistant GM Billy Eppler.
Slade Heathcott (knee) is also expected to be fully healthy for Spring Training. He had knee surgery last offseason and another one in June. "His progressions are moving forward really positively. The last checkup we had, he's able to do full baseball activities, it's just (a question of) how regular and how long of a duration," said Eppler.
Johnny Barbato (elbow) is healthy and will start the season on time after missing the second half of 2014 with an elbow strain. "He was cleared and good to go," said Eppler while noting Barbato healed up in time to pitch in Instructional League for the Padres last fall. The Yankees acquired Barbato in the Shawn Kelley trade.
And finally, Ty Hensley (face) has already resumed throwing bullpen sessions after he was viciously attacked during the holidays, according to his Twitter feed. Hensley's jaw had to be wired shut due to the attack so he'll likely lose some weight. He might have to rebuild some strength before the Yankees turn him loose this summer.