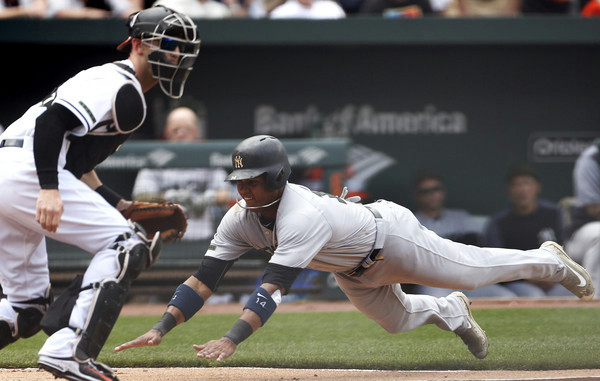 Not-so-fun fact: the Yankees have not won a series at Camden Yards since September 2013. How? I mean, you'd think you'd win a series by accident at some point since then, right? But no, the Yankees keep losing series in Baltimore. A loss tonight clinches another series loss in that admitted beautiful ballpark. Pretty annoying, I'd say.
From a big picture standpoint, the bigger concern tonight is getting the offense back on track, not worrying about who wins in what building. The Yankees have scored only 37 runs in their last eleven games, and they scored nine of those 37 runs Sunday afternoon. I miss April, when it felt like the Yankees started each game with a three-run head start. Here is the Orioles' lineup and here is the Yankees' lineup:
Now the bad news: there's rain in the forecast tonight. Not a ton, but enough that it could delay the game in the middle innings. It's supposed to start sometime around 8pm ET and end around 11pm ET. Yuck. Hopefully it stays away long enough. Tonight's game is scheduled to start at 7:05pm ET and YES will have the broadcast. Enjoy the game.
Injury Update: Jacoby Ellsbury (concussion) is feeling better, though he has not yet been cleared by doctors to resume baseball activities.