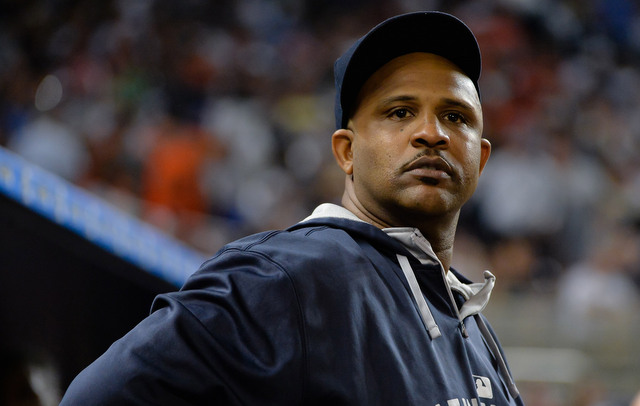 The Yankees allowed 11 and 12 runs in their last two games, respectively, and not surprisingly both resulted in losses. In fact, they've allowed 11, 12, 12, 2, 9, and 11 runs in their last six losses, which is really bad. The last two losses came with Michael Pineda and Masahiro Tanaka on the mound, which is even harder to swallow. Pineda got roughed up by literally the worst offense in baseball.
Tonight the Yankees turn to their former ace CC Sabathia to do something Pineda and Tanaka couldn't the last two days — pitch a winnable game. They're averaging over seven runs per game on the homestand. The offense is holding up its end of the bargain. The Phillies are really bad, worst offense in baseball in terms of runs per game (3.21), so everything is set up for Sabathia to have a good start. Now he just needs to actually do it. Here is Philadelphia's lineup and here is New York's lineup:
CF Brett Gardner
3B Chase Headley
DH Alex Rodriguez
C Brian McCann
RF Carlos Beltran
1B Garrett Jones
LF Chris Young
SS Didi Gregorius
2B Jose Pirela
LHP CC Sabathia
Really gross day in New York today. Hot and sticky, and there are thunderstorms in the forecast tonight. I'm not sure when they will start and stop — the rain was supposed to start this afternoon but that didn't happen — so it'll be a surprise. Tonight's game is scheduled to start at 7:05pm ET and can be seen on YES. Enjoy.
Injury Updates: Mark Teixeira (neck) received a cortisone shot yesterday after an MRI showing nothing serious. He could return as soon as tomorrow … nothing new with Jacoby Ellsbury (knee), who is still taking batting practice and running the bases. No word on when he'll take the next step in his rehab, which I assume involves some game action.
Roster Moves: Stephen Drew has been placed on the paternity list and Ramon Flores was sent to Triple-A, the Yankees announced. Bryan Mitchell was called back up — Drew going on the paternity list allowed the Yankees to bring him back before the ten days were up — as was Jose Pirela. The Yankees have a bunch of games against lefty starters coming up, so Pirela figures to play these next few days.
Start Time Update (6:51pm ET): The start of the game will be delayed, the Yankees announced. It is not raining right now but it is expected to start any minute. No word on a start time. "We will have one once the weather system moving thru the area works its way through," said the team, according to Dan Barbarisi. First rain delay of the season!
Start Time Update (7:59pm ET): The Yankees say the game will begin at approximately 8:25pm ET. Baseball!