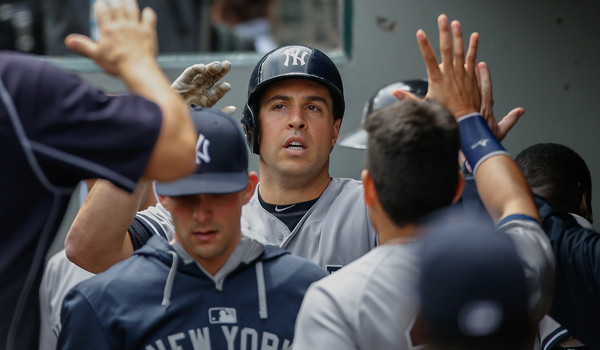 That was a really uneven seven-game trip to the West Coast. The Yankees played poorly in losing two of three to the Athletics then had basically the best series ever while sweeping the Mariners. They pounded Felix Hernandez in the first game, had a dramatic ninth inning comeback in the second game, and watched Masahiro Tanaka dominate in his return from the DL in the third game. How could it get any better?
Thankfully, the Yankees are back home in the Bronx for a quick five-game homestand, starting tonight with the first of three against the Angels. The Halos had the best record in baseball a year ago but are kinda scuffling along this year. In fact, they have almost the same record as the Yankees. The Yankees are 29-25 and the Angels are 28-26. Anyway, here is Anaheim's lineup and here is New York's lineup:
The weather is kinda crummy in New York. It's been raining on and off all day, though there's nothing more than some drizzle in the forecast tonight. That's good. First pitch is scheduled for 7:05pm ET and you'll be able to watch on YES locally and MLB Network nationally, depending where you live. Enjoy the game.
Rotation Update: The Yankees are skipping Michael Pineda's next start to control his workload. He isn't hurt and will start next Friday. CC Sabathia will start on normal rest Sunday in Pineda's place. The Yankees had an off-day yesterday and have off-days coming up on Monday and Thursday, so they can skip Pineda without needing a spot starter. Big Mike has already thrown 70.1 innings this year and is on pace for about 220 innings. He threw 76.1 innings last year and a career-high 171 innings back in 2011, before shoulder surgery.
Injury Updates: Jacoby Ellsbury (knee) ran some sprints, took dry swings, and played catch today, the first time he's performed any baseball activity since getting hurt … Ivan Nova (elbow) will make his first official minor league rehab start with High-A Tampa on Monday, the team announced. He is scheduled for 80-85 pitches and will make at least one more start after that before returning to the team … Carlos Beltran (foot) is still day-to-day after fouling that pitch off his foot in Seattle. He may be available to pinch-hit tonight … McCann (foot) got some new orthotics and tested his foot in the bullpen this afternoon. He's fine and back in the lineup.