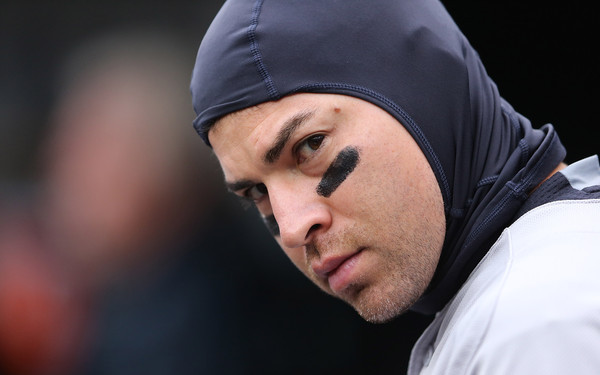 Saturday marks the one-month anniversary of Jacoby Ellsbury being placed on the 15-day DL with a knee injury we still don't know much about. We don't know what he hurt (which ligament, etc.), we just know he didn't need surgery and is slowly working his way back. Emphasis on slow. Earlier this week Joe Girardi told reporters Ellsbury's rehab isn't as far along as hoped.
"He is not where we want him to be physically, so we are not going to risk it. He is not running 100 percent, and obviously that is important," said Girardi to George King. "It's going slower than we thought it might. I said earlier in this trip that our hope was — you always get a little excited that things would move faster, but it just didn't."
Unfortunately slow rehabs are nothing new for Ellsbury, who had all sorts of injuries with the Red Sox and always seemed to take a little longer to return than initially expected. He's a slow healer. That's just his body. The Yankees have said they hope to get Ellsbury back later this month but I wouldn't be surprised if he doesn't return until the All-Star break, which is only four weeks away now.
Either way, slow rehab or not, the Yankees are really starting to feel the loss of Ellsbury offensively. Defense hasn't been a problem, guys like Chris Young and Slade Heathcott and Ramon Flores and Mason Williams have filled in admirably in the field, but Ellsbury is a game-changing leadoff man and the Yankees haven't been able to replace his bat in the lineup. Well, they were never going to be able to do that, but they did weather the storm for a while.
Ellsbury got hurt in the middle of an at-bat against the Nationals on May 19th, in the team's 40th game of the season. In their first 39 games, the Yankees averaged a healthy 4.38 runs per game, better than the 4.13 MLB average. In the 25 games since Ellsbury's injury, the Yankees are averaging … 4.60 runs per game. But — there's a but! — the offense has lagged big time of late.
Last night's win over the Marlins was New York's third straight game scoring two or fewer runs. They've scored just 21 runs in their last seven games. That's after averaging 5.22 runs per game in the first 18 games without Ellsbury. The Yankees lost their high-end leadoff hitter, somehow increased their average offensive output by nearly a run a game for three weeks, then crashed back to early the last week or so.
For a while the Yankees were able to keep their heads above water offensively without Ellsbury, but his absence is turning into an extended one, and it was only a matter of time until it caught up to the team. Brett Gardner has cooled off, Chase Headley and Stephen Drew still haven't gotten going, Carlos Beltran isn't doing much … the Yankees were only going to be able to thrive without Ellsbury for so long.
There's nothing the Yankees can do now other than wait. Wait and hope guys like Headley and Beltran start chipping in more than they have. Ellsbury is still a few weeks from returning and while these recent offensive struggles are on the extreme side — they're not going to average three runs per game like they have the last seven games forever, not even the 2013-14 offenses were that bad — the Yankees are without a key piece of the lineup and it's starting to show.