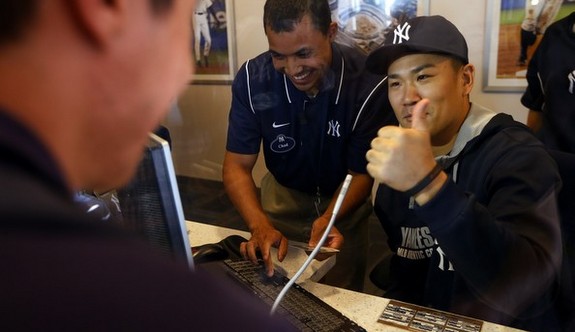 Mark Teixeira needed three stitches in his left pinkie after getting stepped on while sliding across home plate during last night's game. X-rays came back negative but he will miss at least one game and maybe more. Here are some more injury updates prior to this afternoon's series finale against the Tigers, courtesy of Marly Rivera, George King, Fred Kerber, Jack Curry, and Vince Mercogliano:
Masahiro Tanaka (elbow) came through the first two days of his throwing session well — yesterday was a rest day and he will throw again today — and the team has a return date in mind, but they won't reveal it. Can't say I blame them. It is sometime in September, however. "I'm happy the early return on rest and two throwing days on Tanaka have gone well," said Brian Cashman."I'm not gonna say (the date). We'll take this day-by-day … He's in one of those situations where every day you hold your breath, hoping it's a good day. The more of those that come, the better it will be for us."
CC Sabathia (knee) acknowledged he will continue to need treatment going forward and will never truly be 100% healthy because there is no cartilage left under his knee cap. Doctors removed a previously undetected bone spur during surgery and he's scheduled to undergo another stem cell procedure in a few weeks. "Hopefully, this procedure he just had is good enough to return him to our rotation every five days for an entire year starting next year," said the GM.
Michael Pineda (shoulder) threw his between-starts bullpen session yesterday and will make his next rehab start with Triple-A Scranton on Friday. He has been ruled out as a replacement for the injured David Phelps that day, though he could return to the rotation next week. "He's probably available to go somewhere between 75 and 80 (pitches), and then we see where we're at," said Joe Girardi. "I said we wanted to get him to 90 (before bringing him back), but with the circumstances that we're in, you never know."
Carlos Beltran (elbow) has started throwing to the bases as part of his throwing program. He expects to return to the outfield at some point — "I'm a position player, have to work on all aspects of my game," he said — though Girardi acknowledged they aren't as desperate to get him back in the field after the trade deadline. "There is less of a sense that we need to get him out there," said the skipper. "We will keep him throwing. The one thing we don't want to risk is him having a setback.''
Jacoby Ellsbury (thumb) is still sore after being stepped on during a rundown on Tuesday. "I'll just play through it," he said. There is no long-term concern.