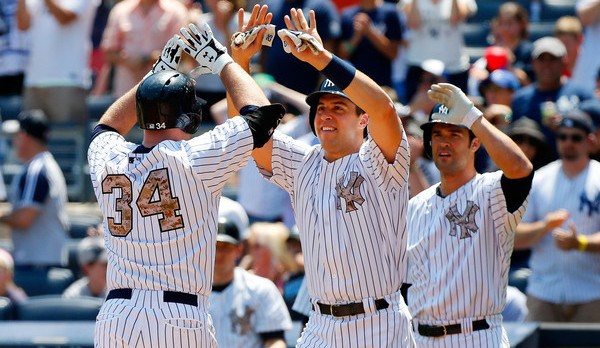 The Yankees snapped their ugly six-game losing streak with a 14-1 blowout win over the best team in baseball yesterday afternoon. That was a game everyone needed. That sort of win is an anomaly though, especially against a club like the Royals. It'll never be the norm.
The good news is a win like that can be major confidence booster. Hopefully it'll springboard the club towards another extended stretch of winning. The 2015 Yankees seem to be pretty streaky — they started terribly, got crazy hot, then went cold in an instant — and it's time for another round of winning. I hope it is, anyway. Here is Kansas City's lineup and here is New York's lineup:
LF Brett Gardner
CF Chris Young
DH Alex Rodriguez
1B Mark Teixeira
3B Chase Headley
RF Carlos Beltran
2B Stephen Drew
C John Ryan Murphy
SS Didi Gregorius
RHP Adam Warren
It's starting to feel like summer around here. The temperate is again in the 80s today and there are only a few clouds in the sky. Nice night for baseball. Tonight's game will begin just after 7pm ET and you can watch live on WPIX. Enjoy.
Injury Update: Jacoby Ellsbury (knee) is still getting treatment and has not yet resumed any sort of baseball activity. "He's walking around in a brace every day and doing treatment. We have not progressed past that yet," said Joe Girardi to George King yesterday.
All-Star Voting Update: MLB released the first AL All-Star Game voting update today and boy oh boy are Royals fans stuffing the ballot box. See it here. No Yankees lead at their positions but McCann (fourth), Teixeira (third), A-Rod (third) are among the top five at their respective positions. Ellsbury (7th), Gardner (11th), and Beltran (12th) are among the top 20 outfielders. A-Rod needs more support, folks. He's nearly a million votes behind Nelson Cruz! Here's the ballot. The last All-Star Game without a Yankee in the starting lineup was 1999, by the way.
Start Times Updates: The Yankees announced their games on June 21st (Tigers), August 23rd (Indians), and September 27th (White Sox) will all start at 1:05pm ET. They had been listed at TBA. They're all Sunday games, so ESPN didn't flex them into the 8pm ET slot, basically. Hooray for that.