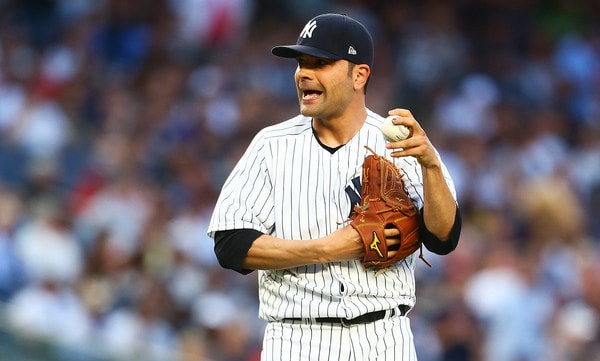 For much of the offseason, the Yankees were said to be looking for another starting pitcher despite having five starters for five rotation spots. They were connected to potential impact guys too. Gerrit Cole, Michael Fulmer, Chris Archer … pitchers like that. The Yankees are apparently willing to trade quality prospects to get one of those guys, but so far a trade has not come together. One might before Opening Day, but it hasn't yet.
The ongoing search for a starting pitcher says two things. One, the Yankees want to maximize their World Series chances. That's why the Astros traded for Cole, right? They were good enough to win the World Series as is, but they wanted to improve their chances. And two, the Yankees are at least a little concerned about their five starters holding up physically this year. Consider:
Sonny Gray: Three DL stints in the last two years (trap, forearm, lat).
Jordan Montgomery: Career high workload in 2017.
CC Sabathia: Pitching on a degenerative right knee.
Luis Severino: Career high workload (by far) in 2017.
Masahiro Tanaka: Good for one or two short DL stints each year, plus The Elbow™.
Every single team in baseball has physical concerns in their rotation. Every single one. The Yankees, I think it's fair to say, have more than most. They have some nice depth pieces slated to begin the season in Triple-A in Luis Cessa, Domingo German, and Chance Adams. The depth can always be better though. There's always room for another starter.
To that end, I am here to do what the headline says, and that is make a case for re-signing Jaime Garcia. Is Garcia an impact pitcher like Cole or Fulmer or Archer? Nope! But he is a capable big league starter who would give the Yankees that extra layer of rotation depth. After all, the Yankees traded for Garcia for that exact reason last year. For rotation depth and to guard against physical concerns, most notably Montgomery's workload.
Garcia, 31, had a 4.82 ERA (4.87 FIP) in eight starts and 37.1 innings with the Yankees last year, though those numbers are skewed a bit by terrible first (six runs in 4.2 innings) and last (five runs in 2.1 innings) starts. Between those two starts Garcia had a 2.97 ERA in 30.1 innings. He had 4.41 ERA (4.25 FIP) in 157 total innings last year. I see three reasons the Yankees should consider re-signing Garcia.
Strikeouts and (mostly) grounders
At the end of the day, we're talking about a left-handed pitcher with a history of generating ground balls and strikeouts. Garcia is better at getting grounders than strikeouts, but he can miss bats too. Here are his strikeout and ground ball numbers since coming back from the arm injuries that limited him to 99 total innings from 2013-14:
2015: 19.0% strikeouts and 61.2% grounders
2016: 20.2% strikeouts and 56.7% grounders
2017: 19.2% strikeouts and 54.8% grounders
An average-ish strikeout rate and a comfortably above-average ground ball rate. Only five left-handed starters have at least an 18.0% strikeout rate and a 50.0% ground ball rate over the last three seasons: Dallas Keuchel, Patrick Corbin, Francisco Liriano, Alex Wood, and Jaime Garcia. Liriano is the cautionary tale. He's been pretty terrible the last two years (5.05 ERA and 4.80 FIP) despite those strikeout and ground ball numbers. The point is lefties who can miss bats and get grounders are not easy to find, and Garcia can do both. Those are welcome traits in Yankee Stadium.
He has bullpen experience
Including with the Yankees! Garcia came out of the bullpen in Game One of the ALDS last year and threw 2.2 scoreless and hitless innings, which gave the offense a chance to get back in the game. The bats never did come around, but that wasn't Jaime's fault.
Garcia worked out of the bullpen very early in his career and more recently with the Cardinals in 2016. He doesn't have a ton of experience in that role, but he does have some, and that ALDS Game One performance last season showed he can do it. Garcia can come out of the bullpen and be effective.
Given the bullpen talking point, I should note Garcia's numbers against left-handed batters are good rather than great — they've hit .248/.296/.379 (.293 wOBA) with a 23.0% strikeout rate and a 57.3% ground ball rate against him the last three years — so if the backup plan is using him as a true left-on-left reliever, it might not work so well. Garcia can pitch out of the bullpen though. He can be stashed there until a need arises in the rotation.
He'll probably come cheap
The market has not been kind to free agents this offseason. Many of the top guys are having trouble finding jobs. Second and third tier free agents like Garcia have been completely left out in the cold. Spring Training started this week and I'm sure a bunch of those guys are getting pretty nervous right now. They're not just wondering where they'll play this season, but if they'll play at all.
Garcia was not expected to receive a large contract going into the offseason anyway — MLB Trade Rumors had him at two years and $16M — and now, given the market, he could be headed for a low base salary one-year contract. The Rangers gave Doug Fister one year and $4M. Miguel Gonzalez got one year and $4.75M. Mike Fiers got one year and $6M. Can Garcia get more than that? Maybe! But I wouldn't bet on it at this point.
The Yankees have about $12M to spend even after setting aside $10M for midseason additions. The financial aspect of re-signing Garcia should be no problem. The Yankees have the payroll space. It's just a question of what the Yankees are planning to do with that $12M — are they eyeing an infielder? — and is Garcia willing to come back to New York and their hitter friendly ballpark to be sixth on the rotation depth chart, and possibly sit in the bullpen all year? If nothing else, re-signing Jaime won't break the bank or endanger the luxury tax plan. Cheap depth.
* * *
For what it's worth, Garcia's projections aren't good — ZiPS has him at 4.71 ERA (4.66 FIP) in 2018 — though I'm not going to sweat that. I'm not talking about throwing him into the rotation all season. Sign him to a cheap one-year deal, stick him in the open final bullpen spot, and if injury or poor performance creates a need in the rotation, then Garcia can slot in. If not, no big deal. And given the expected contract terms, It'd also be an easy move to back out of if Garcia stinks. Just cut him.
The Yankees insist they are comfortable with their rotation and are willing to go into the season with this group, and hey, so am I. They're not foolish enough to think they'll make it through the season with only five (or even six) starters, however. The Yankees have been looking for another arm, and since landing a true impact guy seems unlikely at this point, spending a little cash on a cheap left-handed depth arm with a penchant for ground balls strikes me as a nifty little pickup that could pay dividends.