Got five questions for you this week, including three already looking forward to potential offseason roster moves. Aren't you people excited about the pennant race and a potential postseason run? We'll have more than enough time to toss roster moves around in winter, trust me. Anyway, please use the Submit A Tip box in the sidebar to send up anything, mailbag questions or otherwise.

Kyle asks: Hi Mike, I'm sure you're going to get asked this a few times now that MLBTR wrote about him, but any interest in picking up Jason Grilli in the offseason? What potential contract could he get?
Obviously the future of the bullpen is going to depend a lot on what happens with Rafael Soriano and Mariano Rivera after the season, but I think either way the Yankees should look into bringing in a free agent reliever to shore up the middle innings. That doesn't mean dumping three years and $30M on someone, but I do think they need someone better than Cody Eppley to hold down the fort until the Chase Whitley and Mark Montgomery types are ready.
As the MLBTR post explains, Grilli is missing a ton of bats (13.58 K/9) and otherwise pitching extremely well (2.91 ERA and 2.95 FIP) after what amounts to a career of mediocrity. His strikeout rate has been trending up for years, so it's not like this is completely out of the blue. Even though he's 35 and will be 36 in November, I think Grilli will still be able to find two guaranteed years on the open market at like, $4-5M per year. I'd rather see the Yankees bring someone in on a one-year deal rather than start committing 2014 payroll to middle relievers. Grilli's a good pitcher worth discussing, but I don't think is price will matchup well for New York.
Anonymous asks: Do you see the Yankees pursuing Cody Ross this off-season to possibly replace Nick Swisher? He might be able to fill a need against lefties, and is said to be looking to play for a "winning team." Thoughts?
No, I hope not. He's a right-handed dead pull hitter, which plays great in Fenway Park (152 wRC+ home) but almost nowhere else (86 wRC+ road). Sure, Ross can definitely hit lefties, but he isn't much against righties and he's a poor defensive outfielder. He has decent range and can run some balls down, but he's also one of the most fundamentally unsound players you'll ever see. Can't play the wall properly, misses the cutoff man or just flat out throws to the wrong base, dives when he should be keeping the ball in front of him … it's brutal.
I'm sure Ross and his agent will be looking to parlay his big career year into a multi-year contract and a full-time job somewhere, which is not something I want the Yankees to get involved in. He's not a great fit for the ballpark, not a good fit defensively, and likely to sign a contract that is far too lucrative for for the light half of an outfield platoon. One-year and $3M for the Red Sox was a great deal, but someone will get sucked into two or three years at $8M+ this offseason. Just watch.
Travis asks: If Hiroki Kuroda goes back to Japan and Andy Pettitte re-retires, could the Yankees sign guys like Carlos Villanueva or Jake Peavy (with their success in the AL) as two or three-year guys in the rotation?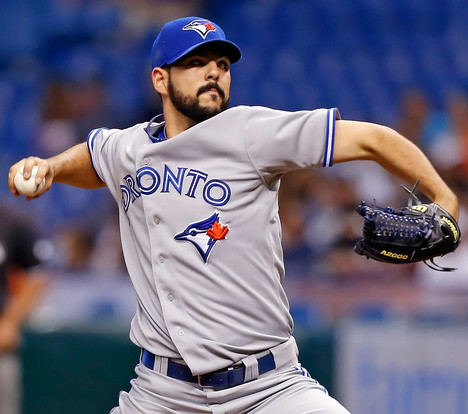 Yeah, if the Yankees are unable to bring at least one of Kuroda or Pettitte back next year, they'll definitely need to sign some kind of stopgap starter. I'm a big Villanueva fan but you have to be skeptical about his ability to make 30 starts and throw 200 innings next season just because he's never done it in his life. I'd love him as an overqualified fifth starter/swingman, but a) some team will give him a full-time rotation slot, and b) the Yankees are going to need more than that.
Peavy is interesting, and yesterday we learned that the White Sox are likely to decline his $22M option. The concern here is health more than anything, but he's held up well this season and has certainly pitched well in a tough ballpark. In a perfect world the Yankees would find another one-year, $10Mish stopgap starter this winter, but Peavy will end up with more than that, probably fro the White Sox. That doesn't mean they shouldn't look into signing him, it's just tough to answer because I have no idea what his market will be. Two years and $30M? Three years and $36M? I don't have any idea. But yeah, if Kuroda and Pettitte walk this offseason, the Yankees will definitely be in the market for a veteran innings eater.
Anonymous asks: With interleague play becoming an everyday reality next season, how will that affect the DH issue going forward?
It won't. The number of interleague games did not change, they're just spread out throughout the season now rather than localized in June. So now instead of playing nine games in interleague parks in the span of two weeks, they'll be spread out and played at various points of the season. If anything, it will actually helps the Yankees because they can just sit their DH for a few games at a time rather than worry about losing a big bat for a longer stretch of time. I still expect them to have some kind of DH rotation next year, especially with Derek Jeter, Alex Rodriguez, and Mark Teixeira getting a year older.
Travis asks: Have you heard any recovery news about Cesar Cabral, Brad Meyers, Jose Campos or Manny Banuelos? I'm just wondering if those guys are going to be ready for Spring Training 2013 and if so, what are the Yankees going to do with Cabral and Meyers?
Joel Sherman confirmed the other day that Banuelos will pitch in winter ball this year and be healthy in time for Spring Training. I believe his former Mexican League team still controls his winter ball rights, so he'll probably spend the winter pitching there. Don't quote on my that though. The last we heard about Campos was that he was slated to participate in Instructional League, which will start any day now. If he does that, I assume he'll be healthy in time for Spring Training.
I haven't seen a single update on Cabral (elbow) or Meyers (shoulder) since they suffered their injuries in camp. Since neither guy spent 90 days on the active roster this summer, the Rule 5 Draft rules will carry over to next season. I get the sense that the Yankees will just cut Meyers whenever they need a 40-man roster spot this offseason, though the Cabral situation is a little different because he's a two-time Rule 5er. I explained that whole thing back in March. Maybe the Yankees can leverage his injury into a minor league contract instead of a big league deal, but either way I think he'll be on the 40-man chopping block this winter if a spot is needed. That's a shame, he was pretty impressive in March and had a very good chance of winning the final bullpen spot over Clay Rapada.