Here's a special Thursday edition of the RAB Mailbag, with three questions about former Yankees that may or may not be useful to the 2011 team. Remember to use the Submit A Tip box in the sidebar to send in any questions.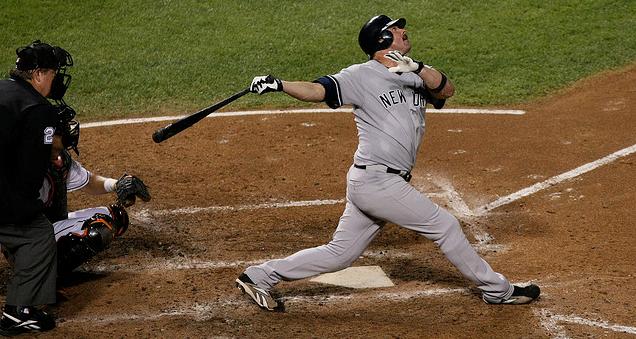 (Photo Credit: Flickr user Keith Allison via Creative Commons license)
Sam asks: Would you have any interest in trading for the Giambino to take over for Posada as a DH?
The Rockies just placed Jason Giambi on the disabled list with a quad strain, so he won't be traded before the deadline. This question was sent in before then, obviously. Giambi is a prime candidate for an August waiver trade though, assuming the quad isn't that serious and he can get back on the field within two weeks or so.
Unlike the subject of the next question, Giambi has hit all year and really hasn't stopped hitting for any length of time in recent years. He's got a .253/.378/.486 batting line in just about two seasons with the Rockies, and this year he's rocking a .418 wOBA in 112 plate appearances. Giambi has been a part-time player though, mostly pinch-hitting and starting at first once or twice a week. Because he's outperforming Jorge Posada both this year and last year (especially against RHP), he'd be a fine upgrade, though I doubt he maintains that level of performance playing every day. He might fall off to what, maybe a .360 wOBA? .375? .340? Either way, it's an upgrade, but one they would have to wait to acquire if they wanted to at all.
Chris asks: What would it take to get Matsui? I'd rather him than a guy like Beltran. 1. Matsui is a proven clutch player unlike Beltran who was left holding the bag in 06-08 during the worst collapses ever. 2. Matsui knows and hits Red Sox pitching unlike Beltran and 3. He costs less (in terms of money and probably prospects).
This was sent in before the Carlos Beltran trade, and I'm not going to spend any time disproving the three points made. Beltran's a better player than Hideki Matsui and always has been (as for the clutch stuff, look their numbers with RISP, Beltran destroys Matsui), and there's very little to argue otherwise. But Beltran's not an option now and probably never really was, so let's move on.
Anyway, signs point to Matsui being pretty much done. He had a great game against the Yankees on Sunday (5-for-5 with two doubles) and has been on a tear over the last week or so (.500/.528/.882 in eighth games), but that doesn't make the rest of the season moot. Before this current hot streak, Godzilla was hitting just .212/.294/.328 overall with sub-.300 wOBA's both at home and on the road. It wasn't just an Oakland Coliseum thing. Posada's days as a productive player are over, but he's still outhitting Matsui against right-handed pitchers, .339 wOBA vs. .290. Andruw Jones is also outhitting Matsui against lefties, .374 wOBA vs. .367, so I'm not sure where the upgrade is.
If the Athletics were to trade Matsui, the return would have to be minimal. He's got no defensive value and is in clear decline, one hot week doesn't change that.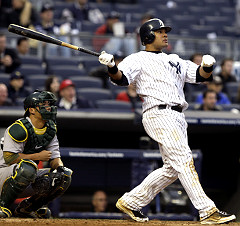 Matt asks: Any chance the Yankees will make a play for Melky Cabrera? He's having a good season in KC and he's a switch hitter.
Melky's having a great year, he's hitting .297/.333/.453 (.347 wOBA) and has been worth 3.2 fWAR, more than the first five-plus years of his career combined (2.6). Where does he play though? Is the plan for him to replace Andruw? Jones is outhitting Melky against left-handed pitchers (.374 wOBA vs. .332), though he's a definite upgrade over Chris Dickerson. What would happen when Alex Rodriguez comes back though? Dickerson's the one going down for him. I'm also unconvinced that Melky could play like he has in a part-time role, it's not an accident that he's having his best season when he knows he'll be playing everyday (or when he's in his age 26 season, but that's besides the point).
The Royals appear uninterested in dealing Cabrera because they will be able to retain him as an arbitration-eligible player next year, and it would take quite a bit to acquire him now. I don't think the upgrade is big enough to warrant a move, not when he'd only be a bench player.
* * *
I don't really see any of these three guys as a fit for the Yankees. They have a big bat waiting in Triple-A if they want to replace their designated hitter, and the cost associated with acquiring Melky to replace Jones makes it a lateral move at best. Reunions are always fun, but there's no match here. Nostalgia won't win them anything this year, not unless they bring back early-2000's Andy Pettitte or Mike Mussina.