Archive for Jason Hammel
Both the Yankees and Orioles will throw their Game One starter in Game Five tonight, which means a CC Sabathia-Jason Hammel rematch. Here is the pitching preview I wrote for Hammel earlier in the series, which won't change one bit. He didn't do anything unexpected in his Game One start other than throw a handful of sliders more than usual. Not enough to think it's anything meaningful. No point in re-inventing the wheel, so check out the linked preview for tonight.
One thing I do have to add is that Hammel wore a brace on his right knee in Game One and will do so again tonight. He had surgery at midseason and soreness in September, which is why he missed basically the entire second half. The Yankees should test him out with a bunt early on, specifically Ichiro Suzuki. After that scorching hot September run, Ichiro has gone 4-for-20 with a sac bunt in the ALDS, hitting just three (three!) balls out of the infield. He's not the greatest bunter in the world, but it's worth a shot in the first inning to see how Hammel is moving.
The Orioles shocked the baseball world this year by winning 93 games and advancing to the ALDS, and they did it while using a dozen different starting pitchers. Seven different pitchers made at least 15 starts, including the 30-year-old Jason Hammel. He emerged as the club's ace early in the season and wound up pitching to a 3.43 ERA and 3.29 FIP. After years of mediocrity with the (Devil) Rays and Rockies, something seemed the click after moving to Baltimore in the Jeremy Guthrie trade last offseason.
Hammel was announced as the team's Game One starter for tonight even though he battled knee problems throughout the second half. He had surgery on the knee in mid-July and then dealt with post-surgery soreness in September. Although he threw 118 total innings this season, only 8.2 came after the All-Star break. He made his final regular season start on September 11th, but did made a lengthy rehab start in Instructional League last week and threw a regular between-starts side session on Friday, saying that it "was outstanding."
So yeah, there is an awful lot of uncertainty surrounding Hammel coming into tonight's start. How will the knee hold up while pitching in an adrenaline-filled playoff start? Will his pitch count be limited? Will his command or stuff suffer as he favors the knee, perhaps subconsciously? It's not an easy position to be in, but Buck Showalter felt Hammel was the best man of the job and is giving him the ball.
2012 Performance vs. Yankees
| Date | Tm | | Opp | Rslt | Dec | IP | H | R | ER | BB | SO | HR | HBP | ERA | BF | Pit | Str |
| --- | --- | --- | --- | --- | --- | --- | --- | --- | --- | --- | --- | --- | --- | --- | --- | --- | --- |
| Apr 30 | BAL | @ | NYY | L,1-2 | L(3-1) | 6.0 | 5 | 2 | 2 | 2 | 5 | 1 | 0 | 1.97 | 24 | 101 | 60 |
| May 14 | BAL | | NYY | L,5-8 | | 5.0 | 7 | 5 | 4 | 3 | 3 | 1 | 0 | 2.68 | 24 | 95 | 60 |
| Sep 6 | BAL | | NYY | W,10-6 | | 5.0 | 6 | 1 | 1 | 2 | 6 | 0 | 0 | 3.46 | 22 | 82 | 54 |
Despite the knee injury, Hammel was still able to make three starts against the Yankees this season, the third of which was his first start following the knee surgery. As you can see, two of the three starts went well for the Orioles while the other was pretty rough. Hammel owns a 6.20 ERA (~5.80 FIP) in 45 career innings against the Yankees, but his performance against the Bombers in past years is relatively meaningless. Not only has he changed his pitching style since then, but the Yankees have turned over most of their roster as well as moved into a new ballpark.
Pitch Selection (via Brooks Baseball)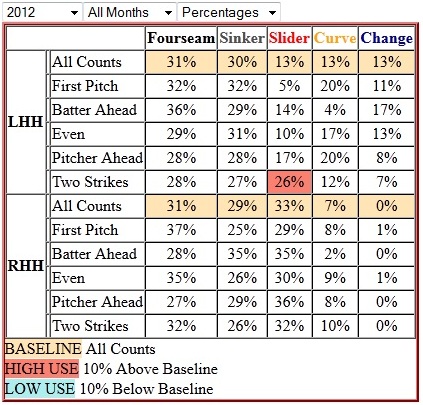 Prior to this season, Hammel was predominantly a four-seam fastball/curveball pitcher who would mix in the other pitches on occasion. He's reinvented himself as a sinker/slider guy, especially against right-handed batters. The slider takes a back seat to the curve and changeup against lefties, which is typical. The two fastballs sat anywhere from the low-to-mid-90s this season, continuing a slight upward trend these last two or three years. Hammel's slider is a hard mid-80s breaker, the curveball a softer upper-70s offering, and the changeup a hard upper-80s pitch. Power changeups from right-handed pitchers are the new black, apparently.
Performance & Results
| | TBF | wOBA | FIP | K% | BB% | GB% | FB% | LD% | HR/FB% |
| --- | --- | --- | --- | --- | --- | --- | --- | --- | --- |
| vs. RHB | 236 | 0.304 | 3.52 | 21.6% | 8.1% | 56.7% | 25.6% | 17.7% | 11.9% |
| vs. LHB | 257 | 0.260 | 3.09 | 24.1% | 9.0% | 49.7% | 30.5% | 19.8% | 7.8% |
The knee injury knocked out a significant portion of his season, so our sample size of the "new" Hammel is only 500 batters or so. When he was healthy this year, the right-hander did perform considerably better against left-handed batters because he was able to keep them in the park while enjoying some BABIP love (.258 vs .325). His true talent level is likely something in the middle of those numbers, maybe a touch higher for righties given his ground ball tendencies.
It's really unfortunate that we don't more data on the Orioles' version of Hammel, a guy that had changed his pitching style and shown very real improvement. This isn't a case of a career back-end starter having a fluke career year … well, maybe it is, but at least there is some tangible evidence for Hammel's improvement this season. The knee injury and how he returns from it after such a long layoff is the great unknown here, especially since it's his push-off leg. If he doesn't have full confidence in it yet, he could end up losing some velocity or movement on his breaking pitching. The Yankees have seen the new Hammel a few times this year, so by now they are surely aware that he isn't the same guy they used to beat up on years ago.
6:16pm: Wei-Yin Chen will start Game Two, the Orioles announced. I assume Miguel Gonzalez will start Game Three followed by Joe Saunders in Game Four, but they haven't announced anything beyond Hammel and Chen yet.
5:14pm: Buck Showalter announced this afternoon that Jason Hammel will start Game One of the ALDS tomorrow night. The 30-year-old right-hander pitching to a 3.43 ERA (3.29 FIP) in 118 innings for the Orioles this year, but he's missed considerable time with right knee problems in the second half. Hammel has thrown just 8.2 innings since the All-Star break and none since September 11th.