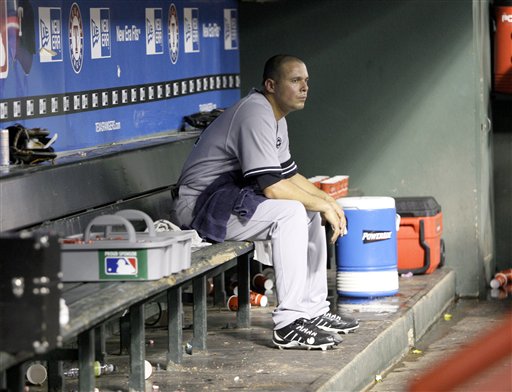 The old adage says that momentum is only as good as the next day's starting pitcher, and the Yankees had plenty of momentum when they relied exclusively on their three best starters during their run to the 2009 World Title. That resulted in tremendous workloads for CC Sabathia (266.1 IP), A.J. Burnett (234.1 IP), and Andy Pettitte (225.1 IP), enough that Brian Cashman was concerned about a carry-over effect in 2010. Despite having Joba Chamberlain, Phil Hughes, Chad Gaudin, and Sergio Mitre in tow, he went out an acquired one of the game's proven workhorses, bringing Javy Vazquez back to New York in a December trade with the Braves.
Vazquez had been treated as the scapegoat for the 2004 ALCS loss ever since being traded to the Diamondbacks as part of a package for Randy Johnson after that season, but life goes on and he continued to pitch. His lone season in Arizona featured a 4.06 FIP in 215.2 IP, but he demanded a trade during the offseason to be closer to his family on the East Coast, his contractual right. The D-Backs shipped Javy to the White Sox for a package built around young centerfielder Chris Young, and he went on to post a 3.80 FIP in his three seasons on Chicago's south side. After a 2.77 FIP in 219.1 IP for the Braves in 2009 (and a fourth place finish in the Cy Young voting), Vazquez found himself back in the Bronx.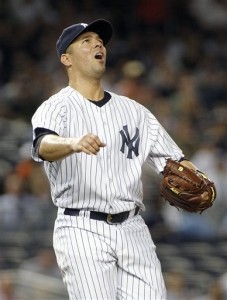 Javy had thrown no fewer than 198 innings every year since 2000 (only one season below 200 IP during that stretch), and only that Randy Johnson guy had struck out more batters in that time. Unlike 2004, when a then-28 year old Javy Vazquez was expected to be a cornerstone in New York's rotation going forward, the 34-year-old version was expected to do nothing more than soak up innings at the back of the rotation. Two-hundred league average innings was all the team needed out of him, and after the season the two sides would part ways with the Yanks landing two high draft picks as compensation when he signed elsewhere.
To say the 2010 season started inauspiciously for Vazquez would be an understatement. His very first pitch of Spring Training went for a solo homer off the bat of Jimmy Rollins, a sign of things to come. Javy's first start of the season resulted in eight runs allowed to the Rays in just 5.1 innings, and five days later he was booed off the mound in Yankee Stadium after surrendering four runs in 5.1 innings to the Angels. Vazquez's first five starts were simply atrocious, a 9.78 ERA with eight homers allowed in just 23 IP. Opponents were wOBA'ing .457 off the Yanks' fourth starter, and things got so bad that the Yankees had to skip his turn in the rotation in early May just to figure out what they should do.
To his credit, Javy rebounded from the rough start and pitched very well for about two months. He started 11 games (and made one relief appearance) from mid-May through mid-July, pitching to a 2.75 ERA (3.66 FIP) and holding opponents to a measly .249 wOBA. Vazquez was the team's best starter not named Sabathia during the stretch, and he was giving the Yanks everything they asked of him and then some. Unfortunately it was all downhill from there.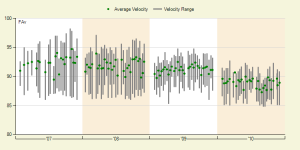 The Angels tagged Vazquez for five runs in five innings on July 21st, and he allowed four or more runs in four of six starts after that stretch of brilliance. Even worse was the obvious physical decline. His fastball, already down two miles an hour from last year, was now regularly sitting in the mid-80's (right). His breaking balls were flat and lacking depth, leaving the changeup as his only consistent weapon. That didn't last very long, as Javy was yanked from the rotation for good after allowing four runs in three innings against the lowly Mariners on August 21st. He pitched to a 6.59 ERA the rest of the way, mostly in long-relief though he did make three spot starts. The low point came in his second to last appearance of the season, when he hit three straight Rays to force in a run, turning a blowout into a full-blown laugher. Perhaps all those innings finally caught up to him and/or he was hiding some kind of injury. Doesn't matter now.
All told, 2010 amounted to the worst season of Vazquez's career. His 154.2 innings were his fewest since 1999, his 5.32 ERA his worst since 1998, and his 5.56 trailed only Ryan Rowland-Smith (6.55) and Scott Kazmir (5.83) for the worst in baseball among pitchers that threw at least a hundred innings. If he hadn't been mercifully pulled from the rotation late in the year, he would have led baseball in homeruns allowed. As it stands, the 32 he gave up were the fourth most in the game, and his 1.83 HR/9 was second worst. The Yankees paid him $11.5M and received -0.2 fWAR in return, meaning Javy was no better than some Triple-A fodder toiling away in the minors.
To make things worse, Vazquez pitched his way out of Type-A free agent status, falling down into Type-B range. Not that the team would offer him salary arbitration after such a horrible year, but they wouldn't even have been able to get those two high draft picks even if they wanted to risk it.
We know the Yanks didn't give up much for Vazquez thanks to the benefit of hindsight. Melky Cabrera was the worst everyday player in baseball this season (-1.2 fWAR, min. 450 PA) and has already been released. They didn't even wait until the non-tender deadline. Mike Dunn has a live arm but has already been replaced by Boone Logan. The x-factor is prospect Arodys Vizcaino, who put together a 2.22 FIP in 114 IP before suffering an elbow injury. He's a top 100 prospect, and if he comes back well from the injury, the Yanks will regret the deal even more.
Brian Cashman and the rest of the Yankee brain trust wasn't asking for much out of Vazquez. They wanted 200 league average innings, which meant an ERA right around 4.20. All they wanted was someone to take the pressure off the three guys at the front of the rotation and young Phil Hughes in the back, someone they could ride hard all year and count on for length each time out. Vazquez didn't give them that at all, pitching so poorly that he couldn't even beat out Dustin Moseley for a spot on the postseason roster. Expectations were relatively low, and Javy failed to deliver on even that.