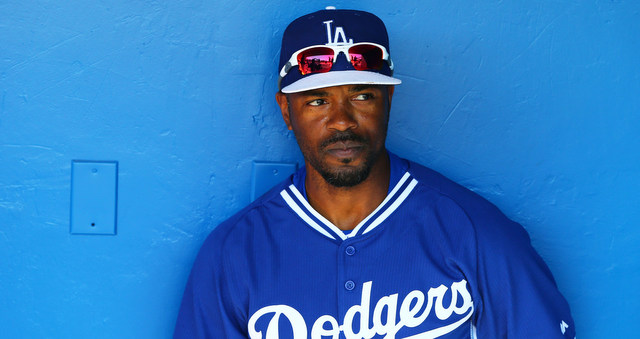 Heading into the offseason, the Yankees had the daunting task of finding a new starting shortstop, something they hadn't had to do in two decades. The free agent market had some possible solutions — none of them great — and the same was true of the trade market. Eventually Brian Cashman parted with Shane Greene to get Didi Gregorius.
But, weeks before the Gregorius trade, the Yankees placed a call into the rebuilding Phillies about veteran shortstop Jimmy Rollins. That made sense. Even at age 36, Rollins had a good year in 2013, hitting .243/.323/.394 (102 wRC+) with 17 homers, 28 steals, and his typically solid defense. Plus he only has one year and $11M left on his contract, so Rollins was a perfect one-year stopgap candidate in my opinion.
The Yankees reportedly moved on from Rollins because the asking price was simply too high, which isn't surprising giving GM Ruben Amaro Jr.'s track record. He always seems to ask for the moon and other clubs have complained about his negotiating style. That pushed New York towards Gregorius. Who knows who else they tried to acquire between Rollins and Didi.
Rollins was eventually traded to the Dodgers for two good but not great pitching prospects (righty Zach Eflin and lefty Tom Windle), and during his first conference call with reporters after the trade, he told Mark Saxon he would have only waived his ten-and-five no-trade protection to go to the Dodgers, Yankees, and Mets. But, earlier this week, Rollins told Jon Heyman was not willing to come to the Bronx. From Heyman:
As for the Yankees, the timing wasn't right as far as Rollins was concerned.

"I wasn't going to go after (Derek) Jeter," Rollins, who made his debut in a Dodgers uniform Wednesday here against the White Sox, said. "If I was 26, Ok. But I'm 36. There was not enough time."
People are allowed to change their mind. Rollins could have been open to coming to the Yankees at the outset of the offseason before deciding against it when he had more time to think things out. But then again, he made both comments after everything played out and he was traded to the Dodgers. Something doesn't add up!
Anyway, none of this really matters because the Yankees got their shortstop in Gregorius and I greatly prefer trading for the younger, potential long-term shortstop than plugging the hole for a year with Rollins. If the Yankees couldn't come up with a young shortstop though, Rollins was at the very top of my stopgap list. I'd have taken him over Stephen Drew, Asdrubal Cabrera, whoever. Too bad he didn't want to come to the Yankees. Or maybe he did. Who knows?