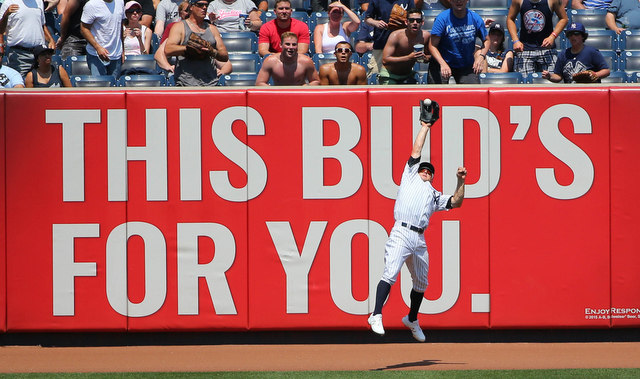 The Yankees and Twins do not continue their three-game series until later tonight, so here are some links to help you pass the time.
Gardner Warned, Not Fined For White Cleats
Last weekend, Brett Gardner wore a set of white cleats during a game against the Mariners, which is against the league's uniform rules. Apparently the Yankees have to wear cleats that are at least 51% black. Gardner had the cleats left over from the All-Star Game and CC Sabathia urged him to wear them in the game. Bryan Hoch says Gardner was warned by both MLB and the Yankees, but he wasn't fined for the uniform infraction.
"I don't think anyone came to my locker and took them, but I won't be wearing them again. That was a one-time thing. I definitely got several warnings on that already — unofficial and official from the bottom all the way to the top," said Gardner. Sabathia said he would have paid the fine since he talked Gardner into it. It's silly, but the rules are the rules. Kinda funny to see Brett rebel like that.
Gardner Wins Heart & Hustle Award, Again
For the fourth time in the last six years, Brett Gardner has won the Yankees' Heart & Hustle Award. Each team gives out the award annually to a "current player who not only excels on the field, but also best embodies the values, spirits and traditions of baseball." All 30 winners can be seen right here. Gardner also won the award in 2010, 2013, and 2014. He is now eligible for the league-wide Heart & Hustle Award. The winner will be announced after the season.
MLB Will Consider Pushing Back Trade Deadline
Earlier this week, commissioner Rob Manfred told reporters MLB will consider pushing the trade deadline back from July 31st. The second wildcard has created a ton of parity and not every team is ready to sell at the end of July. Pushing the deadline back to, say, August 15th or 30th could beef up the market. Here's what Manfred said, via Brendan Kuty:
"I think the July 31 deadline is something that we may want to revisit in the context of the revised playoff format," Manfred said during an appearance at the Beyond Sports United symposium at Prudential Center. "Obviously when you have two additional opportunities to be in the playoffs, you have more teams in the hunt and they may want to wait a little longer before they make decisions.

"On the other hand, we want teams, the core of which have been together for the year, playing in the postseason so you have to just balance those two issues, I think."
While I understand pushing the trade deadline back may be beneficial, I don't love the idea. For starters, you'd be acquiring even less of a player if you make a deadline deal. Acquire a starter on July 31st and you get about 12 starts out of him. Push the deadline back a few weeks and you get what, eight starts? Maybe ten? Also, this could potentially hurt the bad teams legitimately looking to sell because clubs could wait longer to see who becomes available. I dunno, July 31st seems to work well. It's basically the two-thirds point of the season. Heaven forbid teams have to decide whether to go for it by then.
Rugger Ardizoia, Oldest Living Yankee, Passes Away
Rinaldo "Rugger" Ardizoia, the oldest living Yankee, recently passed away at age 95 following a stroke, reports John Shea. Ardizoia was born in Italy, immigrated to San Francisco with his family when he was an infant, and played for the Yankees in 1947 after spending three years in the army. He appeared in just one MLB game, throwing two mop-up innings in a 15-5 loss to the St. Louis Browns. Here's the box score. Ardizoia spoke to Louie Lazar about his playing career earlier this year. Condolences to his family and friends.
Eddie Robinson, 94, is now the oldest living Yankee according to the best available research. Robinson played most of his 13-year career with the Indians but did wear pinstripes from 1954-56. He was the team's primary first baseman during that time.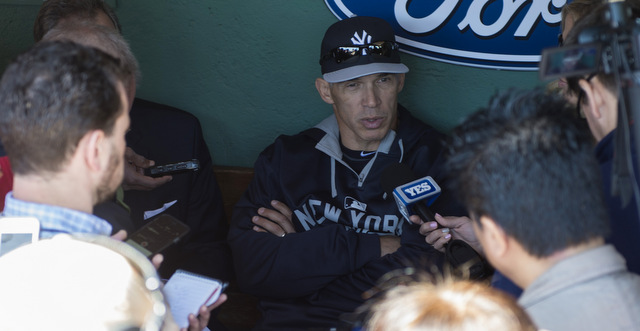 Portalball!
Believe it or not, Joe Girardi has an app coming out next month, reports Dan Barbarisi. Girardi had a hand in designing the game and wanted something family friendly he could share with his kids. "It was just an idea that we could do with families. Kids connect on phones, and they connect with parents on phones. I know I text my kids a lot, and they respond quickly. It's just another way to have connection with family," he said. Here are the details from Barbarisi:
In Portalball, which appears to be set against the backdrop of an alien invasion of Earth, players compete in one of three phases of the game—hitting, pitching, and fielding—to deal with the portal invaders. As in the promotional video featuring Girardi and his fiery bat, players will bat, pitch, and field their way to success against their friends using balls flying in from portals all around them.

The game uses augmented reality technology, meaning that it takes over the phone or tablet's camera and projects the image that the phone sees onto the phone's screen. Users then play Portalball against that constantly shifting background, with portals opening seemingly out of the walls, ceilings, and floors of the room around them.
Alrighty then. Barbarisi says the original plan was to create a more traditional baseball game, but the app developer and Girardi tossed around a bunch of ideas and eventually decided on the sci-fi theme. Sounds neat, though I never play games on my phone, so I doubt I'll be downloading Portalball. Just not my thing. The app will be available next month.