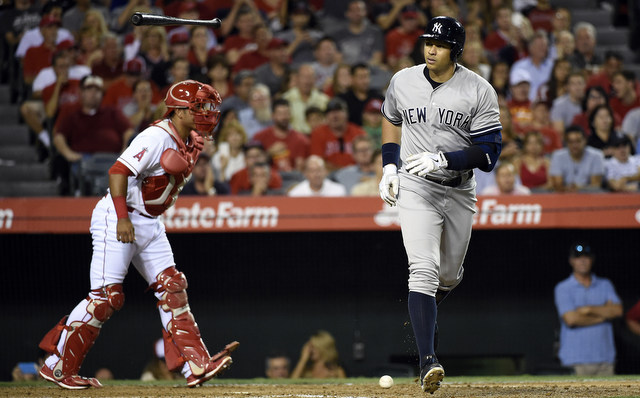 The Yankees are five games into this seven-game road trip and so far they've scored 14 total runs. Nine of the 14 came in one game. Six of the nine came in an inning and a third against Brett Oberholtzer. So when facing non-Oberholtzer pitchers, the Yankees have scored eight runs in 42.1 innings on the trip. That's bad! If the offense was a pitcher it would be a Cy Young favorite.
Tonight the offense gets a crack at rookie left-hander Andrew Heaney, who was traded from the Marlins to the Dodgers to the Angels in the span of about five hours this offseason. Rookie starters have a 4.95 ERA against the Yankees this season, so that's encouraging. It doesn't mean they'll hit Heaney, but it's better than hearing rookie pitchers have a 1.95 ERA against the Yankees this season, I guess. Here is the Angels' lineup and here is the Yankees' lineup:
Believe it or not, it was raining in Anaheim earlier today, but the storms have cleared out and the sky is supposed to be clear for the game tonight. First pitch is scheduled for just after 10pm ET and you can watch on YES locally and MLB Network nationally. Enjoy, yo.
Injury Updates: Jacoby Ellsbury (knee) was scratched with "general fatigue" in his legs, Joe Girardi told reporters. He was scheduled to play center field in his second rehab game with High-A Tampa. Girardi is hopeful Ellsbury will play tomorrow.
Rotation Update: As expected, Adam Warren has been moved to the bullpen, Girardi confirmed. "It's a tough decision because he's pitched so well but it's what we need to do," said the skipper. This is both dumb and totally expected.