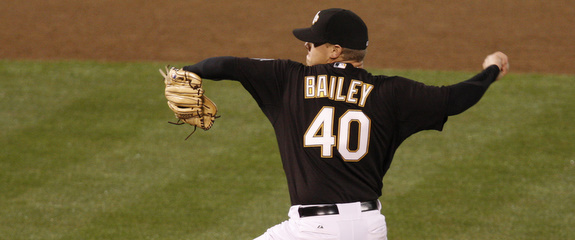 Tucker asks: You already wrote about possible deals with the A's for starting pitchers, but what about relievers? Could guys like Blevins, Breslow, Wuertz or Ziegler be had and would they be worth it? Could taking a shot on Joey Devine play dividends?
Here's the post I wrote about Oakland starters earlier this offseason, before the Hisashi Iwakuma fallout and the David DeJesus/Vin Mazzaro trade. Maybe a trade for a starter could have been worked out if things had played out differently, maybe not. At the moment, the A's are set to open the season with Dallas Braden, Trevor Cahill, Brett Anderson, Gio Gonzalez, and the winner of the Rich Harden-Brandon McCarthy Spring Training battle in the rotation. That leaves about 14 candidates for the bullpen according to the team's 40-man roster, but of course some of those guys still need time in the minors. Regardless, they have plenty of bullpen depth and can afford to move one or two relievers for an upgrade elsewhere.
Assuming that former Rookie of the Year and two-time All Star Andrew Bailey is off-limits, let's look at five of the team's better relievers and see if they'd make sense for the Yankees.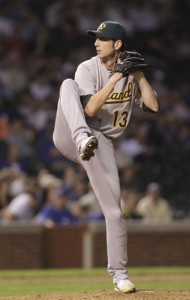 Jerry Blevins
I'm not sure if anyone has shut down lefty batters as quietly as Blevins has in recent years. He's held them to just a .276 wOBA with 54 strikeouts and six unintentional walks in exactly 200 plate appearances against. It's not a huge sample, but it's what we have. His career ground ball rate isn't fantastic (36.6%), but it's workable. From what I can gather, he has one minor league option (though I could easily be wrong, this stuff can be tricky) and five more years of team control remaining (he's going to qualify as a Super Two, however), so he also provides quite a bit of flexibility. The 27-year-old Blevins fits in any team's bullpen.
Craig Breslow
A Yale grad, Breslow bounced from the Padres to the Red Sox to the Indians to the Twins before finally sticking with the A's. His overall numbers were rock solid in 2010, pitching to a 3.91 FIP with 8.56 K/9 and 3.01 uIBB/9 in 74.2 IP. The lefty held same-side batters to .273 wOBA in 2010, and for his career it's a .265 wOBA against. His 83-31 K/uIBB ratio in 360 plate appearances isn't as good as Blevins', but it's plenty good enough. The biggest negative is that he's an extreme fly ball guy (70.4% non-grounders last year, and it's been trending in the wrong direction for a few years now), so Yankee Stadium will exacerbate his already established homerun problem (1.06 HR/9 last few years). Breslow is definitely out-of-options, so he has to stick in the big leagues no matter what, plus he's just heading into his arbitration years and will be making some decent coin.
Joey Devine
Back when it was cool to draft college closers in the first round, the Braves made Devine the 27th overall pick in the 2005 draft, one spot ahead of Colby Rasmus. I think Atlanta would like to push the reset button on that one. The 27-year-old hasn't thrown a pitch (majors or minors) since 2008 because of a prolonged recovery from Tommy John surgery, but the A's stuck by him and have continued to renew his contract since (a total of $1.525M counting his 2011 salary). He was lights out in 2008, striking out 9.66 batters per nine while walking just 2.56 unintentionally per nine in 45.2 innings (zero homers, 0.59 ERA, 1.97 FIP). That accounts for 69.9% of his big league career in terms of innings.  Devine, a rare sidearmer that throws hard (averaged 93.3 mph), has demonstrated a slight platoon split in his brief time in the majors: .240 wOBA against vs. RHB, .274 vs. LHB. He has to be considered a complete unknown given the long layoff, but there is some upside here.
Michael Wuertz
You'd be hard pressed to find a better relief season than Wuertz's 2009 campaign. He struck out 102 batters in 78.2 innings (11.67 K/9) and walked just 22 unintentionally (2.52 uIBB/9). Combine that with an above average 45.5% ground ball rate, and you've got yourself one hell of a dominant reliever. That season earned Wuertz a two-year, $5.25M contract (with an option), buying out his final two years of arbitration eligibility. Elbow trouble (completely unsurprising for a guy that throws about 60% sliders) and minor thumb tendinitis limited him to just 39.2 IP in 2010, when his rate stats dropped to 9.08 K/9, 3.63 uIBB/9, and 41.3% grounders. He also became strikingly homer prone (1.36 HR/9 after a few sub-1.00 years). If you acquire him, you're gambling $3.05M (his 2011 salary plus the buyout of his $3.25M option) that he reverts back to the guy he was in 2009. In terms of walk and homerun rate, that 2009 season sticks out like a sore thumb compared to the rest of his career.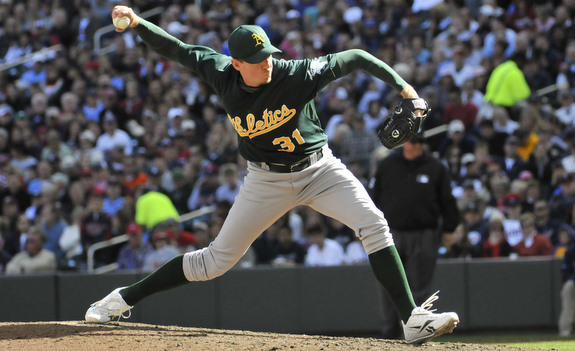 Brad Ziegler
Ziegler burst onto the scene with a 39.1 inning scoreless streak to start his big league career back in 2008, but since then he's been a rather generic sinker-slider submarine reliever. He makes up for a mediocre strikeout rate (5.81 K/9 career) by getting a ton of ground balls (60.5% career) and limiting walks (2.88 uIBB/9 career). As with most submariners, Ziegler has a pronounced platoon split and should be considered nothing more than a righty specialist. He's held right-handed batters to just a .269 wOBA, but lefties have tattooed him for a .371 wOBA. The 31-year-old has four years of team control left and at least one minor league option remaining.
* * *
The Yankees have shown interest in Wuertz before, but Blevins and Ziegler are the most desirable to me given their low cost and general flexibility. The fact that both are nothing more than specialists sucks, but it is what it is. I can't imagine the A's would be willing to part with Devine (at a reasonable price, anyway) after sticking with him for so long. Perhaps a potential trade could be expanded to include Conor Jackson, who is stuck in limbo after the A's rebuilt their corner outfields this winter. He's a righty hitting leftfielder/first baseman with a career .373 wOBA against southpaws that does not strike out at all (just 238 K in almost 2,100 career plate appearances, 4.9% swings and misses). The problem is that he's been hurt (Valley fever, two hamstring strains, and a sports hernia) and generally awful (.294 wOBA) over the last two seasons. He earned $3.1M last season and will make at least that in 2011 during his final trip through the arbitration process, and that's simply too much money to gamble on a rebound candidate for the bench in my book. Why Oakland didn't non-tender him, I'll never know.
Anyone, one of the problems involving a potential deal is that these two clubs don't match up well. Oakland's pitching staff is generally set, and after adding Josh Willingham, David DeJesus, and Hideki Matsui this winter, their lineup is pretty much set as well. They re looking for an upgrade over Kevin Kouzmanoff at third base, but they Yankees don't have that guy to offer. Maybe prospects would get it done, but I don't like the idea of giving up prospects for relievers, especially flawed ones like Ziegler and Blevins. There's definitely a it for the Yankees, but not for the Athletics, and it takes two to tango.