I cut back on the trade deadline stuff this morning, we've spent enough time discussing it already this week so I tried to mix things up a bit. Remember to use the Submit A Tip box in the sidebar if you want to send in your questions.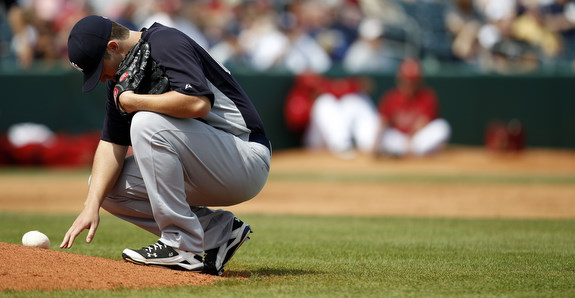 Anthony asks: Would you hesitate to trade Phil Hughes? He's been on the Yankees since 2007 and hasn't really been the starting pitcher that was hyped to be the next Roger Clemens.
Wasn't it Jorge Posada that called him the next Clemens? Maybe it was Jason Giambi. Whoever it was, it wasn't me. Just kinda reaffirms my stance that players generally have no clue what the hell they're talking about, they're terrible when it comes to analysis.
Anyway, no I wouldn't hesitate trade Hughes but I wouldn't just give him away. He's struggling and just doesn't look right physically, but I wouldn't cut bait entirely out of frustration. That's how you wind up with a bunch of middle relievers and two months of Edwin Jackson. The problem is that Hughes' value is down, way down, so you'd be selling low on him. He's not cheap ($2.7M salary this year) and he's only under team control for two more years, so all that stuff that made him so desirable two or three years ago doesn't really apply anymore. I'd trade anyone, but I'm generally opposed to selling low on young players.
Matt asks: What's the deal with Jordan Parraz? Is he a legitimate prospect? He seems to be having a good year. What puts him behind Dickerson and Golson?
Parraz is a legitimate prospect, though he's not any kind of future star. He's the kind of guy you'll find just outside a typical top 30 list. When Baseball America ranked him as the Royals' 19th best prospect before last season, they said he was a "gap-to-gap hitter with below-average usable power, even though he shows above-average power in batting practice." They lauded his defense, citing his 70 arm and ability to play center fielder. He's having a very nice year with Triple-A Scranton, a .367 wOBA with 8.6% walks and a .146 ISO, showing that he can more than hold his own against upper level pitching.
Chris Dickerson and Greg Golson are ahead of him on the depth chart right now only because they're on the 40-man roster. Both of those guys (as well as Justin Maxwell) will be out-of-options next year and likely gone, so I figure Parraz will step in as the up-and-down outfielder. He's fringy, but he's on par with Dan Brewer and a useful piece in moderation.
Anonymous asks: How legit of a prospect is Mark Montgomery, the "K" machine?
The Yankees' 11th round pick this year, Montgomery is a righty reliever from Longwood University in Virginia. He struck out 48 in 30.1 IP for the Lancers this spring, and so far as a pro he has 28 strikeouts in 14.1 IP. Although he's just 5-foot-11 and 205 lbs., Montgomery misses bats with two power pitches: a 91-92 mph fastball that has touched 94 in the past, and a low-to-mid-80's slider that's allergic to bats. That's the pitch he uses to rack up all those whiffs.
The best case scenario, I mean if you really squint your eyes and dream, Montgomery does have some David Robertson in him as a short power reliever, though his slider is unlikely to be as effective against lefties as Robertson's curve. Relievers with power stuff that have a history of missing bats are prospects, for sure, but we're not going to know much about him until he gets to Double-A. Single-A hitters have no chance against a college reliever with that kind of stuff.
Louis asks: Given the fact that Clayton Kershaw is younger than Felix Hernandez and a lefty, would he theoretically be worth more in a trade? His peripherals this year are insane and even in the past have been pretty comparable to King Felix.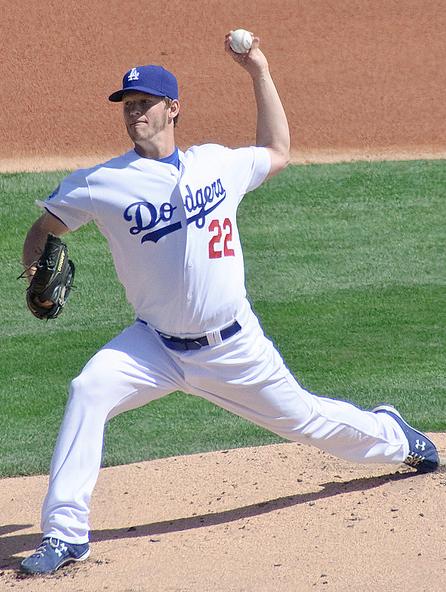 Yeah, I think Kershaw has more trade value than Felix right now. He's considerably cheaper at the moment since he has yet to hit his arbitration-eligible years, and he's under team control through 2014 compared to 2015 for Hernandez. The lower cost (Felix gets $18M+ starting next year) pretty much offsets the one fewer year of team control.
A case can be made that Kershaw is the best pitcher in baseball right now, especially since he's chopped his walk rate from 4.79 BB/9 in 2009 to just 2.36 this year. He's just 23 years old and strikes out more than ten men per nine innings with two elite pitches (mid-90's fastball and power curve) and two other very good offerings (slider and changeup). If I'm building my rotation from scratch right now, he'd be the guy I'd build it around. And no, the Dodgers aren't going to trade him. Even with their uncertain ownership and financial situation, Kershaw is still so cheap that'll be able to afford him for at least another year or two.
Reggie asks: Jon Heyman played mouth piece for Boras again Tuesday morning by reporting that Carlos Pena will almost assuredly get traded.  Do you think the NYY are a fit for a clear salary dump? Posada hasn't hit for power or contact, and though Pena has contact issues, he does hit for power.  Pena could hit 10-12 homers down the stretch. But that Montero guy…
Pena had a brutal start to the season, missed some time with a hand injury, and since May 3rd he's hit .236/.346/.516 with 20 homers. That's pretty much the guy we've seen over the last few years, a dead pull hitter that will draw a lot walks and hit the ball out of the park while failing to hit for average. He's legitimately a platoon guy, with a .371 wOBA against righties this year but just .247 against lefties. That split is pretty typical of his entire career.
I'm certain the Cubs would love to unload him and whatever money is left on his $10M salary, and he's definitely an upgrade over Jorge Posada. I highly doubt anything will happen though, and as you alluded too, the Yankees do have a big bat waiting in Triple-A if they want a change at DH. Jesus Montero isn't a lefty like Pena, but he might as well be with the way he drives the ball to right field. The Yankees need to focus on pitching, the offense will score plenty of runs.
Robbie asks: With Manny Banuelos struggling with his command this year, is it reasonable to assume that he won't be in the starting rotation in 2012? I remember reading a while back that you had hoped him to come into the ML rotation next year.
Assuming he finishes out the year the way he's been pitching all season, I still think we'll see him at some point in 2012. Without having the slightest idea of what the starting rotation will look like eight months from now, I assume Banuelos (and Dellin Betances) will get long looks in Spring Training like Chien-Ming Wang did in 2005. They'll probably head to Triple-A to start the year, but like Wang back then, they'll be first in line for a call-up whenever a starter is needed. That's assuming neither one is traded between now and then.
Banuelos hasn't had a great year but his situation is like Montero's, he's basically a victim of his own talent. He was so good last year and the year before that when he didn't perform to that level this year, it was considered a disappointment. Remember, Banuelos is still just 20 years old, and he's striking out a batter an inning in Double-A. If he had been born in the U.S. and had gone to college, he'd be a sophomore and draft-eligible next summer. He's way ahead of the development curve, and the "down" year doesn't change much as far as expectations going forward. Maybe it just slows the fast track slightly, but that's it.