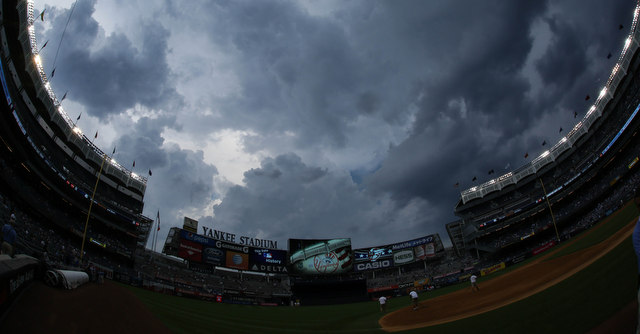 It's the last home game of the first half. The Yankees are 24-16 with a +34 run differential at Yankee Stadium this season and only 21-23 with a -16 run differential on the road. The offense hasn't exactly been firing on all cylinders the last few games, but the Yankees are clearly a much better team in their home ballpark this season. That short porch sure is friendly.
Masahiro Tanaka is making his last start before the All-Star break today and it has been an uneven first half for him. There were times he looked absolutely dominant, times he got smacked around, and off course the month long DL stint. Tanaka's second half is going to have to be better than his first half for the Yankees to stay in the postseason hunt, I reckon. Hopefully he can finish the first half on a high note today. Here's the A's lineup and here's the Yanks' lineup:
CF Jacoby Ellsbury
LF Brett Gardner
DH Mark Teixeira
C Brian McCann
1B Garrett Jones
SS Didi Gregorius
RF Chris Young
2B Stephen Drew
3B Cole Figueroa
RHP Masahiro Tanaka
Not the greatest weather day for baseball. It was raining this morning and it's supposed to rain again this afternoon, but not for another few hours. Shouldn't be a problem unless the game goes into extra innings or something. This afternoon's game will begin just after 1pm ET and you can watch live on YES locally and MLB Network nationally. Enjoy!
Injury Updates: Chase Headley (calf) had an MRI last night and it showed inflammation close to his knee. He feels much better but remains day-to-day … Brendan Ryan (back) will start a minor league rehab assignment today. It was supposed to start Friday but has been pushed up, I guess because the Yankees want to get Ryan back as soon as possible in case Headley's injury lingers … If you missed it last night, CC Sabathia had his knee drained before the start of the homestand. Second time he's had it drained since Spring Training.
Roster Move: So, based on the lineup, Figueroa is with the team now. Jose Pirela was sent down and Taylor Dugas was designated for assignment in corresponding moves, the Yankees announced. Figueroa, a left-handed batter, is having a great season with Triple-A Scranton (.317/.372/.415 and 130 wRC+ with 5.0 K% and 7.5 BB%) and he can play all over the infield. Makes more sense for the roster than Pirela with Headley banged up.