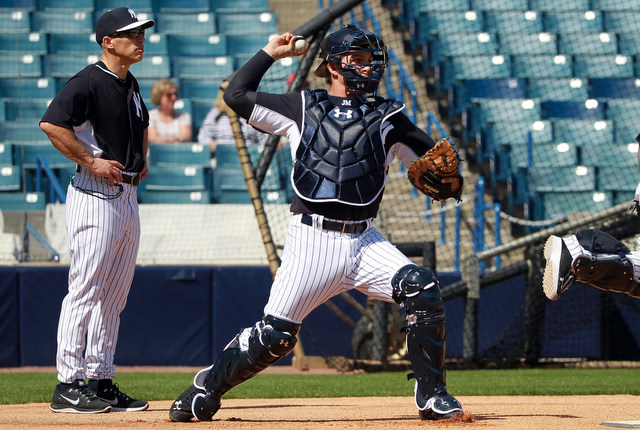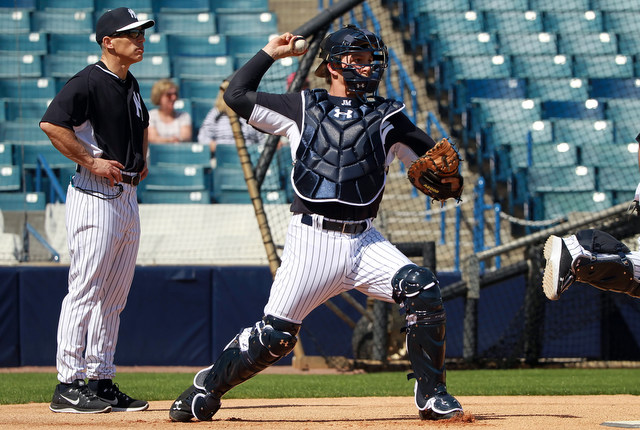 From 2009-12, the Yankees did a good job of having a functional bench, giving Joe Girardi options to pinch-hit or rest players without the lineup taking a huge hit. That hasn't been the case the last two years due mostly to injuries — many projected bench guys were pushed into everyday roles. That's the way it goes sometimes.
The importance of the bench in today's game is obvious, especially for the Yankees, who have an older roster and plenty of players who need regular time off. Three of the four bench spots were filled with new players this winter, and every member of last season's Opening Day bench has since been jettisoned. It's an entirely new crop of players. Let's look at the reserves and where these guys fit in the big picture.
Catcher: John Ryan Murphy
Alternative: Austin Romine
Long-time backup Francisco Cervelli was traded away this winter for two (maybe three) reasons. One, the Yankees wanted to clear a spot for Murphy, who was impressive filling in during Cervelli's hamstring injury last year. Two, they wanted to bolster their bullpen with Justin Wilson. (Three, they wanted to save a little cash.) The job is not Murphy's just yet — he is competing with Romine in camp — but all signs point to him being the guy.
Murphy, 23, put up a .284/.318/.370 (93 wRC+) batting line in 32 big league games last year but his defense is his calling card. Anything he can do with the bat — he's a year removed from a 117 wRC+ between Double-A and Triple-A in 2013, for what it's worth — is a bonus. Murphy has ranked as a top shelf pitch-framer in his brief big league career and he's considered a strong receiver who handles pitches in the dirt well.
The Yankees value catcher defense greatly. They wouldn't clear the spot for Murphy if they didn't believe he could excel defensively. Brian McCann is the clear cut number one catcher and will be asked to carry the majority of the workload behind the plate this year, so Murphy's job is to get the pitching staff through the game whenever McCann needs a day off. That's it. If he hits, wonderful. But that is secondary as far as the Yankees are concerned.
Infielder: Brendan Ryan
Alternative: Jose Pirela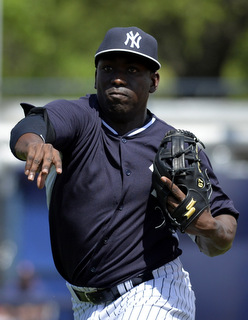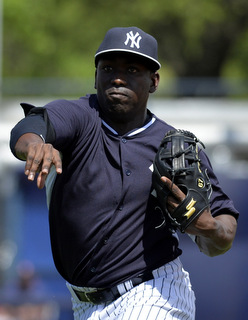 Once again, the 32-year-old Ryan is dealing with a back injury in Spring Training. He started light workouts earlier this week but there's no firm timetable for him to return to game action. That is opening the door for Pirela, just like last year's back injury opened the door for Dean Anna. If Ryan has another setback — he's already had one this spring — it's hard to see how he'll ready for Opening Day.
If healthy though, the backup infielder's job is Ryan's. The team owes him $2M this year and he's still an above-average fielder at the hard to fill shortstop position. He can't hit a lick — .167/.211/.202 (12 wRC+) in 124 plate appearances last year and that's pretty much what you should expect going forward — but the Yankees are now a run prevention team and he fits the mold. Ryan is a guy who plays when someone else gets hurt or needs a day off, that's it. He's not a pinch-hitting option or even a pinch-running option.
Pirela is pretty much the exact opposite of Ryan. He can hit — or at least we think he can hit — but his glovework is very shaky. The 25-year-old hit .305/.351/.441 (117 wRC+) with Triple-A Scranton last season and is off to an 8-for-15 (.533) start to Grapefruit League play, and that's his calling card. Pirela's a hitter. He's not much of a defender but he can play just about every position other than pitcher or catcher. If Ryan can't start the season on time, Pirela is the odds on favorite to start the year as the backup infielder.
Outfielder: Chris Young
Alternative: Pirela? Ramon Flores?
New York's very first move of the offseason was re-signing Young to a one-year deal worth $2.5M. They grabbed him off the scrap heap last summer and he had a nice month of September in pinstripes (146 wRC+ with three homers), which earned him a new contract. Overall, the 31-year-old young hit .222/.299/.385 (95 wRC+) with the Mets and Yankees in 2014.
Young's days as an everyday player are pretty much over. He's a right-handed platoon bat because of his power, not his ability to hit for average, that's what the Yankees need with two left-handed starting outfielders and a third who is a switch-hitter whose weak side is the right side. Young's defense remains above-average — he can play all three outfield spots in a pinch — and he can even steal a base off the bench. He figures to be used most often as Carlos Beltran's defensive replacement in right field, though I'm sure he'll get plenty of starts against southpaws as well.
The Yankees don't have an obvious alternative to Young. Pirela is probably the best option and Flores is the most MLB ready of their upper level outfield prospects. Pirela is right-handed and Flores is left-handed, and that's not insignificant given the makeup of the roster. Others like Slade Heathcott and Tyler Austin need more minor league time before realistically being considered MLB options. If Young gets hurt, Pirela's probably the guy. Assuming he isn't filling in for Ryan, of course.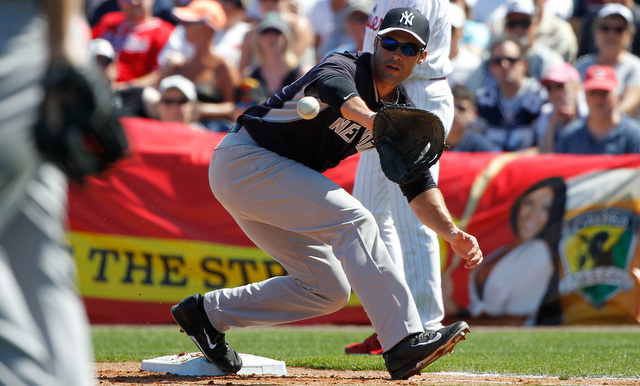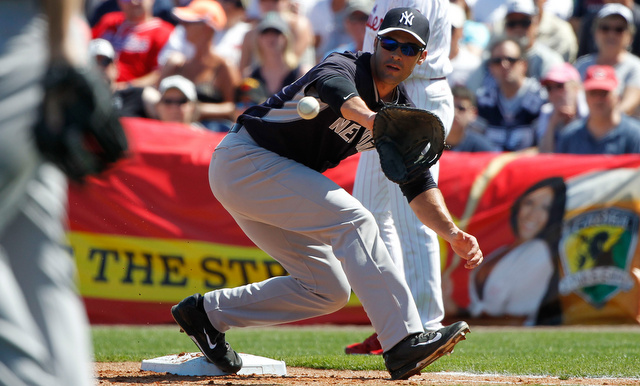 Utility: Garrett Jones
Alternative: Pirela? Austin?
The Yankees have been after Jones for years — they first tried to acquire him from the Pirates in the A.J. Burnett trade — and they finally landed him in the Martin Prado/Nathan Eovaldi trade this offseason. He gives them a backup plan at three positions where they have players who have battled injuries in recent years: first base (Mark Teixeira), right field (Beltran), and DH (Alex Rodriguez).
Jones, 33, hit .246/.309/.411 (99 wRC+) with 15 homers last year, though Miami used him as their everyday first baseman, and he's not an everyday player. He's a left-handed platoon hitter, one who's hit .260/.314/.475 (116 wRC+) against right-handed pitchers over the last three years with this spray chart:
Source: FanGraphs
Yeah, Jones is going to enjoy hitting in Yankee Stadium. And that's going to be his job. Come off the bench and try to yank something over the wall. Jones has made a nice little career of doing just that and that's all the Yankees want him to do in 2015. Play some right field, play some first base, see a few starts at DH, mash some taters. Very straight forward.
As with Young, there is no obvious alternative to Jones, so I guess Pirela is the guy by default. Austin can also play first base, right field, and DH, but he has yet to play above Double-A, so he needs to spend some time in Triple-A before helping the big league Yankees. Jones will likely see the most playing time of the projected four bench players and that makes him the most difficult to replace.