Charleston lacks the pitching prowess of Tampa's sparkling rotation, but they certainly have quite a few promising players in their own right. Charleston features the top draft picks of '09 — center fielder Slade Heathcott and catcher J.R. Murphy — and arguably the top pitching prospect in the organization, right-handed Jose Ramirez. As we've done for AAA, AA and Hi-A, let's take a longer look at some of the top players' overall seasons and how they've performed of late.
Pitchers: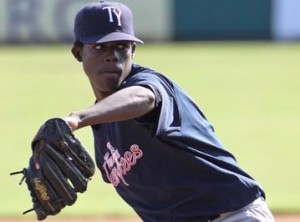 Low-A Season: 33.0 IP, 4.36 ERA, 37 hits, 21 runs, 8 BB, 26 K, 1.38 GO/AO
Last three starts: 14.2 IP, 6.75 ERA, 14 hits, 11 runs, 10 BB, 10 K
Signed out of the Dominican Republic in 2007, Ramirez made his professional debut in 2009, where all he did was earn Pitcher of the Year honors out of the GCL. Yeah, his stock definitely rose. Armed with a fastball known to hit 96 and a very developed changeup, Ramirez has again largely impressed, if a bit inconsistent. The one thing that jumps out at you is that he has yet to give up a home run this year. Like, not even one. His K/BB rate is quite nice at 2.83 and the K/9 is close to 9. As I mentioned, consistency is key. He's really struggled in June, posting an ERA of 6.75 with 14 hits and 10 walks in a shade under 15 innings. I'm not all that concerned, but it sure would be nice to see him hit his early season performance and possibly hit Tampa later in the year.
Low-A Season: 70.2 IP, 3.44 ERA, 61 hits, 33 runs, 23 BB, 65 K, 0.86 GO/AO
Last three starts: 16.1 IP, 2.44 ERA, 10 hits, 4 runs, 3 BB, 16 K
Heredia has the talent. There's no doubt about that. The question is his durability and how he progresses given his setbacks. He probably hung out a lot with Christian Garcia in the Yankee Minor League Infirmary over the past few years. He's had shoulder injuries galore, losing large chunks of the 2007 and 2009 season. But when healthy he suffocates hitters with a heavy fastball, a very good curveball and a pretty decent changeup as a third offering. Development of the changeup stalled with 2009's dead year and he struggled at Tampa in his brief time there. 2010 again was looking bleak. He'd been brutalized in Tampa, getting lit up for an ERA of 6.93 and 37 hits in 24 innings with only 14 strikeouts. Ouch.
He was demoted to Charleston again in May and he's looked better, though he hasn't wowed. There may be some light at the end of the tunnel for Jairo. His GB rate is almost 50% in Charleston, he's giving up less line drives and walking half as many batters. He's still fairly young at just 20 years of age, has an advanced feel and despite his obstacles, has shut out the opposition in his last two starts.
Hitters: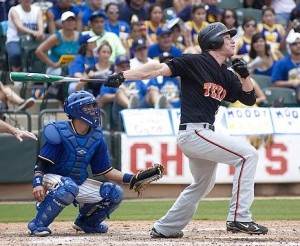 Low-A Season: .313/.384/.391
Last ten games: .275/.348/.325, 2 XBH, 5 steals
Heathcott oozes tools. While his power isn't developed per se, he has a muscular frame (look at his ams!) and surprising agility with a plus-arm in center field. Few have such raw athleticism. Heathcott spent three games in the GCL last year and was given the green light to jump to Charleston in 2010. Outside of Jesus Montero, this is the most exciting prospect in the system, so expectations are high.
How's he done so far? Well, good and bad. Hard not to get excited about a guy who's gotten a hit in all but one of his 15 games on the season. On the other hand, 15 strikeouts in 64 appearances is a bit much, though six walks isn't too bad. Slade's been largely –at least according to MiL Splits– hitting ground balls, at clip of 49%. His line drives are a bit low at 9.8%. Still, I'm not going to complain about an 19-year-old in A-ball hitting .313/.384/.391. Hopefully he'll show some signs of better discipline and a flash of power, but there's no reason to rush it. It's only been 15 games. He's also added six steals to the pot of goodies.
Low-A Season: .242/.296/.309
Last ten games: .275/.348/.300, 1 XBH, 1:1 BB/SO rate
The other of the toolsy top picks of 2009, Murphy was touted as a a pure hitter with the athleticism and feel to be a catcher down the road. I haven't seen reports on how his defense has progressed, but his bat was slow in May down in historic Charleston. The catcher from Florida hit .222/.259/.315 that month. The beginning of June wasn't terribly peachy either, but he's turned it on of late, hitting a nicer .275 with a 1:1 SO/BB ratio. He's really struggled against southpaws, hitting .231/.244/.308 against them. Again, as with Slade, there's no concern at this point in the year. Neither were considered super-polished players that would jump the levels. It's going to require patience but both are players with nice potential.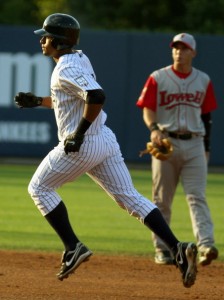 Low-A season: .278/.343/.491
Last ten games: .333/.415/.722 with 4 home runs and a 1:1 SO/BB rate.
You don't hear much talk about Zoilo on the Yankee prospect chatter, but he's quietly putting up a really nice season in South Carolina. Maybe people are jaded that he's underperformed until last year, despite being a switch-hitter with seemingly good tools. I figured it was a fluke myself, but he might be putting himself in the picture as a legit prospect. He might be partially aided by a BABip of .351, but it's hard to argue with the power emerging (10 home runs in 57 games). So while his batting average is likely inflated, the parks have bellied a bit of his power (neutralizing park and luck factors show a line of .260/.327/.507 with 13 home runs). The strikeouts are still concerning (65 in 224 AB's – a 29% rate) and his overall on-base skills seem worse than last year, but there's a lot to like about Zolio's season. A guy with power/speed tools are worth watching. Hopefully he doesn't hang out with Melky Mesa during his time in the Yankee farm system. Don't want that rubbing off on you.
Low-A season: .192/.277/.291
Last ten games: .179/.256/.231, 2 XBH
Often thought of a Japanese import (at least to me anyway, due to the name), the man known as "Higgy" is actually a young catcher drafted by the Yankees for an over-the-slot bonus in 2008 out of California. Supposedly, he's American and a solid defensive catcher. Anyway, he disappointed a bit with the bat in 2009, hitting .253/.333/.332 in Staten Island. On the other hand, he had a pretty good batting eye, striking out 31 times and walking 26 times in 217 PA's. It's rare to see such a young player with such a good approach. Still, it didn't translate into results in 2009 and it hasn't yet in 2010. He's hitting below the Mendoza line, getting on base less than 28% of the time and hitting for Ramiro Pena-like power. With a glut of catchers up and down the ladder – from Montero to Romine to Murphy to Sanchez – Higgy may get lost in the shuffle pretty quickly if he can't show some measure of progress. Worse yet, he's striking out more and walking less. It may be he just hasn't gotten into a rhythm yet.
Low-A season: N/A
Carmen Angelini is currently hitting .354/.442/.549 for my team in MLB The Show 2010, largely because deluding myself into thinking that is better than the outrageously high expectations I had for him, only to see him mimic my baseball aptitude as a Little Leaguer. Anyway, Angelini is on the DL roster of the Charleston Riverdogs. Hitting a cool .200 with trouble in the field will sour pretty much anyone on you, especially if you do it for a few years consecutive (don't tell the Royals – they seem to actively seek players like that) so the expectations for Angelini are at an all-time low. I, for one, am really, really excited to see him. Please succeed, Carmen!
Other guys of note:
Rob Lyerly, 3B is hitting .314/.367/.411 with 1 home run. The errors are high, as are the strikeouts. The power, on the other hand, is low.
Luke Murton, 1B is hitting .291/.375/.498 with 8 homers. Murton is a bit old for the level (he's 24), but he's throwing together a nice season.
Taylor Grote, OF has posted a line of .242/.342/.387. His batting eye seems to have improved, but he's still struggling in his third professional season. His power has improved, though.
DeAngelo Mack, OF has some good tools, but is like an NBA tweener. Probably not athletic enough to play CF, but lacks the strength and bat to play the corners. He's disappointed this year, hitting .243/.340/.390 with four home runs, mostly playing right field.
Sean Black, SP likely a relief pitcher, Black, out of Seton Hall, has power stuff but erratic results. Not much has changed, as on the year he's actually limited walks (good) but been hit around the park (not good), especially by right-handers, who have torched him for an ERA over 6.00. On the other hand, he's kept lefties in check for the most part.