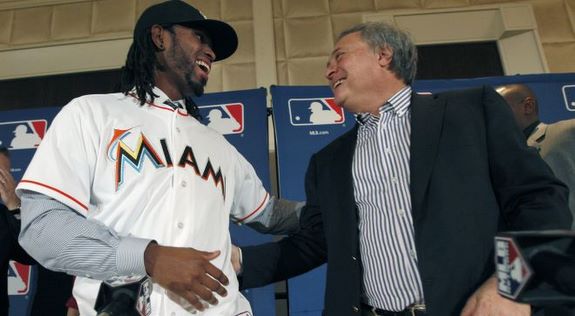 One week ago, we learned that Jose Reyes was leaving the Mets to join the suddenly free-spending Marlins on a six-year contract worth $106M. The deal includes an option for a seventh year as well. The Mets lost their most popular and almost certainly their best player simply because they couldn't afford him given the team's financial plight. Thankfully, the Yankees don't ever figure to have that problem, at least not anytime soon, but that doesn't mean they shouldn't be proactive about locking up their core players.
Reyes and Robinson Cano are similar players but different. Reyes is a leadoff guy whose game is build on speed while Cano is a middle-of-the-order bat with a sweet swing allergic to soft contact. They were born roughly eight months apart (Cano is older) in the Dominican Republic and are both six-win middle infielders at their best. Reyes has some injury concerns the crazy durable Cano doesn't, but it's very clear that Reyes' new deal with the Marlins will be a benchmark for Cano's next contract. That's why they need to sign him right now.
I've suggested a six-year pact worth roughly $120M in the past, a contract that seems very realistic now that we know what Reyes got. If fact, it seems like a bit of a bargain given his utter lack of injury problems. The idea would be to guarantee Cano's options for 2012 ($14M, this has already been picked up) and 2013 ($15M), then tack on another four years at $20M per season. Add in a signing bonus, a buyout of a seventh year option, and stuff like that gets you to $120M total. Signing Robbie now and locking up his age 29-34 seasons is much more preferable than waiting for him to hit free agency in two years and buying his age 31-36 seasons.
I generally agree with the Yankees' philosophy of not signing players until their contracts expire, especially when it comes to pitchers, but Cano is a definite exception. He's a special hitter at an up-the-middle position, their best all-around position player, a homegrown star, the whole nine. That's the kinda of guy that deserves a long-term deal. If Cano has two more years similar to his last three, there's a pretty good chance he'll be looking at a Matt Kemp kind of contract on the open market, which is something the Yankees should try to avoid by talking about a contract now.