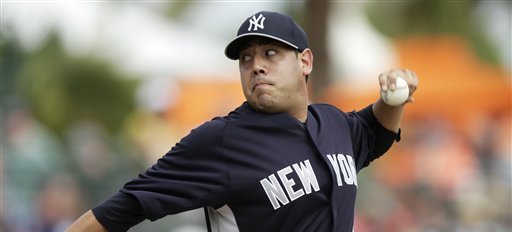 Although Derek Jeter is day-to-day with left ankle inflammation, the Yankees did actually get some positive injury news yesterday. Left-hander Boone Logan made his Grapefruit League debut against the Phillies, striking out two and allowing a bloop single in a scoreless inning of work. He had been battling elbow inflammation earlier in camp, inflammation that may or may not be related to his career-high workload and league-leading 80 appearances in 2013.
Meanwhile, the Yankees are still without second lefty reliever Clay Rapada. He's been out for a few weeks with shoulder bursitis, and while he was able to play long-toss yesterday, it's looking less and less likely he will be ready in time for Opening Day. Opening the year with just one lefty reliever — assuming Logan's elbow continues to hold up — isn't the end of the world, but Rapada's injury does open the door for fellow southpaws Josh Spence and Vidal Nuno these next ten days.
Spence and Nuno are both cut from a very similar cloth. They're both 25 years old and not on the 40-man roster, plus they're offspeed-heavy finesse guys. Spence — who pitched to a 3.15 ERA (3.92 FIP) in 40 innings for the Padres from 2011-2012 — is a changeup pitcher while Nuno relies on his slider. They've both had strong Spring Trainings but Nuno has been better, striking out a dozen against two walks in 8.1 innings of one-run ball. He'll also capable of pitching multiple innings while Spence is more of a true specialist. Then again, he has no big league experience.
Carrying a second left-hander in the bullpen won't be imperative early in the season. The Red Sox are in town for the first series of the year and both David Ortiz (heels) and Stephen Drew (concussion) are likely to start the year on the DL. Assuming Mike Carp fills in for Ortiz, he and Ellsbury will be the only lefty-hitting regulars in Boston's lineup. The Yankees head to Detroit for three games after that, and Alex Avila is their only lefty bat worthy of a matchup southpaw. Prince Fielder mashes everyone and Andy Dirks has shown no split in his short big league career. The Indians are up next after that and carrying two lefties would be nice starting with that series.
Of course, carrying a second lefty specialist isn't all that important anyway. Carrying the best pitchers possible is more important than having someone who throws with a specific arm just because, plus the Yankees do have three right-handed relievers who get lefties out in Mariano Rivera, David Robertson, and Joba Chamberlain. Though two of those three are married to specific innings though, it's not like Joe Girardi will use Robertson to get a tough lefty out in the sixth inning or something. The point stands though, the club has a few guys capable of retiring lefties even if Rapada has to start the year on the shelf.
Now, if Logan's elbow starts barking again, things will change. I can't imagine the Yankees would open the season without no lefty relievers at all, meaning Spence or Nuno could be the guy. Both would have to be added to the 40-man and have minor league options remaining, so sending them to Triple-A when Logan and/or Rapada get healthy won't be difficult. It becomes a question of which guy is the better bet to actually help the team, and I'm not sure we can answer that. Spence has some big league success but is an unconventional lefty specialist because he's a changeup pitcher. Nuno has no Triple-A experience, nevermind MLB experience, but is more conventional thanks to his slider.
In all likelihood, the Yankees will use either Shawn Kelley or Cody Eppley in Rapada's place come Opening Day if Logan remains healthy. Both righties are ticketed for Triple-A but have big league experience and would be used in lower-leverage spots anyway. Finding someone capable to fill-in isn't the problem, it's just a question of how much the Yankees value a reliever's handedness. I say take the best pitchers regardless of which hands they throw with, but the Bombers clearly value left-handedness and would like to have two southpaws if possible. There's at least a small chance Spence or Nuno could sneak onto the roster if they continue to impress in camp.