Only six questions this week, but some of the answers are kinda long. The Submit A Tip box in the sidebar is the best way to send us anything through the week.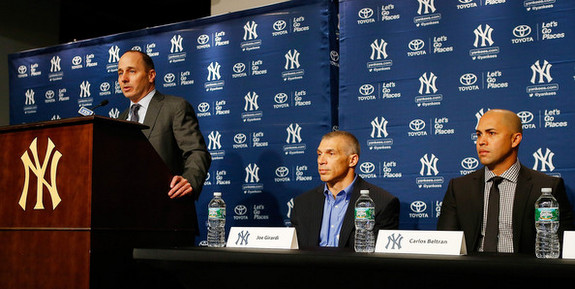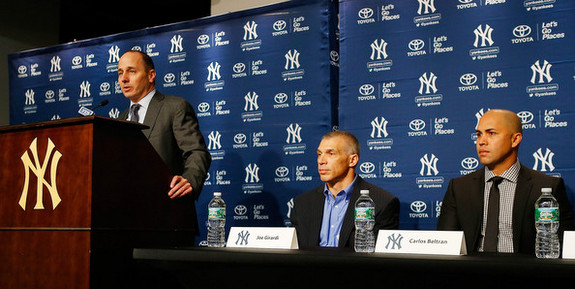 Several people asked: What happens with Brian Cashman when his contract expires after the season?
A bunch of people sent in some variation of this question. Some nice (is it time for a change?), some not so nice (fire that idiot!). Needless to say, when you commit over $500M to free agents in an offseason only to get worse and potentially to miss the postseason for the second straight year, it's only natural to wonder if a change in leadership is needed.
I've been a Cashman supporter over the years but I do think it's time for the Yankees to make a change. He's been the GM for 16 years now. That's an eternity in GM years. The Yankees are still trying to win by almost exclusively signing free agents and that's not just going to work in the game these days. The best players are not hitting the open market until their post-prime years. Baseball has changed but the Yankees have not. They're still trying to build a team the same way they did 10-15 years ago and it's not working.
I feel the Yankees have reached the point where bringing in a new GM with a different voice would really benefit the club. I think the same applies to managers and coaches too — eventually they get stale and it's time for a new voice to shake things up. That's human nature. It happens. The club's way of doing business needs an overhaul, not one or two minor tweaks. I mean, given their payroll, other teams rely on the Yankees to make mistakes to contend, and there have been a lot of mistakes in recent years.
Who should replace Cashman? That's a hard part. Assistant GM Billy Eppler is the obvious in-house candidate but he is being given serious consideration for the Padres GM job (he interviewed for the position yesterday, the team announced). He might not be a long-term option. Hiring someone from outside the organization is tricky because the New York market is so unique. Money doesn't guarantee success and the expectations are through the roof. Experience in this kind of market is not required but it would preferred.
If Eppler gets the Padres job, I have no idea who the Yankees could replace Cashman with. Ex-Cubs GM Jim Hendry is in the front office as an advisor but no thanks. Advisor and ex-GM Gene Michael has made it pretty clear he's out of the GM game at age 76. Scouting director Damon Oppenheimer? Eh, maybe. Hiring Billy Beane or Andrew Friedman away from their teams is totally unrealistic. There figures to be a few GM openings this winter (Phillies? Diamondbacks?), so the Yankees would have competition for the top candidates.
I do think it's time for the Yankees to bring in a new GM — I've been saying they could move Cashman to a high-level advisor role when the time comes for years now, similar to Kenny Williams and Mark Shapiro, and I still think that. He's worth keeping around, especially if they bring in a GM from outside the organization — because there needs to be some change. The team-building strategies are too outdated to continue. Going from Point A (Cashman) to Point B (new GM) will be very difficult and my biggest fear is Hal Steinbrenner and Randy Levine hiring some figurehead GM they can walk all over.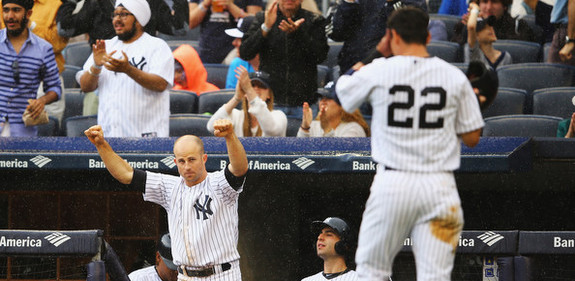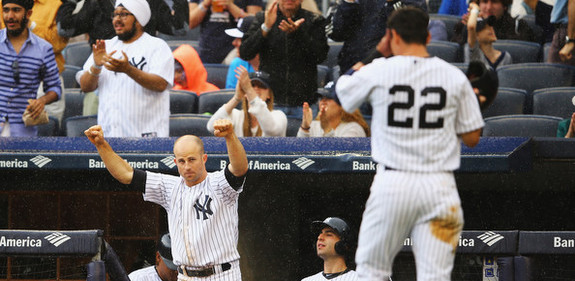 Joe asks: Why don't the Yankees switch Gardner and Ellsbury in the lineup? Why bat Ellsbury third when Gardner has shown more power this year?
I agree completely. (I said this earlier this week.) Jacoby Ellsbury's batting third because he's the big name and he's the guy with the huge contract, but he is totally miscast in that lineup spot in my opinion. Brett Gardner would be as well, don't get me wrong, but when you look at their skills, I think Ellsbury makes more sense in the leadoff spot and Gardner third. To wit:
Their batting averages (.288 vs. .284) and on-base percentages (.358 vs. .352) are essentially identical. It's not like one guy has a big 25 or 40-point advantage or something.
Ellsbury is quicker to steal than Gardner. I don't have any stats to back that up (I don't even know if that stuff is available) but I think we can all agree that's the case.
Gardner has shown more usable power this year (.144 ISO vs .106 ISO, 8 HR vs. 4 HR) and does a better job of taking advantage of the short porch. Every Ellsbury hit looks exactly the same — line drive to center or left-center. Hard to hit for power and clear the bases like that.
Since they get on base at almost the exact same rate, the Yankees would be better off using Gardner's slight edge in power — remember, he has more power than Ellsbury but is still no better than an average power hitter overall — a little lower in the lineup, with potentially more men on base. It wouldn't make a huge difference in the grand scheme of things, but when you're struggling to score runs like the Yankees have been, I see very little downside to making the swap.
Daniel asks: Why is it that when you're showing the rankings of different international prospects and you give MLB.com and BA's, the rankings are so vastly different? It doesn't seem like it's quite as stark a difference with US prospects. Why the big gaps, and who do you trust more anyway?
I listed each player's ranking in our massive International Free Agency Open Thread the other day — the unofficial final tally was 22 players and $26.8M in bonuses plus penalties, by the way, and there are still some more signings to come — and in some cases the rankings are very different. Venezuelan OF Jonathan Amundaray was ranked seventh by MLB.com and 22nd by Baseball America, for example. Dominican OF Antonio Arias was ninth by MLB.com and 28th by Baseball America. A two or three spot difference is nothing, but 15-20?
I think this stems from the general lack of reliable information about international prospects. MLB.com and Baseball America do a really awesome job of digging up info on these kids, but it's still tough to find a consensus. Remember, these are 16-year-old kids who have a lot of development left. They are even more unpredictable than high schoolers, so the opinions very wildly. It comes down to the difference in sources, I guess. I trust Baseball America (Ben Balder) the most because he's been on the international free agent beat for a while now and always seems to have the most information and the best projections (about who is signing where, etc.). I think it's important to consider all possible sources through. The more info, the better.
Joe asks: Hiroki Kuroda gets terrible run support, it seems.  What Yankees starter has gotten the worst?
Kuroda has never gotten run support in the big leagues. The Dodgers never scored for him back in the day and even in 2012, when the Yankees had a good offense, they still never scored for him. Here is the where the team's starters rank among the 157 starting pitchers who have thrown at least 40 innings this season (only Kuroda and Masahiro Tanaka have qualified for the batting title):
CC Sabathia: 5.25 (14th)
Vidal Nuno: 4.29 (69th)
Chase Whitley: 4.22 (73rd)
Tanaka: 4.06 (84th)
David Phelps: 3.91 (95th)
Kuroda: 3.65 (114th)
Juan Nicasio of the Rockies has received the most run support this year (6.79 runs per game) by almost a full run (Jesse Chavez and Matt Shoemaker are tied for second at 5.88). Andrew Cashner has received the least run support at 2.17 runs per game. Yikes. How in the world can someone pitch like that, knowing that if they give up two runs, they'll probably lose? The Padres, man.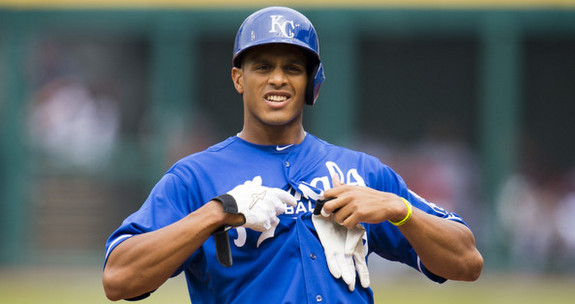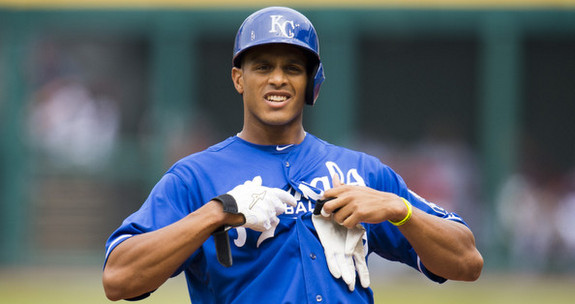 Dustin asks: Chris Capuano is now a free agent. Should the Yanks give him a minor league deal? Same for Jerome Williams and Justin Maxwell if they clear waivers. And would Nolan Reimold even be worth claiming on waivers and giving up something of minor value?
I'd take all four of those guys a minor league contract at this point, especially Maxwell, who might be a better option for the right-handed half of the right field platoon than Alfonso Soriano. He stunk this year (11 wRC+ in limited time), but Maxwell has hit .230/.344/.407 (105 wRC+) against lefties in his career. It's not like the Triple-A Scranton outfield is full either. Reimold is hurt all the time (56 games from 2012-14) but has kinda shown he can hit southpaws (career 98 wRC+). Capuano has a knack for underperforming his peripherals and I consider both him and Williams as replacement level arms at this point of their careers. The Red Sox were nice enough to audition Capuano in the AL East for the Yankees. Of these four guys, Maxwell seems most likely to be useful.
TomH asks: RAB and others have recently noted a kind of creeping mediocrity among MLB teams, probably resulting from the Bud Selig era leveling moves. How do you think this pretty obvious general mediocrity will affect baseball's popularity?
It's probably a net win for the game. More teams are in the race and that means more fans are excited and paying attention (and going to games and buying merchandise). I joke all the time that the Yankees are unwatchable these days, but I watch a ton of non-Yankees baseball too, and I think the level of play around the league is very low right now. Most of MLB is Yankees-esque unwatchable. Is that because of Selig's competitive balance? I'm sure that's part of it. I think it's good for the game overall to have more teams in the race and more fans interested, but I do think baseball is at its absolute best when there are two or three superpowers fans can hate. Maybe I'm just biased as a Yankees fan.