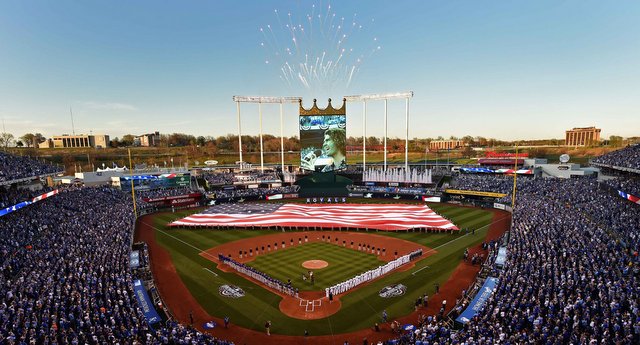 This rather huge 12-game stretch continues this week with three games in Kansas City. The Yankees took two of three from both the Mariners and Orioles last week, two teams they are trying to catch in the wildcard race. The Royals are in that mix as well. The Yankees and Royals played four games in Yankee Stadium back in May. New York won three.
What Have They Done Lately?
Good gravy are the Royals hot. They walloped the Red Sox last night and have won 17 of their last 21 games. That's the kind of run the Yankees have been unable to put together this season. Kansas City is 68-62 with a -18 run differential overall this year. The Yankees are 67-62 with a -9 run differential. These two clubs are separated by a half-game in the standings and obviously zero games in the loss column. Huge series. Huge.
Offense & Defense
Despite last night's ten-run outburst (lol Red Sox pitching, lol), runs have been hard to come by for manager Ned Yost and his players. The defending World Series champions are averaging only 3.92 runs per game with a team 88 wRC+ this season. That ain't good. Kansas City currently has only one injured position player, but it's an important one: 3B Mike Moustakas (109 wRC+). He's done for the season with a torn ACL suffered in a collision in June. Brutal.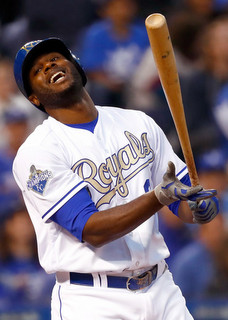 Yost is known for setting his lineup and sticking to it, even when the team slumps. It was only recently that he dropped the wholly unproductive SS Alcides Escobar (65 wRC+) from leadoff to the bottom of the lineup. Nowadays OF Paulo Orlando (96 wRC+) and OF Jarrod Dyson (74 wRC+) platoon in the leadoff spot, and are followed in order by 3B Cheslor Cuthbert (103 wRC+), RF Lorenzo Cain (96 wRC+), 1B Eric Hosmer (104 wRC+), DH Kendrys Morales (96 wRC+), C Salvador Perez (97 wRC+), and LF Alex Gordon (92 wRC+). Those are the 1-7 hitters. Yost rarely deviates.
IF Raul Mondesi Jr. (36 wRC+) and IF Christian Colon (58 wRC+) share time at second and hit ninth. Escobar hits eighth. Also on the bench are speedster OF Billy Burns (50 wRC+) and backup C Drew Butera (102 wRC+). Those two don't play a whole lot. Perez is workhorse behind the plate. He's started 105 of the team's 130 games this season. Only Yadier Molina has started more games at catcher in 2016. He's started 114. That's nuts.
Defensively, the Royals are the best in the business. They're so good that Dyson and Orlando recently pushed Cain to right field full-time. Cain would be the everyday center fielder on pretty much any other team. Gordon is excellent in left, as are Escobar at short, Hosmer at first, and Perez behind the plate. Cuthbert isn't Moustakas at the hot corner, but he's good. Ditto the two guys at second. Kansas City is going to catch the ball. It's what they do.
Pitching Matchups
Monday (8:15pm ET): RHP Michael Pineda (vs. KC) vs. RHP Dillon Gee (vs. NYY)
Gee, the former Met, jumped into Kansas City's rotation full-time a few weeks back, after big Chris Young pitched his way into the bullpen. The 30-year-old has a 4.55 ERA (5.06 FIP) in 99 innings across eleven starts and 15 relief appearances, and it's worth noting he's been way more effective as a reliever (3.05 ERA and 4.94 FIP) than as a starter (5.62 ERA and 5.14 FIP). Gee has very unimpressive underlying stats (18.3 K%, 6.9 BB%, 43.2 GB%, 1.73 HR/9) and he's been more effective against righties than lefties. As a starter Gee will sit right around 90 mph with his sinker, and he throws the three standard issue secondary pitches: mid-80s changeup, mid-80s slider, and upper-70s curveball. He uses all of them regularly too. True four-pitch guy. The Yankees did face Gee when these two teams met in May. He limited them to one run in 5.1 innings of long relief.
Tuesday (8:15pm ET): RHP Masahiro Tanaka (vs. KC) vs. RHP Edinson Volquez (vs. NYY)
The 33-year-old Volquez has had himself a respectable career. Twelve years in the show with a 4.36 ERA (4.26 FIP), a World Series ring, and over $23M in contracts? You could do worse. Volquez has a 4.88 ERA (4.37 FIP) in 27 starts and 156.2 innings this season with a good grounder rate (53.0%) and middling strikeout (16.5%), walk (8.1%), and homer (1.03 HR/9) numbers. His platoon split is small because his low-to-mid-80s changeup is pretty nasty. Volquez still lives in the mid-90s with his sinker, and his hard power curveball averages right around 80 mph. When he's on, Volquez has really nasty stuff. He can be dominant if he wakes up on the right side of the bed. The Yankees did not see the veteran righty earlier this year.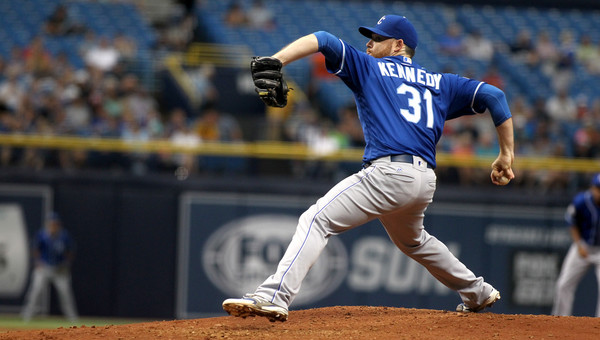 Wednesday (8:15pm ET): RHP Luis Cessa (No vs. KC) vs. RHP Ian Kennedy (vs. NYY)
The reason the Royals are stuck trying to hang around in the wildcard race the year after winning the World Series is the rotation. It's been pretty rough overall (4.54 ERA And 4.82 FIP). Kennedy, now 31, has been solid this season with a 3.57 ERA (4.68 FIP) in 26 starts and 153.2 innings. His strikeout (24.0%) and walk (7.5%) rates are right where they always are, but he's been far more fly ball (33.3%) and home run (1.64 HR/9) prone than in the past. IPK's platoon split is small. Kennedy used to be one of those guys who would mess around with six pitches, but at this point of his career he's scaled it back to four: low-90s four-seamer, upper-80s cutter, low-80s changeup, upper-70s curveball. The Yankees scored seven runs in 6.1 innings against their 2006 first round pick back in May.
Bullpen Status
A few weeks ago the Royals lost all-world closer Wade Davis to a flexor tendon strain, and he only recently began facing hitters as part of his rehab work. He'll rejoin the team after rosters expand in September, but not this series. Here is the relief crew Yost has at his disposal:
Closer: RHP Kelvin Herrera (1.84 ERA/2.11 FIP)
Setup: RHP Joakim Soria (3.67/4.36)
Middle: LHP Brian Flynn (2.66/3.19), RHP Peter Moylan (3.62/3.61), LHP Matt Strahm (0.68/1.05)
Long: RHP Chris Young (5.74/6.29), RHP Chien-Ming Wang (4.38/4.65)
Strahm's the secret weapon. He was called up straight from Double-A after Davis got hurt, and so far he's struck out 20 batters in 13.1 innings. Strahm has pitched like Davis, basically. He's starting to take setup innings from Soria, who is still solid, but is no longer the pitcher he was a few years ago. That second Tommy John surgery is a doozy.
Strahm (45 pitches), Moylan (12 pitches), and Soria (28 pitches) all pitched last night. Wanger threw three innings and 44 pitches in mop-up duty Saturday night, so he might not be available tonight or tomorrow. They have to be careful with his shoulder. Hopefully we get to see him pitch at some point this series though, preferably with the Royals down big. Nothin' but love for CMW. Check out our Bullpen Status for the status of Joe Girardi's relievers.