Archive for Kyle Farnsworth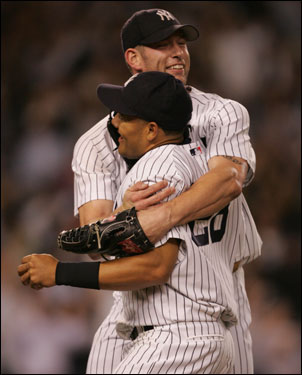 Possibly lost among the "Moose had a good outing" and "Giambi is ready for the season" fodder is an interesting article in the Daily News regarding Kyle Farnsworth's expanding repertoire.
Farnsworth, one of the Yankees' setup men, is working on a changeup and a sinker, hoping that pitches in the mid-80s can keep hitters from sitting on his fastball. It's something that pitching coach Ron Guidry suggested at the end of last season.
I'm a bit puzzled by this. First, how effectively is he going to be able to work in two new pitches? The article mentions that he spent most of the winter resting his troublesome back, so in essence he began developing them this spring. I'm just unsure that a guy entering his 13th year in the league can develop two new and effective pitches in a little over a month.
Second, if he's adding these two, is he removing the slider? As frustrated as we were last year with his using it in inappropriate situations — not to mention hanging it far too often — does anyone feel better with him using new and untested pitches rather than one he's used throughout his relief career? I mean, if he can work in a splitter and changeup effectively, then yeah, I can live without the slider. It once again comes back to the skepticism about his ability to throw these pitches.
In theory, I'd love Farnsworth to throw a splitter and a change. With his devastating heat, they seem like the perfect complement pithes. I just wish he'd have come to this realization earlier, when he'd be better able to develop them, rather than rushing in.
My official prediction: he'll stick with the fastball and slider this season.
Photo: Matthew J. Lee / Boston Globe
Thankfully for Kyle Farnsworth, Carl Pavano has dominated the "he needs to earn his keep" talk this winter and spring. But sooner or later, Farnsworth will return to the spotlight; it's kind of inevitable when you're being paid $17 million to pitch 65 or 70 innings per season. What we're all wondering is whether there's a chance that the Kyle Farnsworth of 2005 will appear this season, or if we're stuck with v2006.
Because relief pitchers work with such small samples per season, they are prone to violent swings of luck. Farnsworth is a perfect example of this. His ERAs since 2000, when he switched to full-time relief: 6.43, 2.74, 7.33, 3.30, 4.73, 2.32, 4.36. What the hell caused such fluctuation, particularly between the 2.32 and the 4.36 (what we paid for vs. what we got)?
We can scan the statistics all you want. Yes, his strikeouts per nine was slightly below his norm (10.23 in '06 vs. north of 11 in his better years), he allowed an above-average .314 batting average on balls in play, and he displayed extreme flyball tendencies (0.78, which is alarmingly bad).
Anyone who watched him pitch, though, can give you the underlying reason for these trends: he hung the crap out of his slider. As if that wasn't enough, he also chose to throw said hanging slider far too often, especially for a guy who throws 98 m.p.h. with ease, 101 when he needs a little something extra.
Perhaps to compensate for a pitch he didn't control well last year, Farns is reportedly working on a changeup this spring. He probably hasn't broken that out since his days as a starter, so I can't imagine it being much more effective than his slider, which can only improve from last year. According to the man himself, it may not even be an issue this year:
"I think the main thing is that I was trying to be too perfect," said Farnsworth, who went 3-6 with a 4.36 ERA in his first year with the Yankees. "A lot of times I found myself trying to be a pitcher instead of just doing what I do best."
What he doesn't do best is throw a changeup. Keeping the fastball low (and hence induce more groundballs) and throwing a few sliders to keep hitters honest will be the keys to Farnsworth's return to form in 2007. And he's right: he's not a pitcher. He's a thrower, so throw the freakin' heat.
Unfortunately, the team is somewhat dependent on him. He's at the back of the bullpen, but at this point I feel uncomfortable with him there. He of course has a chance at redemption — some people take a while to adjust in New York. I'm just very concerned that we're stuck Farnsworth v2006 for the next two years.
Photo: SI.com