If you're reading RAB, you're probably not new to this baseball thing. You know the season is still very young — the Yankees have played 3.7% of their 2016 schedule — and you know much of what happens in the first week of games doesn't mean a whole lot. Outside of injury, I'm not sure anything you see the first week of the season should drastically change your outlook.
That doesn't mean the first week is meaningless though. Last week Grant Brisbee wrote about the incontrovertible truths of Opening Day. All those little things we saw around the league in Game One that we know are true. The Diamondbacks are going to be holding their breath each Zack Greinke start for the next six years, for example. So, following Brisbee's lead, I present four incontrovertible truths about the Yankees six games into 2016.
The regulars are going to rest. A lot.
The Yankees and Joe Girardi have been talking about this since last season, and so far they have been true to their word. Alex Rodriguez, Brian McCann, and Carlos Beltran all sat last Friday simply because the Yankees had played three days in a row and had a day game following a late arrival into Detroit. That was the first real sign the team is committed to this plan.
Furthermore, Girardi told Ken Davidoff he was already looking ahead to Sunday's postponement when using his bullpen Saturday. "It was one of the reasons I was willing to use the bullpen the way I did … Because I really, in my mind, never thought we were going to play (Sunday)," he said. The likely postponement and Monday's off-day meant it was okay to use Dellin Betances and Andrew Miller with a four-run lead.
The season is still very young and the Yankees are already going out of their way to rest their important players. Once we move past the schedule weirdness of April and get into the day-in, day-out grind of regular season baseball, the rest will only be more frequent and deliberate. Who knows whether this will actually help the Yankees avoid a second half fade. They seemed to determined to find out.
The starters are not going to pitch deep into games.
Through six games, exactly one starter has completed six full innings in an outing. That was CC Sabathia over the weekend. Here are the innings and pitch counts for the six starts made by the five starters so far:
April 5th: 5.2 innings, 87 pitches (Masahiro Tanaka)
April 6th: Five innings, 87 pitches (Michael Pineda)
April 7th: Five innings, 94 pitches (Nathan Eovaldi)
April 8th: Five innings, 95 pitches (Luis Severino)
April 9th: Six innings, 90 pitches (CC Sabathia)
April 12th: Five innings, 92 pitches (Tanaka)
Apparently no one comes out of Spring Training fully stretched out these days, so the Yankees are still easing their starters into things in the early going. (The cold weather in New York and Detroit didn't help either.) Eventually these guys will be allowed to throw 100+ pitches. (I think.) That should lead to more starts of six or more innings.
That said, the lack of length from the starters is nothing new. Last season Pineda (5.95) and Eovaldi (5.72) both averaged fewer than six innings per start. So did Severino (5.67), and even when you subtract his one disaster start against the Blue Jays, he still averaged exactly six innings per start. Sabathia led the staff in innings despite averaging only 5.77 innings per game. Tanaka was the staff workhorse at 6.42 innings per start.
Eovaldi has never pitched deep into games, and while Pineda has shown the ability to do so on occasion, he doesn't do it consistently. Girardi usually doesn't let Sabathia go through the lineup a third time unless he's really cruising (or the bullpen is really short), and Tanaka has been handled with kid gloves since his elbow injury. Severino? He's just a kid and the Yankees don't want to overwork him.
Only 88 times in 162 games did the Yankees get at least six innings from their starters last season. That was the eighth fewest in baseball and third fewest in the AL. The same staff is back this year, only with Severino replacing Ivan Nova and Adam Warren. Unless Eovaldi or Pineda suddenly figure out a way to be efficient, the Yankees are again going to ask their bullpen for 10-12 outs most nights.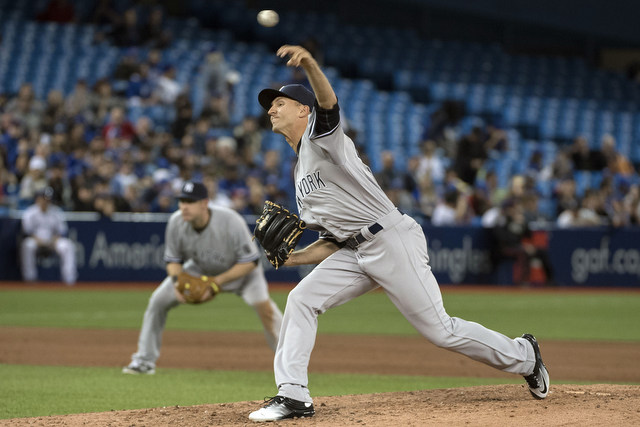 Shreve is back in the Circle of Trust™.
Either due to fatigue or some other reason, Chasen Shreve crashed hard down the stretch last year. He was basically unusable in close games. Yet when Spring Training opened, Girardi talked about Shreve like he was one of the regular relievers, and there was no indication his roster spot was in jeopardy. A dominant spring (10 IP, 1 H, 0 R, 1 BB, 8 K) assured he was going to be on the roster.
So far this season Shreve has appeared in four games, and all four appearances came in fairly big situations. Look at when Girardi has brought him into the game:
April 5th: Sixth inning, runner on first, two outs, score tied.
April 7th: To start the seventh inning, score tied.
April 9th: Seventh inning, runner on second, two outs, Yankees up four. Miguel Cabrera (!) due up.
April 12th: To start the seventh inning, Yankees up by one.
That April 9th game really drove home that Shreve has a place in the Circle of Trust™. The Yankees had a comfortable lead, but Cabrera was due up with a chance to cut the lead in half — he had homered the previous day, remember — and Girardi still brought in the lefty Shreve. That's the kind of situation where using Betances wouldn't be so crazy. Instead, he went to Shreve, who got Miggy to ground out harmlessly to third.
The Yankees are going to be without Aroldis Chapman for another three weeks and four days, and Girardi has entrusted Shreve to be his No. 3 reliever behind Betances and Miller for the time being. And being the No. 4 guy when Chapman returns is no small thing either, not with the Yankees opted to build the team around their bullpen.
The Yankees will miss Teixeira when he's gone.
I am a big Greg Bird fan and I'm glad the Yankees have him around as the long-term solution at first base. His shoulder injury really sucks. Hopefully it's a bump in the road and not something that derails his career. Bird looks very much like someone capable of holding down the job for the next decade.
As good as Bird is — or at least projects to be — he does not combine high-end offense with high-end defense like Mark Teixeira. Very few do. I count seven first basemen you can comfortably project to be above-average on both sides of the ball: Teixeira, Paul Goldschmidt, Eric Hosmer, Adrian Gonzalez, Anthony Rizzo, Joey Votto, and Brandon Belt. All All-Stars, basically, because one-dimensional doesn't really fly anymore.
Teixeira is no longer the hitter he once was, but he's still really good, mostly thanks to his power. He has very few peers defensively. We see it every game with his scoops and the way he makes tough flips to the pitcher at the bag look routine. Dustin Ackley goes out and plays first for an afternoon, flubs two tough plays, and it stands out like a sore thumb. Bird's glove is below even Ackley's at this point.
I have no idea what will happen with Teixeira following the season. He's going to be a free agent and the Yankees are skewing younger, but Bird's injury threw a wrench into things. Whenever Teixeira is gone, either this offseason or next or the one after that, the Yankees are going to miss his two-way play. His glove is close to impossible to replace.