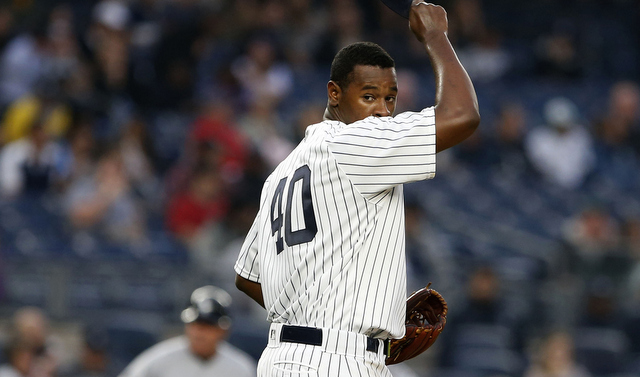 10:32pm: Severino has been diagnosed with a mild right triceps strain, the team announced. He will be shut down 5-7 days and is going to be placed on the DL. All things considered, good news. Or at least better news than expected.
9:22pm: Severino left the game with "soreness in the back of his right elbow," the Yankees announced. He's going for an MRI tonight.
9:09pm: Luis Severino left tonight's game in the third inning with an unknown injury. The YES cameras did catch Severino grabbing at his elbow while talking to the trainer on the mound. Here's the video and here's Severino's final pitch: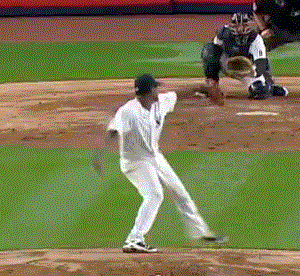 Welp, the shake of the arm and the grimace on his face and the grab at the elbow during the mound meeting is all pretty disconcerting. Not ideal! For what it's worth, Severino's final pitch of the night was a 95 mph fastball per PitchFX.
Severino threw 81 pitches (!) and recorded only eight outs Friday. He allowed seven runs and was hit pretty hard all evening. Severino has struggled big time with his command all season and bad location is a common indicator the elbow ain't right. It's worth noting his workload increased nearly 50 innings (~43%)  from 2014 to 2015.
The Yankees are already without CC Sabathia (groin) and Bryan Mitchell (toe), so their rotation depth has been thinned out. Luis Cessa is the logical candidate to replace Severino; the Yankees rearranged their Triple-A rotation recently to line Cessa and Severino up in case they had to send Severino to Triple-A.
We're getting ahead of ourselves though. The Yankees have not yet released an update on Severino, so stay tuned. Fingers crossed.