Last night, young right-hander Luis Severino made his fifth start of the season, and once again he was not good. He allowed four runs (three earned) in six innings and made a pair of carbon copy errors when he dropped a toss from Mark Teixeira because he was looking for first base rather than looking the ball into his glove. It was not a pretty night.
Through five starts Severino ranks 95th out of 101 qualified starters with a 6.31 ERA. His 4.44 FIP is better but still not good; it ranks 72nd out of those 101 pitchers. Also, his 13.8% strikeout rate ranks 94th. There's no way to sugarcoat it: Severino has been bad this season. You really have to squint your eyes for positives. (He has the tenth lowest walk rate at 4.3%, so yay?)
"If necessary," said Brian Cashman to Chad Jennings yesterday afternoon when asked about the possibility of sending Severino to Triple-A. "If we feel that's what has to take place, that's definitely an avenue that's open. Hopefully it doesn't have to come to that, but if that's what's in his best interest, and therefore our best interest, that's something I have no problem doing."
After another rough start, the talk about sending Severino to the minors is only going to continue. The Yankees have a ready made rotation replacement in Ivan Nova, or, if you prefer, they could call up either Luis Cessa or Chad Green from Triple-A Scranton since both have pitched well overall. When a young pitcher struggles, he gets sent back to the minors. That's the way it's always been.
A week ago I said it was a bit too early to send Severino to Triple-A. Now, after another rough outing, a strong case can be made on both sides. There's an argument to be made for sending Severino down and an argument to be made for keeping him here. I'm not convinced there's a right answer at the moment either. Let's look at the two sides.
The Case For Keeping Severino Around
The rough start to this season can make it easy to forget just how dominant Severino was in the minors. From 2014-15 he had a 2.45 ERA (2.42 FIP) with a 26.4% strikeout rate and a 6.3% walk rate in 212.2 minor league innings. He climbed from Low-A to Triple-A in the span of about 14 months. Severino allowed more than three runs only three times in 43 starts from 2014-15. He allowed more than two runs only ten times. Dominant.
Severino has mastered the minors. He can go down to Triple-A and overwhelm hitters with his fastball alone, and that doesn't accomplish much developmentally. Severino, like everyone else ever, needs to be challenged to continue his development, and it was not until he got to the big leagues that he was challenged consistently.
As best I can tell, most of Severino's issues right now are location related. He's missing his spots and not by an inch or two either. I refer you back to Mark Trumbo's first home run last night: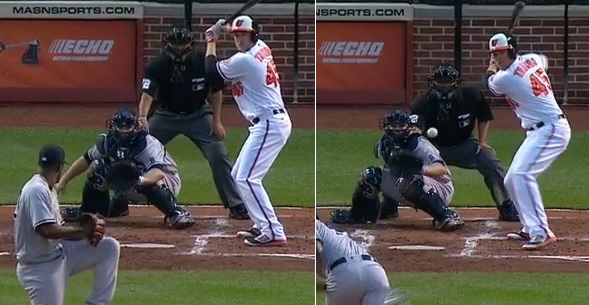 Yeah, Brian McCann wanted it down and away, and Severino threw it up and in. That's a mistake you can get away with in the minors when you throw 95+ like Severino. Big league hitters will make you pay for that pitch. Triple-A hitters often do not. That pitch shows up as a K in the minor league box score and that K leaves out all the important stuff.
The Yankees can force Severino to work on specific things in the minors — you need to throw this many down and away sliders per start, etc. — though they'll never be able to replicate the MLB atmosphere. The intensity and the quality of the competition is totally different. Severino could go down, dot the corners with sliders for a month, then come back up and struggle again because it's a much different game in the show.
Remember, Severino is only 22 years old. He's a young 22 too. His birthday is in February, so he'll spend the entire season at that age. He still has a lot to learn, and it seems Severino has learned all he can in the minors given the success he had. The next phase of his development is learning how to get big league hitters out, and that's not something you can do in Triple-A.
The Case For Sending Severino Down
Let's start with this: Severino is not pitching well and these games count, so the Yankees should swap him out for a more effective pitcher. That's pretty simple, right? At the end of the day, results are the only thing that matters in MLB. It's all about wins and losses, and the current version of Severino is not getting the results that help the Yankees win.
Beyond that, the Yankees can more easily target specific deficiencies in Severino's game in the minors. They can have him throw X number of whatever per start in Triple-A regardless of situation because the final score doesn't matter. Sending players to the minors is not about stats. The Yankees won't send Severino down, watch him pitch to a 2.00 ERA for six weeks, then call him back up because the results are good. Nope. You send a player down to work on specific things, and once the necessary improvement is there, the player comes back up.
There's also the confidence factor to consider. Severino is only human. He's struggling, and when you're a young player who is experiencing failure for the first time, it can be easy to get down on yourself. Imagine how Severino must of have felt last night after giving up two dingers and making those two errors. That has to be tough. An assignment to Triple-A gives him a chance to catch his breath and experience some success again.
* * *
Right now big league hitters are telling Severino he has to make adjustments to stick around, and the Yankees must decide whether they want him make those adjustments in the Bronx or in Scranton. We're at the point now where having his conversation is not unwarranted. After one or two bad starts? Nah. Too soon to talk about it. But after five? Yeah, this is a thing now. What side of the argument are you on?
Should should the Yankees do with Severino?