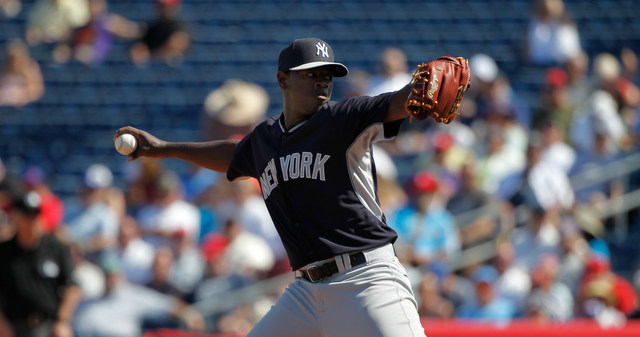 Later tonight, right-hander and top pitching prospect Luis Severino will join the rotation and make his big league debut against the Red Sox. The last time the Yankees had a pitching prospect of this caliber reach the show was the trio of Phil Hughes, Joba Chamberlain, and Ian Kennedy back in 2007. Severino flew through the farm system and reached MLB fewer than six months after his 21st birthday.
The numbers are eye-popping: Severino has a 2.45 ERA (2.46 FIP) in 99.1 innings split between Double-A Trenton and Triple-A Scranton this year, with strong strikeout (24.8%) and walk (6.8%) rates. He led the minors with a 2.40 FIP last year and ranks ninth this year. As far as minor league performance goes, Severino has been overwhelmingly dominant and done everything you could want to see from a young pitcher. That doesn't guarantee MLB success, of course, but he forced the issue.
"There's risk in throwing some of the young guys in the Atlantic Ocean and saying, 'Time to swim,'" said Brian Cashman to Chad Jennings last week. "But that's also something we're not afraid of in some guys' cases. We do like this team, and we have benefited from the use of a lot of the young guys throughout this season. We still look forward to these guys hopefully contributing to us."
The Yankees have developed a reputation for moving their prospects slowly through the system — I don't agree with that at all, but that's the reputation they have — though they were very aggressive with Severino. His 85.1 innings with Low-A Charleston are by far his most at any level. Severino threw only 63 innings at Double-A and 61.1 innings at Triple-A before being promoted. They've moved him up the ladder like a veteran college starter, not a kid who turned 21 in February.
Severino came into the season with a huge fastball but also come questions about the consistency of his secondary pitches and his delivery, and apparently he has answered those questions to the satisfaction of the Yankees. We'll see. I also think there's a "let's get him up here before he blows out his arm" line of thinking in play as well. Not just with Severino, but all young pitchers. That's contributed to his quick rise as well.
There are reasons to think Severino will dominate and reasons to think he'll struggle. There's a Carlos Rodon for every Noah Syndergaard, an Eduardo Rodriguez for every Lance McCullers. Top pitching prospects come up and it's a roll of the dice. They might pitch well, they might struggle. Chances are they'll do both at different times. We can analyze the stats and read all the scouting reports. Until Severino gets on the mound tonight, there's no way to know how he'll react.
Either way, ready or not, the Yankees will turn to Severino tonight, partly because they don't have much of a choice. They didn't trade for any pitching help before the deadline last week and Michael Pineda just landed on the DL. Their other options were … Kyle Davies? Chris Capuano? Been there, done that. The Yankees are going with their top pitching prospect because he's the best option. And for Severino, it's an opportunity to show team was smart to move him through the minors so quickly.