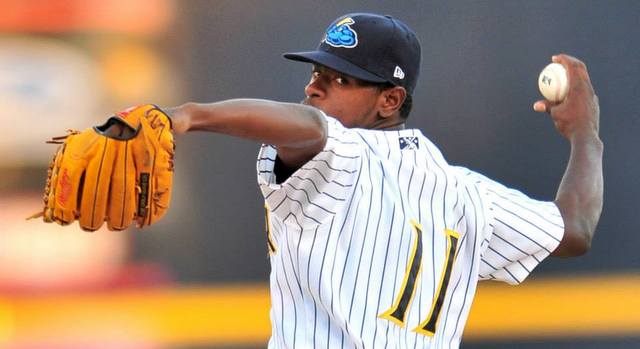 Right-hander and top pitching prospect Luis Severino was forced to exit Sunday afternoon's start with Double-A Trenton after only two innings due to a blister, Brian Cashman confirmed to Dan Martin. There's no word on whether he will make his next start. We'll find out soon enough.
Severino, 21, allowed four runs on five hits in his two innings before exiting, though his performance could have easily been affected by the blister. Can't throw the ball the way you want if you can't grip it properly, right? Severino threw 42 pitches in the two innings and figured to remain in the game had the blister not been an issue.
So far this season Severino has a 3.86 ERA (2.87 FIP) in six starts and 28 innings, all with Trenton. His strikeout (28.1%), walk (6.6%), and ground ball (48.7%) rates are all very good and it's only a matter of time until his .355 BABIP returns to normal. I'm not too concerned about the relatively high ERA right now.
That said, the somewhat slow start has likely put an end to any thought of calling Severino up in the first half. Chase Whitley has been serviceable overall in his three starts, Bryan Mitchell is waiting in Triple-A, and Chris Capuano is about a week away from returning, so the Yankees have some pitching depth. There's no temptation to rush Severino now.
Blisters can be very tricky. Severino could be ready to start later this week or the blister could sideline him for a few weeks if it's particularly nasty. Both Dellin Betances and Manny Banuelos missed several weeks with blister issues when they were with Trenton years ago, for example.
Sucks Severino is hurt, but it is only a blister, and in the world of pitching injuries, that's as tame as it gets. Gotta build up those calluses, Luis.